Harvest Moon in the Oro Valley Marketplace is this writer's favorite Chinese restaurant in Tucson. The food is light vs. greasy, popping with intense authentic flavor vs. salty and sweet aftertastes. Menu items not found elsewhere raise the bar here, speaking of which, Harvest Moon serves cocktails, wine, and beer and from 3 to 6 pm daily,  all appetizers and drinks are 50 % off.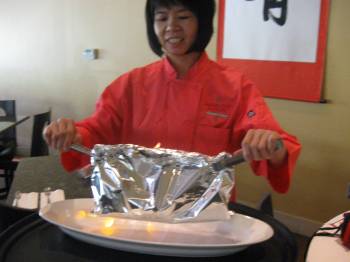 What makes Harvest Moon special? The menu features dishes created from family recipes handed down through generations, as well as many updated classics; and Chef Wanda Zhang's creative cuisine honed in master chef classes around the world. She uses the freshest seasonal ingredients from local Arizona farmers like Sunizona Family Farms. Much but not all of the produce used is organic. Lobster and black cod is flown in from Alaska, the latter fish prepared Hong Kong style, a deeply-satisfying dish redolent of ginger.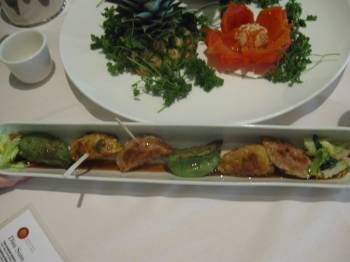 There are three flavors of potstickers –shrimp, pork and vegetarian. While tasting all three, our favorite became the vegetarian potstickers with their green wraps made from spinach then filled with chopped vegetables.
The ambiance is comfortably upscale with lush banquettes, understated lighting, and a metallic mosaic tile border across one wall. Certainly, you can carry on a conversation as well as celebrate a special occasion.
Some like it hot -- try the Q-100 salad with seaweed, kale, mixed greens, red peppers, sesame seeds and Siracha sauce.
Beef or chicken can be flambéed tableside with vegetables and then gently placed in a lacy net-like rice bowl to sop up the flavors with a bit of crunch.
Chef Zhang has a following from Steve Liu, Tucson acupuncturist and herbalist. He recommends that his patients eat here for healthy menu items which can be prepared gluten free with low salt, low sugar, low oil and no MSG. Note to vegans: Ingredients and workspace are separated for vegans and carnivores.
Enjoy Monday Madness where Harvest Moon takes 25% off your dinner check.
On the first Saturday of every month Chef Zhang teaches cooking at Harvest Moon (from 2 to 4 pm) and on the second Saturday of every month, she teaches at the Chinese Cultural Center.
For Mother's Day, you won't want to miss the hot buffet, dim sum, Peking duck sliders, spring roll and potsticker stations. Call the restaurant to make a reservation at 520-825-5351.
Harvest Moon is conveniently located next to the Century Theatres in the Oro Valley Marketplace at 12125 N. Oracle Road.
According to the Zodiac, the Harvest Moon falls near the autumnal equinox (September 22) when the moon is its brightest and fullest. You may think the Harvest Moon looks bigger or brighter or more orange. That's because the Harvest Moon has such a powerful mystique. The Harvest Moon is a time to celebrate being grateful for everything that you have and your life experiences. It's a time to let go of any struggles. Clear the clutter from within and renew your soul which clears the way for you to re-connect with your natural state of well-being.