What's new and happening? Poppy Kitchen opened. Coming next weekend a literary-inspired dinner and later in the month, the Empty Bowls Fundraiser. Mark your calendar for the Viva la Local Food Festival. There's never a dull moment in the Tucson food scene.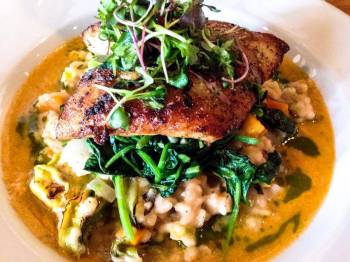 New: Poppy Kitchen
A Metzger Family Restaurant, Poppy Kitchen opened March 4 on the newly renovated Westin La Paloma Resort and Spa. The restaurant is open for dinner and week day happy hour. Billed as "foods you want to eat," Poppy serves cocktails on tap as well as snacks that you won't find in any movie theater, those fabulous mussels with chorizo broth, duck breast, crispy salmon, and duck fried rice, octopus salad and much more. Can't wait to try it!
3-Course Literary-Inspired Dinner
The Tucson Festival of Books happens March 15 and 16 and Maynards Kitchen has imagined a special literary-themed prix fix menu on March 14, 15, and 16. The menu includes lobster macaroni & cheese (Farewell to Arms, Ernest Hemingway), coq au vin (Pen Pals, Olivia Goldsmith) and Mr. Wonka's Strawberry-Flavored Chocolate-Coated Fudge (Charlie and the Chocolate Factory, Roald Dahl). The cost is $45/pp + (optional) $20 wine pairing for three courses. Seating is limited so reserve now.
Empty Bowls Fundraiser
Eat soup while helping the less fortunate population in Pima County. Tickets must be purchased in advance. Upon arriving, you will choose a beautiful handmade pottery bowl (to keep) and then sample signature soups, breads, desserts, and other nibbles donated by local restaurants and food partners. Enjoy live music and bid on unique pottery items and more in the silent auction and raffle. The fundraiser is held at the Tucson Chinese Cultural Center on Saturday, March 22 from 11a.m. to 1:30 p.m. Funds raised will benefit the Interfaith Community Service Food Bank to help feed hungry families and individuals. Tickets are $20 per person (one bowl per ticket) and may be purchased online.
Viva la Local Food Festival
Save the date – Sunday, April 6, 9 am to 5 pm, Heirloom Farmers Market will move the Sunday St. Philips Market for one day only to Rillito Downs Park where there will be more than 75 vendors, local restaurants, live cooking demos, local breweries and wineries, live entertainment, and the biggest farmers market yet. Go local