A tisket, a tasket, what are the five favs this week in my basket?
Eggs Provencal
Are you one of these people who always order the same thing? This writer hates to cop to that but – yes – I do here at Ghini's French Caffé. I only go for breakfast or brunch and always order the eggs Provencal. While I tried to recreate it in my own kitchen, the results were less than amazing. Eggs Provencal is Ghini's signature dish, a simple dish from the chef's grandmother's kitchen which actually can be eaten any time. She uses locally-sourced hot house tomatoes that are sautéed in extra virgin olive oil with fresh eggs prepared your way and fresh thyme. It's recommended to order your eggs over easy because you can mop it all up with bakery-fresh bread. Wash it down with a cup of Redeye and get on with your day.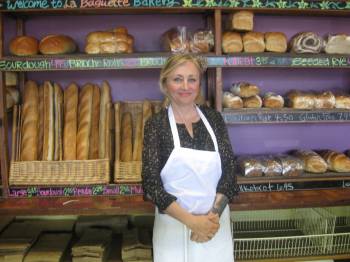 La Baguette, Merci
Adjacent to Ghini's French Caffé is the fabulous La Baguette Bakery. Meander over on your way out and let Fawn (pictured) with her seductive French accent help you pick out some delicious delectables to take home. Check out the baguettes, large and small French box, dinner rolls, sweet or savory croissants, pies, tarts, sticky buns, strudel, quiche, cookies, muffins, cookies, and a surprisingly large number of gluten-free goodies too. There are fantasy and specialty cakes -- opera cake, chocolate mousse, and something called Death by Chocolate. They have the hard to find Princess cake; anything with marzipan calls my name.  Merci.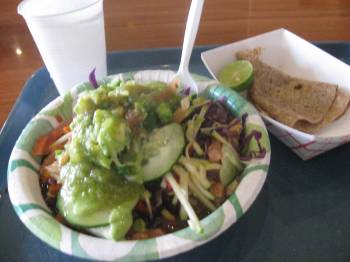 Mex Vegan
With all the vegans in Tucson, one would think there would be more restaurant options. Vegans and their meat eating friends are flocking to Mexico in Season in an industrial strip mall on the southside. The menu boasts non GMO (not often seen on any menu) and vegan fillings such as seitan fajitas, red chili potatoes, sweet potato stir fry, nopalitos, pinto and black beans for their tortas and burros. If you're giving up meat for Lent, you won't go hungry here. For carnivores, try the red and green chili beef or pork and chipotle chicken. Mexico in Season is only open until 6 pm so stop by for lunch or pick up on your way home for dinner.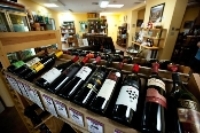 Wine Tasting
With all the big box wine stores clamoring for your attention, it makes sense to patronize the small wine store/wine bar where you don't need a GPS to find the pinot noir. CataVinos Wine Shoppe has been serving the Tucson wine loving community with personalized service for the past 6 ½ years.  Wines primarily are less than $15 per bottle and no wine is sold unless personally tasted by the owner or her volunteer crew of tasters. CataVinos has a wine club and hosts fundraising events for non-profit organizations. It takes a community to support a local small business. Check out the weekly schedule of wine tastings and bring your friends.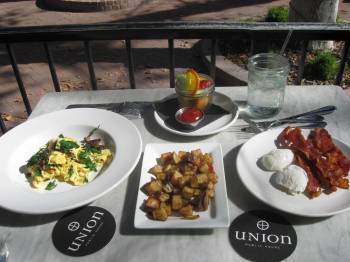 Who Invented Brunch?
Brunch is this writer's second favorite meal after happy hour. Brunch is a combination of breakfast and lunch. Brunch is that special meal of the day where we don't want to wake up so early but want to combine a leisurely breakfast with lunch. Brunch is usually seen on weekend menus. One of my favorite things to do is go to the Heirloom Farmers Market at St. Philips Plaza on Sunday and then eat brunch on the serene patio at Union Public House.  What's on the brunch menu? How about a house made cinnamon roll, chilaquiles rojo, breakfast sandwich, a Union club sandwich on house made challah, and scrambled eggs with Hatch green chiles and grilled leeks and of course, more including brunch-y kinds of cocktails beyond the Mimosa.