Accenture Match Play continues at Dove Mountain and if you hang around long enough you're bound to get hungry. The Ritz Carlton offers some choices as well as at the intersection of Dove Mountain Boulevard and Tangerine Road, near where you have to park your car and hop on the shuttle.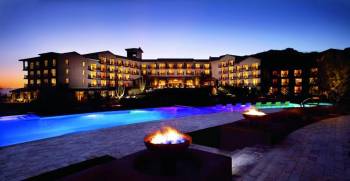 CORE Kitchen & Wine Bar
CORE is the gem of the Ritz Carlton dining experience. Its chefs partner with local artisans, farmers and sustainable purveyors to deliver authentic True American cuisine. The menu sparkles with roasted vegetable roulade, herbed gnocchi, butterfish, roasted salmon, duck confit, short ribs with creamy polenta and an expansive global wine list.
Turquesa Latin Grill
You don't have to be a guest of the Ritz to enjoy dining at the inviting Turquesa. The family-friendly poolside café offers traditional Latin fare, frozen cocktails and handcrafted margaritas. From your basic house nachos, to a light and refreshing swordfish sandwich to a vibrant menu of tacos and more filling carnitas; there is something for every appetite. Forget the calories and carbs and go for the tres leches cake or sip on the Ultimate Margarita (Patron Silver Tequila, Cointreau, lime, Grand Marnier) or Frozen Monsoon (Myer's Rum, Bacardi Rum, pineapple, coconut, lemon, lime, passion fruit). Flip-flops are optional.
At the Intersection of Dove Mountain Boulevard and Tangerine Road
Vero Amore
You got to love Vero Amore for being Tucson's only certified authentic Neapolitan pizza. These brothers do it right, from scratch, with great detail and savvy service. Fresh pizza dough is hand pressed and then wood fired in the 800-plus degree wood burning pizza oven. Sauce is made from San Marzano tomatoes grown in Italy. Mozzarella is made fresh every day. And if pizza is not your persuasion, try the pastas, salads, panini (at lunch) and more. Enjoy life on the spacious patio noshing and sipping. Vero Amore Pizza
Savaya
Coffee! One-hundred percent certified organic beans from around the world roasted daily in small batches. The coffee is fair trade and shade grown just the way you like it. Stop by this cozy store and relax. Their advertising says, "analog coffee in the digital age." How about that? Plus this writer's favorite: cold brewed coffee.  Savaya Coffee
Lo Esencial
This formerly was Dove Mountain Grill but has since transformed into a more casual affair of Latin favorites like cheese crisps, quesadillas, ceviche, tacos, tortas, burros, burgers, and yes, avocado fries. With a full bar and plenty of icy cold cerveza, Lo bypasses the lunch crowd but is open from 3 to 10 pm. Lo Esencial