Judging by the crowded parking lot, Five Palms is a Tucson foothills favorite especially during happy hours. If happy hour is your favorite meal of the day (like it is mine), you have choices for happy hours in what housed the former Café Terra Cotta. Once inside, however, you immediately forget its Southwest past and marvel in the handcrafted stained glass ceilings, rich mahogany wood, dazzling chandeliers and a sophisticated esthetic paired with friendly, efficient staff.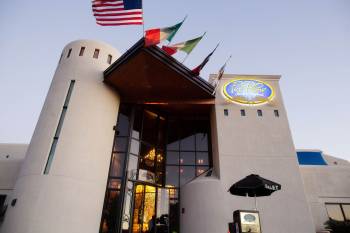 The Five Palms reflect the five concepts of one restaurant.
You can enjoy fine dining replete with strolling violinist. Fish and seafood options are flown in fresh daily and menu items include pasture-raised veal, corn-fed beef, Colorado lamb, and Spanish Serrano ham. Reservations are suggested.
You can enjoy the Five Palms fine bar for happy hour or any hour bar menu as well as menu items from the fine dining room. Here the two-course happy hour plus choice of wine or cocktail (Five Palms martini) is served from 4 to 7 pm daily. Choices vary from the silver, gold, or platinum menus. Live jazzy music plays Wednesday through Sunday.
You can also relish happy hour and more casual dining at Nino's Bar and Grill, the upstairs patio bar built from scratch boasting stunning views of the Santa Rita, Catalina, and Tucson Mountains especially vividly-hued sunsets. Here the 8x8x8 menu is the best deal in town. For $8 savor a choice of eight filling entrees like fish & chips or perhaps a hamburger and hand-cut fries, and for $8, eight quality liquid refreshments including the house tamarind margarita, sangria, or wine.
Serious oenophiles have the option to visit the on-the-premises Dovino Wine, Cigar and Gourmet Shop to choose among 400 bottles of wine from 13 different countries to have with dinner (no corkage fee), or to buy wine and store in a small locker and upon returning whether to meet a business associate or simply to enjoy a sunset, the wine is available from your locker (name plate included). Dovino also sells imported cheeses and hams, distinctive condiments and chocolate truffles. Dovino will deliver to the foothills too.
"The food is mostly steak and seafood with an international twist," says owner, Nino Aidi, who has a Middle Eastern and European background while his wife hails from Mexico. Aidi has owned restaurants for many years, claiming not all of his concepts have been successful, and has learned the hard way how to be a restaurateur.
Like father like daughter
Aidi's 26 year old daughter Nadia is the chef. She looks 16 but graduated from the UA and cooks with passion. When asked how her cooking style differs from her father, she replied that her style is eclectic and experimental and tells us about her twice cooked pork belly with apple cider gastrique. Then jokes about blue cheese ice cream she made for a private event and wonders how it would fly on menu. (I bet it would!) As with all good chefs in good restaurants, she can accommodate vegan, vegetarian, and gluten-free requests because to her favor, she has a degree is in nutrition.
Aidi ordered for us and we dined well on risotto with mushroom sauce enhanced tableside with cheese from the Parmigiano-Reggiano wheel. The hummus, smoked eggplant dip and melted Panela-cheese with spicy peppers trio made an apt match for house made warm mounds of mesquite wood-fired pita bread. We were also served two items from the fine bar happy hour menu – chicken Fiorentina and petite tenderloin with potato puree and spinach. The satisfying food and classically beautiful gilded ambiance made for a special event even while sitting in the bar.
A private room perhaps for a small wedding party, client appreciation, or intimate gathering will impress one and all with detailed stained glass ceiling bordered by exquisite gold leaf and richly colored blue walls. Perhaps you will be reminded of a mini Versailles? Oui!
The space can accommodate multiple parties and events. Downstairs there are two patios and one far enough away for cigars and smokers. Aidi, seemingly, has thought of every detail.
When asked if Five Palms is his crowning achievement, "not yet," Aidi replied. "Today is better than yesterday and tomorrow will be better than today."