What's happening in the Tucson restaurant scene?  Consider a tequila dinner, pre fixe Chinese New Year menu, accolades for Ritz-Carlton Dove Mountain, half price custom cocktails on tap, and the completion of a rapid rdstaurant renovation just in time for Super Bowl.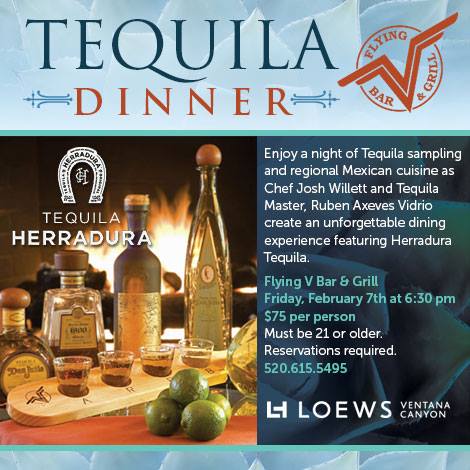 Flying V Tequila Dinner
One tequila, two tequila, three tequila, more! The Tequila Dinner at the Flying V is a fun way to sample the complexities of tequila guided by Ruben Axeves Vidrio, tequila master, (now there's a job title that interests me), paired with regional Mexican cuisine by Chef Josh Willet. The savvy pairing happens February 7 at 6:30 pm; must be 21+and reservations are required - 520-615-5495 Loews Ventana Resort
Ritz News
The Ritz-Carlton, Dove Mountain is among 35 Ritz-Carlton hotels and resorts which have been named award winners in the 2014 edition of U.S. News & World Report's Best Hotel Rankings. The rankings are based on three components: reputation among professional travel experts, guest reviews, and hotel class ratings. More than 2,500 hotels across the USA, Caribbean, Mexico, and Canada were ranked. Ritz Carlton, Dove Mountain
Pastiche Reopens after Renovation
Pastiche Modern Eatery, 3025 N. Campbell Ave., is open, after what must be the shortest renovation time in the history of Tucson restaurant renovations. While we haven't checked out the changes yet, we hear the bar and dining area has expanded. Pastiche is open daily from 11 a.m. to 11 p.m. Tuesday night is still $15 steak night, which includes a salad; and the $8 burger is available during Monday Madness. Other specials include daily happy hour from 5 to 6 p.m. and half-priced whiskey from 4 to 7 p.m. on Wednesdays. Pastiche
No Place like OM
OM Modern Asian Kitchen left the Campbell/River location to share space with its sister restaurant Neo Malaysian Kitchen and Sushi (formerly Neo of Melaka) located at 6133 E. Broadway Blvd. From January 31 – February 2, guests can enjoy a 4-course pre fixe Chinese New Year menu for $88 (per 4 people) + tax and gratuity.
Cocktails on Tap
Don't worry, be happy hour. Six custom cocktails on tap at GIO Taco are now served weekdays from 3 to 6 pm featuring "Half-Off Handles" where all beverages on tap, including cocktails, beer and wine are 50% off. Some of the restaurant's signature snacks will also be available at special pricing, including the cinnamon churro, plantain crisps, yucca tots & chips with salsa and guacamole. The on tap cocktails include GIO punch, the Gringo, Blue Sauce, Abbey Margarita, Rojo Limon, and Foot in the Grave. GIO Taco