Page 2 of 2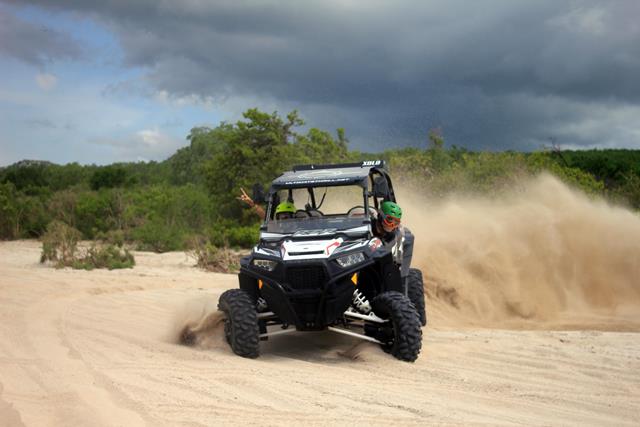 If you're looking to experience Cabo from somewhere other than the pool then hop on board with Ultimate Thrill Baja, the heart-pumping way to check out some of Cabo's untouched terrain. Offering custom-designed off-road experiences, Ultimate Thrill takes dusty adventures to top-notch levels with luxury transportation, personal chefs and highly-trained tour guides that put safety—and fun—first.
For those on the fence, we recommend booking the East Cape Adventure, a fully-immersive experience that takes riders through dirt roads, desert trails, dunes, sand, creeks and more, all while experiencing the Baja's wildlife. Catch sight of wild donkeys, wild deers, cows and horses, plus stunning views of the San Jose del Cabo coastline.
The three-and-one-half-hour journey's first stop takes guests to Punta Gorda, a 50-ft. cliff ideal for whale watching (in season) and then on through the beachfront community of Santa Cruz de los Zacatitos. Shipwrecks, one of the East Cape's best surf breaks, is the next stop where you can expect to see 15 to 30 surfers cruising the waves on a good summer day. Finally, arrive at La Fortuna, another surf break, before diving into a fully customized lunch under a palapa on a nearby beach. Fill up on eats like fruit, chips and salsa, guacamole, poblano pepper and portobello quesadillas, fresh ceviche, grilled chicken Caesar salad and grilled steak tacos, all prepared by a chef. Before heading back, work off your lunch by enjoying swimming, snorkeling, surfing, Frisbee, bocce ball or just simply kicking back in the sand. On the way back, cruise creekside through a narrow, twisting canyon before topping off the day with an exhilarating ride through La Laguna where steep dunes keep your heart pumping to the last moment. Finally, trail the coastline one last time.
The tour includes luxurious roundtrip private transportation, a multilingual tour guide and a variety of fresh water to keep you hydrated while you conquer the Baja's desert.