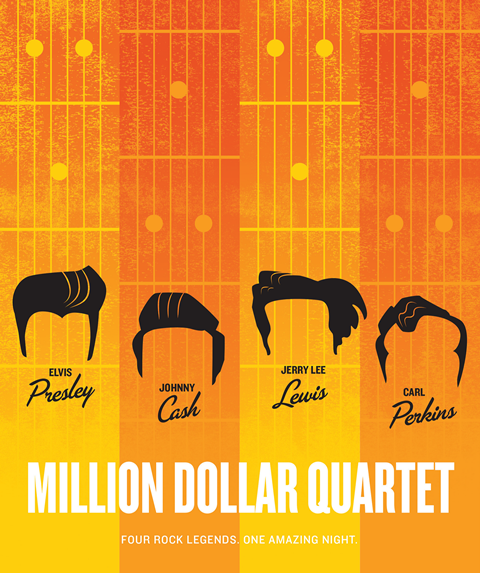 Opening March 7 at Phoenix Theatre, Million Dollar Quartet imagines the now-legendary 1956 recording session of Elvis Presley, Johnny Cash, Carl Perkins and Jerry Lee Lewis. Featuring a score of your favorite rock hits including "Blue Suede Shoes," "Great Balls of Fire," "Walk the Line," and "Hound Dog" played by the actors onstage, Million Dollar Quartet is a scorching show for music lovers packed with red-hot talent.
The show boasts a talented cast of actor/musicians including Alyssa Chiarello as Dyanne; Kavan Hashemian as Elvis Presley; Bill Scott Sheets as Johnny Cash; Kurt Jenkins as Carl Perkins; and Christopher Lash as Jerry Lee Lewis. Austin Case takes up the bass as Jay Perkins, and Kyle Sorrell joins the cast as the common thread between these rock legends, Sam Phillips.
Million Dollar Quartet opens on March 7 and runs through April 15. Tickets start at $29 and are available to purchase by phone at 602.254.2151 or by visiting phoenixtheatre.com.