Page 1 of 3
Cultural diversity and the complexity of contemporary society are the focus of The Human Touch: Selections from the RBC Wealth Management Art Collection through April 28 at the Scottsdale Museum of Contemporary Art (SMoCA). The museum, Second Street and Drinkwater Boulevard, schedules challenging exhibitions and installations throughout the year.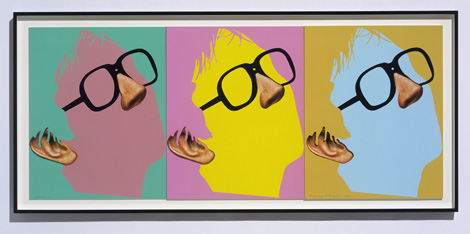 John Baldessari, Noses & Ears, Etc.: The Gemini Series: One Face (Three Versions) with Nose, Ear, and Glasses, 2006. Screen print, 34 ¾ × 76 ¾ × 3 inches.Collection of RBC Wealth Management. Image courtesy of the artist © John Baldessari.
From realistic to abstract, serious to whimsical, The Human Touch represents selectionsfrom the more than 400 artworks in the corporate collection of RBC Wealth Management Art Collection, the Minneapolis-basedinvestment and financial guidance company. Among the topics explored are hybrid racial identities, family dynamics and ethnic heritage and stereotypes.
"Broadly speaking and simply put, the theme of the exhibition is human diversity in terms of both who is represented — gender, age, ethnicity, class, for example — and how those individuals are depicted: realistically or abstractly; isolated or in the context of a specific setting; alone or with other people; drawn, painted, collaged, photographed or sculpted," says SMoCA's Associate Curator Emily Stamey, the museum's implementing curator for the show, which is curated by RBC's Donald McNeil.
"Within the show, you'll find artists using the human figure to address a wide range of topics: Historic events, personal identities, social relationships and artistic traditions are among the many issues examined," adds Stamey, who began work at SMoCA in September 2012 after serving as curator of modern and contemporary art at Wichita State University's Ulrich Museum in Kansas. As an art historian, her work focuses on pop art and identity politics.
On view at SMoCA are about two dozen artists such as John Sonsini, John Baldessari, Kerry James Marshall, Jaune Quick-to-See Smith, Ann Hamilton, Luis Gispert, Chen Qiulin, Hung Liu, Michael Vasquez, Tiranit Barzilay Cohen and iona rozeal brown.
"RBC Wealth Management has a long-term commitment to stewardship, and we constantly strive to strengthen our relationships through our giving programs, volunteerism and charitable sponsorships. By bringing The Human Touch to Scottsdale, we have the unique opportunity to share our support of the arts with our clients, friends and community members," says John Taft, CEO of RBC Wealth Management.