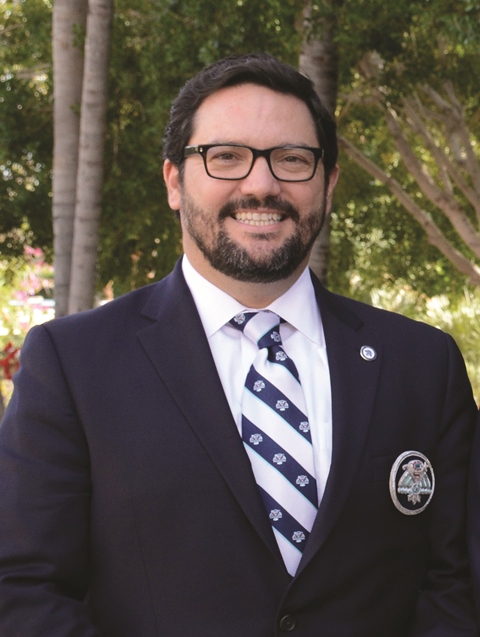 Arizona, and specifically the Valley of the Sun, is a magical place. Warm winter weather brings thousands of people here every single year to get out of the cold, enjoy dining at our great restaurants and shopping in one of the finest retail areas in the world. Of course, they also come to Arizona to play great golf and attend world-class sporting events–like the Waste Management Phoenix Open.
As the tournament chairman for this year's tournament, I'm not only tasked with the planning and execution of the largest golf tournament in the world, I'm accountable to my fellow Thunderbirds, the more than 650,000 fans in attendance, and the surrounding community I love and care for. The tireless effort of my brothers in blue tunics, the thousands of volunteers and specialists ranging from marketing to construction isn't lost on me. In fact, I wish I could give special recognition to everyone who helps our group put on "The People's Open."
While the event is iconic, fun and extraordinarily memorable, what gives me the most pride and pleasure is knowing all the good we're doing for Arizona charities. Each fan who comes through the turnstile at TPC Scottsdale the first week in February has a hand in aiding those less fortunate, and both directly and indirectly positively impacts the lives of thousands in the Valley and across our great state. When you look into a child's eyes and see the good we're doing, it makes all the hard work and long hours worth it. No question.
In addition to our charitable efforts, the Waste Management Phoenix Open also has a colossal economic effect on the Valley. Each year, hundreds of millions of dollars are pumped into the Phoenix economy through organizational expenditure, tax revenue and visitor spending. It gives us a national platform to promote one of the best places to live anywhere in the world and encourages our community values of hard work, perseverance and inclusion.
The warmth and love my fellow Thunderbirds and I feel for this great cause is more than I could have ever asked for, but I couldn't have embarked on this great journey toward this amazing honor without the support from my wife and family. I hope to see you at the 2018 Waste Management Phoenix Open.
Carlos Sugich
Tournament Chairman, 2018 Waste Management Phoenix Open