From stellar conditions to immaculate greens and perfectly ironed fairways, The Ritz-Carlton Golf Club, Dove Mountain has maintained an excellent reputation since its opening. A new addition to the club's team proves that behind every great course are great people.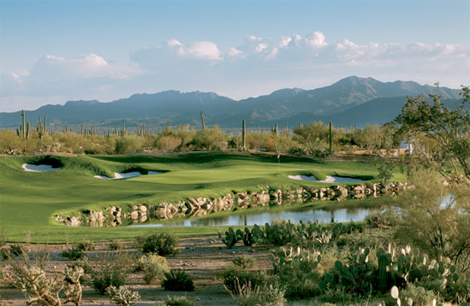 Aaron Thomas, a member of the original staff that unveiled The Ritz-Carlton Golf Club, Dove Mountain in 2009, has returned to the award-winning golf course as Director of Grounds.
Thomas, 37, was assistant superintendent at The Ritz-Carlton Golf Club, Dove Mountain as the Jack Nicklaus Signature golf course took shape, from Spring 2007 through Fall 2009. In that time, he supervised the grow-in process and maintenance of all 27 holes and worked on preparations for the 2009 Accenture Match Play Championship.
Thomas left Dove Mountain to become Director of Grounds at Shadow Ridge Resort, a Marriott destination in Palm Desert, Calif., where he has worked for the past year.
Now he is in charge of preparation of the golf course for the annual WGC-Accenture Match Play Championship, which returns to The Ritz-Carlton Golf Club, Dove Mountain for the third time in February. The course is ranked among the most desirable golf destinations in the United States and is the second golf course in the Tucson region to be designated by Audubon International as a Certified Audubon Cooperative Sanctuary.
"I am very enthused and honored to be back at such a great property," Thomas said. "From the beginning, The Ritz-Carlton, Dove Mountain has been world-class. We have a great team here, and I am proud to again be part of it."
Born and raised on a farm in Canandiagua, N.Y., Thomas grew up in the agriculture industry, and as a teenager also worked in landscaping. With a degree in horticulture, Thomas originally pursued a career in nursery management. But, while studying at The Ohio State University, he was assigned to work on a golf course during the summer of 1995, which prompted him to change his focus to golf.
Earning a degree at Ohio State in Agronomy, with turfgrass specialization, Thomas now is a member of the Golf Course Superintendents Association of America, as well as Arizona's regional "Cactus and Pine" chapter of the GCSAA. Thomas and his wife, Kelley, live in Catalina.
The Ritz-Carlton Golf Club, Dove Mountain is the centerpiece of the resort, combining solid strategy, variety and fair shot values that harmonize with the high desert elevation of 2,300 to 3,000 feet. The greens are Bentgrass, while the tees, fairways and rough are Bermuda (with perennial rye overseed), ideal for the desert climate.
The Ritz-Carlton Golf Club, Dove Mountain also features a 50,000-square-foot clubhouse with all of the services expected from a luxury private club including tennis courts, fitness center, steward-serviced private locker rooms, and a double-ended practice facility.
To Learn More
Ritz-Carlton Golf Club, Dove Mountain, www.ritzcarlton.com/dovemountain.