Page 1 of 2
This month, the PGA Tour will make its second stop in Scottsdale this season, so gear up for great weather, an impeccable course and a stellar field.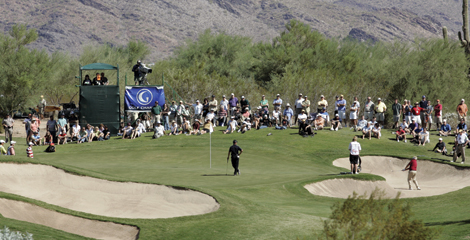 Since the FBR Open is more than a few moons away, this month golf devotees from around the Valley have a prime opportunity to indulge their PGA Tour passions at The Frys.com Open.
The tournament, which ihad its inaugural event at Grayhawk Golf Club in 2007, will remain at the venue through 2009 before transitioning to its permanent home at The Institute Golf Club in Morgan Hill, Calif., in 2010. While the tourney is in town, enthusiasts of the game can engage in the action at an event where the fan experience is taken to the highest level of consideration.
"It's really an opportunity for the real golf fans here to get close to the players and to be able to almost hear them and the thought processes that they go through when they are out there playing," says Scott Reid, Frys.com Open Tournament Director. "The FBR is kind of a more social gathering with golf, whereas this is more about the golf with a social aspect to it."
The desert areas of Grayhawk's Raptor course enable rope lines to be placed closer to the fairways to allow for galleries, creating an even more intimate spectator setting.