Looking for a seriously swanky and sure-fire way to improve your game? San Diego's Grand Del Mar has an exclusive menu of top-notch golf programs coming to its ultra luxurious facility this fall.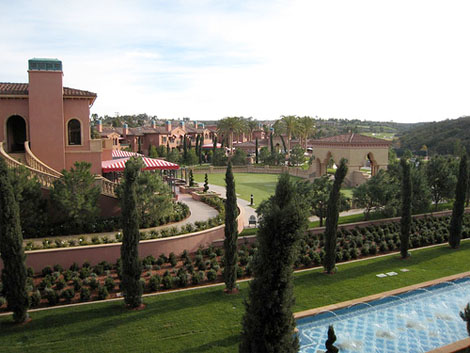 Aimed at helping golfers recharge their game, a line-up of the country's leading golf experts from top-rated programs – Stockton Golf, VISION54 and Dave Pelz Scoring Game School – will provide instruction at The Grand Del Mar's championship-caliber Grand Golf Club throughout September and October.
The line-up of clinics and seminars features:
VISION54:
Focusing not just on technical aspects of the game, but on the belief that the physical, technical, mental, emotional and social elements of golf must converge in balance, this exclusive three-day seminar is taught by Lynn Marriott and Pia Nilsson – rated #1 and #2 in Golf Digest's Top 50 Women Teachers – who are co-creators of this renowned VISION54 approach. Internationally respected experts on the mechanics of the golf swing, this dynamic teaching duo have co-authored a number of books, including the best-selling Every Shot Must Have A Purpose and The Game Before the Game: The Perfect 30-Minute Practice. This proram will be offered 8 a.m. to 4:30 p.m. Friday to Sunday, Sept. 10-12, 2010 and costs $2,995 for each session (price does not include accommodations).
VISION 54 ACCOMMODATIONS
The Grand Del Mar is pleased to extend VISION54 participants a special guestroom rate of $335 per night, including daily breakfast for two and overnight valet parking – a savings of $155. Please contact Nicole Nelson, reservations manager, directly at 858-314-1984 and ask for the VISION54 rate. Rooms are guaranteed until 5 p.m. on Wednesday, September 8, 2010.
STOCKTON GOLF:
Adhering to a clear simple means of instruction gleaned from his own 46-year PGA Tour career, Dave Stockton – along with the added expertise of his sons Ron and Dave, Jr. – will personally present three one-day putting and short game schools with hands-on instruction. The hottest instructors on the PGA and LPGA tours, the Stocktons have helped tour players achieve seventeen wins and counting since October 2009. The goal of Stockton's signature approach for amateur golfers is to experience a reduction in their handicap of 3 to 4 strokes. This program is offered 8:30 a.m. to 4 p.m. Friday, Oct. 1, 2010, 8:30 a.m. to 4 p.m. Friday, Oct. 29, 2010 and 8:30 a.m. to 4 p.m. Friday, Dec. 10, 2010. $2,300 per person, per day
STOCKTON GOLF ACCOMMODATIONS
The Grand Del Mar is pleased to extend Stockton Golf participants a complimentary night's stay at the resort. To book, please contact Staci Fields, events coordinator for Stockton Golf directly at 909-266-1352.
To Learn More
The Grand Del Mar, 858.314.1930, http://www.TheGrandDelMar.com.