Many of my tee times are booked on a whim. Whether it be a lazy afternoon that I decide to take to the course or a morning off with weather just begging me to be outdoors, I usually don't plan my playing schedule too far in advance. Eagle Mountain Golf Club in Fountain Hills has released new rates aimed at rewarding players who book with advanced notice. Sound familiar?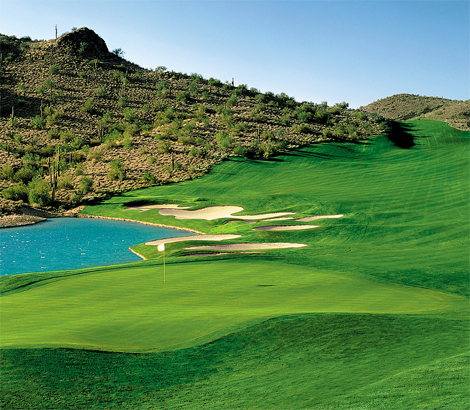 "It's similar to airline models where you get a lower fare when you book in advance." said Jeremy Hayman, Head Golf Professional. "But in our case, golfers only need to book at least 8 days in advance on our official website to take advantage of significant savings – as much as $120 per foursome."
Golfers simply save by booking their tee times 8 to 90 days in advance on Eagle Mountain Golf Club's official website: www.eaglemtn.com.
The savings really do add up. For example, the regular rate for a tee time Friday through Sunday is $145 during the high season, October 29, 2010 -Jan 13, 2011. Booking in advance significantly reduces the rate to $130, a savings of $60 per foursome when all is said and done. In peak season, from Jan through April, the regular weekend rate is $195, booking in advance reduces the green fee to $170, saving a foursome $120 off the round. Of course, the advanced bookings do reflect changes in pricing during the week too, check out the club's site for more specific details.
Shortly after opening to the public in 1996, Eagle Mountain Golf Club was named "Best New Public Golf Course" by the Arizona Republic. More recently in 2009, Golf World honored Eagle Mountain as one of the "Top 50 Public Courses in the Country," and Golf Digest awarded Eagle Mountain with 4 ½ stars out of 5.
Perched high above Scottsdale, Arizona in the city's iconic McDowell Mountains, the 18-hole, par 71, Scott Miller-designed golf course weaves its way around mountain peaks and through desert arroyos loaded with Mesquites, Palo Verdes and Saguaros making Eagle Mountain the quintessential Sonoran Desert track with a bit more character than most. The views from the golf course are stunning with the entire southeastern Valley of the Sun on display.
To Learn More
To learn more about Eagle Mountain Golf Club visit www.eaglemtn.com, or call 480.816.1234.