Searching for a last minute Father's Day gift? If dad is a golf fan, you just got lucky— golfers are some of the easiest people to shop for.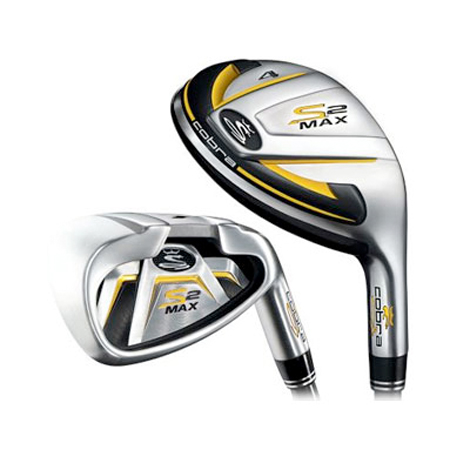 Ties…he's got plenty of them. "World's Greatest Dad" mug… appropriate gift if you're under 10. This father's day, wow dad with an on-course trinket that he wouldn't have thought to get for himself. The popular online golf store, The Golf Warehouse, is making it easy for last minute shoppers to purchase a great gift in time for Father's Day. Here are a few highlights dad would be proud to show his golfing buds.
Cobra S2 Max Hybrid Combo Iron Set (pictured above)
Available in both men's and women's sets, the Cobra S2 Max Hybrid Combo Iron Set allows golfers a high MOI (moment of inertia) for maximum forgiveness. Utilizing 9 Point Face Technology, the golf clubs promote more consistent distance and forgiveness. Players will be able to generate more club head speed while providing a smoother, solid feel at impact. Golf iron set features include stainless steel club heads, and a choice of steel or graphite shafts. Priced at $499.00 and $599.00.
Odyssey Backstryke Putter Series
These golf putters will revolutionize any golfer's game. Available in the Blade, Marxman Mallet or 2-Ball Putter models, the Backstryke golf putter provides precision accuracy when lining up putts. The club's inner core is 19.6% firmer to enhance the feel and 92% stiffer for better resiliency, leading to consistent distance control. These golf putters allow for forward press stabilization and their rough texture helps increase friction, promoting forward roll for the ball. Priced at $199.00.
David Leadbetter – Wii Personal Golf Trainer
Featuring instruction and personalized feedback from David Leadbetter, the world's #1 golf instructor, the Wii Personal Golf Trainer utilizes the Wii Balance Board and the Wii MotionPlus Controller (not included) to analyze any player's full golf swing in 3D space. Instructional videos provide practice drills for each of the seven basic components of a golf swing: grip, posture, alignment, ball position, coil, swing shape, and tempo. Go from training mode to the practice golf range, and finally onto a full 18-hole golf game. And the Instant Swing Feedback feature is like having a hitting instructor on-hand in your home for free, any time day or night! Priced at $99.99.
Clicgear 3.0 Push Cart
Clicgear offers a full sized, three wheel golf pushcart that glides smoothly down the fairway and yet still folds up incredibly small. At only 13" x 15" and 24" when folded, it won't take over your car trunk or garage. The Clicgear golf push cart is powder coated to resist scuffing and scratching; other features include: Improved push button front wheel lock, easy-action break lever, removable beverage holder, mesh storage net, umbrella tube storage bracket and adjustable bag brackets. Golf push cart comes in a variety of colors including: black, blue, kiwi, orange, red, silver and yellow. Priced at $199.00.
Bushnell Tour V2 Rangefinder Patriot Pack
The V2 Rangefinder is a tool any golfer can use. Officially tested and approved by the PGA Tour Partners Club, the Bushnell V2 sports a perfect 10 rating in the categories of distance measurement, accuracy, effectiveness, quality and overall rating. With a maximum range of 1000 yards, the V2 Rangefinder provides instantaneous measurements and accurate range performance within one yard. The PinSeeker mode allows any player to zero in on the flag (up to 300 yards away) and the in-view LCD display and built-in tripod allow for optimal viewing and stabilization. The pack also includes two protective coverings (Limited Edition Patriot Skinz and Red Skinz) along with a carry case and an extra 3-volt battery. Bushnell will provide a percentage of every pack sold to The Folds of Honor Foundation (FHF) which provides post-secondary educational scholarships to the spouses and children of service members disabled or killed as a result of military service. Priced at $299.95.
To Learn More