As one of the top golf destinations, Arizona is known as a golfer's paradise with a collection of top-notch golf resorts, beautiful courses and stunning desert scenery. During the summer months, despite the scorching heat, true golfers flock toward their playground to get the best deals. So lather on that SPF, grab your hats, sunglasses, water bottles, and bring out the golf superstar in you!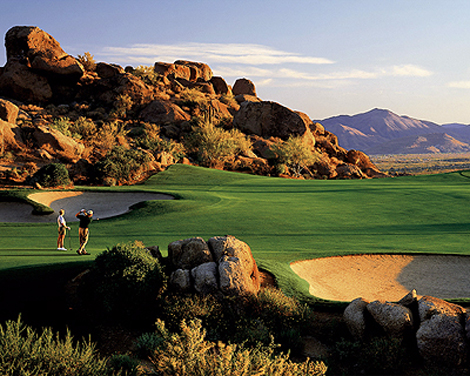 Located in Scottsdale, the Troon North Golf Club is a good pick for golfers of various skill levels. When you are a beginner golfer, it is quite intimidating to play with the pros, but don't let that stop you from playing. Troon North's challenging fairway offers an enjoyable experience for students, leisure golfers and avid duffers, who just want a relaxing game. Either way, everyone enjoys a spectacular view of the desert landscape.
Now with triple-digit weather, summertime golfing might make you rethink stepping out onto the course. However, the scenery at the Boulder Resort's North and South course is enough to take your mind off the heat. If you are looking to improve your skills, the Boulder's Golf Academy features personalized lessons from talented instructors. Not only do both championship-level Jay Morrish-designed golf courses boast 36-holes of paradise , but the views of the Sonoran Desert landscape and desert wildlife makes summer golfing more enjoyable.
Speaking of luxuriating in breathtaking golf courses, imagine golfing in a luscious fairway, rich with green pine trees bordering the course. The Raven Golf Club at South Mountain is located minutes from Phoenix Sky Harbor airport, Scottsdale resorts and Downtown Phoenix. The course's strategic formation gives you the opportunity to use various clubs that challenge golfers.
With kids out of school this summer, you can still enjoy your weekly golf trips by bringing them with you to the Phoenician Golf Resort. Indulge in an unforgettable golfing experience, while your kids take part in various fun activities at the Funician Kids club.
The best deals in town are here for the summer in the collection of high-end resort courses. Singles, couples and group golfers can enjoy all-day golfing followed by an evening of fine dining and relaxing spa services.