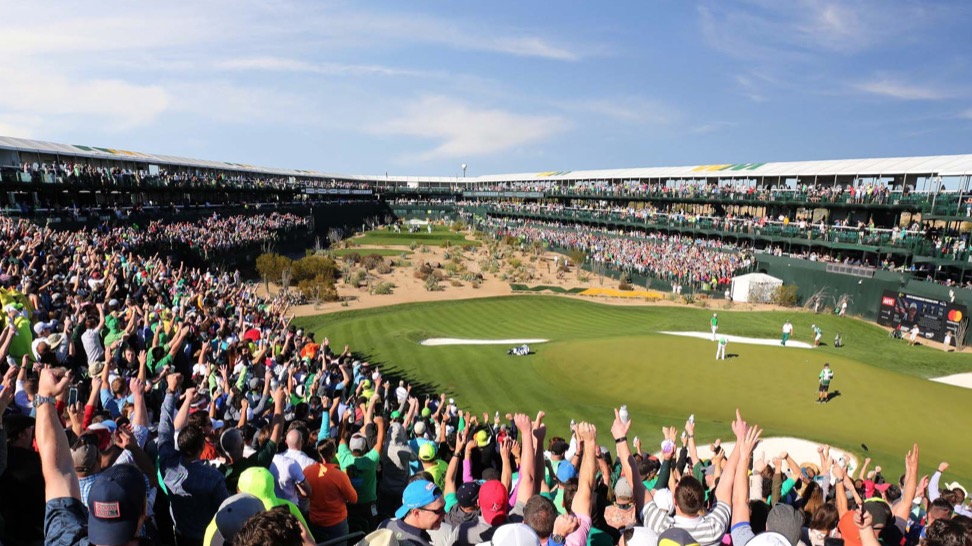 For the third time in five years, the Waste Management Phoenix Open was named PGA TOUR "Tournament of the Year." The 2018 event also tied with the Safeway Open for "Most Fan-First Event."
"On behalf of the PGA TOUR, I am pleased to congratulate the Waste Management Phoenix Open for these special recognitions," said PGA TOUR Chief Tournaments and Competitions Officer Andy Pazder. "The Thunderbirds and Waste Management worked tirelessly to continue and raise the bar across all facets of the event, and the fans responded. With the TOUR's renewed focus on the fan experience onsite at TOUR events, we are excited to recognize the Waste Management Phoenix Open on its efforts to improve and innovate the experience at PGA TOUR events."
The 2018 Waste Management Phoenix Open, won by Gary Woodland in a playoff, saw record attendance, social media engagement and charitable impact. Held at TPC Scottsdale and known for its famous coliseum-style 16th hole, the Waste Management Phoenix Open continues to shatter attendance records, with the 2018 event drawing a weekly total of 720,000 fans, nearly 63,000 more than the previous year. As part of a four-day concert series, nearly 10,000 fans attended a sold-out performance by Florida Georgia Line after Thursday's opening round, and fans took to social media to share their experience. Tournament channels saw an influx of more than 20,000 followers, a 36-percent increase. As fan numbers increased, so did the charitable impact, with the 2018 event raising a record $12.2 million for local charities, eclipsing $12 million for the first time.
"It's an honor to be recognized by the PGA TOUR for our commitment to our fans, sponsors and communities," said Carlos Sugich, 2018 WM Phoenix Open Tournament Chairman. "The Thunderbirds and our title sponsor Waste Management work tirelessly to make each WM Phoenix Open better than the last, not only in overall fan experience, but also in charitable giving and innovation. We're extremely proud of these acknowledgements, and we look forward to setting the bar even higher in the years to come."
The Waste Management Phoenix Open also earned a share of the newly-introduced "Most Fan-First Event" Award, recognizing enhancements to the fan experience. The tournament offered 16 different ticket packages and a variety of food and beverage options with prices under $10. Through a partnership with local cab companies, the Safe Ride Program provided complimentary rides for fans to locations within 10 miles of TPC Scottsdale.
"We are proud to partner with The Thunderbirds on this incredible tournament," said Jim Fish, President and CEO of Waste Management. "The positive impacts the Waste Management Phoenix Open has year-in and year-out on this community and the environment are awesome. Thank you to the fans, vendors, sponsors, and golfers for making the Waste Management Phoenix Open the 'greenest show on grass' and most sustainable sporting event in the world."
The 2019 Waste Management Phoenix Open will be held January 28 through February 3 at TPC Scottsdale.
For tickets and more information on the 2019 Waste Management Phoenix Open, visit: wmphoenixopen.com