Page 2 of 5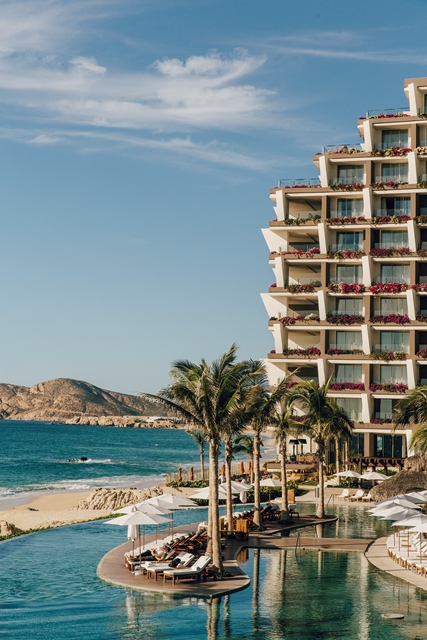 Found along the luxury corridor between Cabo San Lucas and San Jose del Cabo, and just 35 minutes from Los Cabos International Airport, Grand Velas Los Cabos is found where the magic of the desert meets the mystery of the ocean. With ultra-luxe suites, an endless array of renowned dining experiences, a spa that is an utter pampering palace, modern Kids' and Teens' Clubs, and much more, the all-inclusive resort provides guests enough luxury and entertainment that they don't need to step foot off property if they choose not to.
Starting with its good looks, Grand Velas Los Cabos features a unique half-moon design and its tiered architecture allows guests eye-popping ocean views. The sparkling three-tier infinity pools are perfectly nestled within the curved design and are ready to be enjoyed with a cocktail in hand. The gallery of contemporary art and original sculpture and art pieces only enhance the beauty of the resort—and brings the incredible local arts and culture to guests.
When it comes to checking in, there is plenty to check out as all 304 of the ocean-view suites are brimming with desirable features that make each feel like a home away from home (a super-deluxe home, at that). With more than 1,180 square feet of space, each suite features private terraces and a luxe bathroom with interior Jacuzzis and separate walk-in rain showers. The mini bars offer fine wines and artisanal tequila, though juices, beer, snacks and more are at the ready, too. Craving even more extravagance? Two-floor wellness suites with spa amenities as well as suites with private immersion pools—overlooking the sea, of course—are available.
Even the process of checking in is something to behold. Instead of walking up to a reception desk, guests are guided to the grand balcony just outside the lobby and greeted with cold towels, a frosty drink and—in a true testament to the luxury and relaxation that awaits you—a mini massage to help you unwind from your travels while being checked in. Best of all, you can see and hear the ocean during this process, a constant reminder of the dreamy destination that surrounds.
Last Updated ( Tuesday, 10 July 2018 08:09 )