Page 2 of 3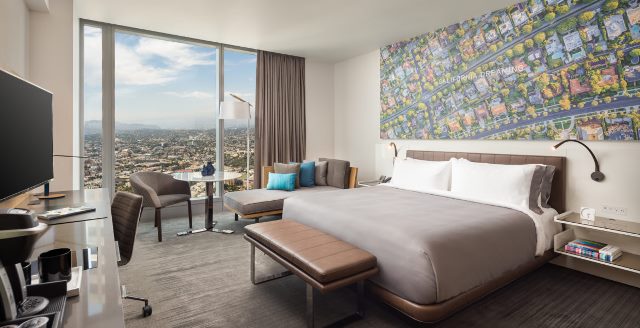 Stretching 73 stories into the L.A. skyline, the InterContinental sits in the heart of downtown, steps away from L.A. Live and its five million square feet of shopping, dining and entertainment. But contained within its walls is a destination unto itself, with five world-class dining options, and an outdoor pool with cabanas and the No Dive Bar, where you can look down 7th and Figueroa, where Spiderman famously swung in the movie. Everywhere you look, there is a new sight to behold.
Oh, the views. Floor-to-ceiling windows in the guest rooms give travelers a bird's-eye view of the landscape. Los Angeles' famous freeways stretch for miles, and look so much better when you're above it all. A three-story light sculpture in the sky lobby is patterned on a schematic of the I-10 and I-110 freeways, with white, amber, and red lights mimicking the traffic lights. The front of the welcome desks transform at night to represent the LA skyline.
The overall design of the hotel pays homage to Southern California's varied lifestyles, from the urban car culture at play in the aforementioned design to the classic beach feel of the No Dive Bar and pool area. Headboards in the guest rooms are billboard-style, depicting classic and iconic California scenes.
You may want to venture out into the city to take in a basketball game or concert, or you can let the nightlife come to you. Spire 73 is the tallest open-air bar in the Western Hemisphere, and one of the hottest spots in the city. With an impressive selection of rare and unique whiskey, and fire pits for s'mores and socializing, along with an outstanding menu accessible with the push of an elevator button, why leave?
Last Updated ( Tuesday, 27 February 2018 08:16 )