The Phoenix Symphony's New Year's Eve Gala has always been a wonderful tradition on the Valley's social scene. Lots of great memories from the formal affair - especially because it's a cherished way to spend New Year's Eve - enjoying and dancing alongside the entire orchestra.
The Symphony brought back the New Year's Eve Gala in 2017, after a ten-year hiatus as part of their 70th Anniversary Season. And it was a success. Not only will the gala continue this year , but this year's Honorary Chairs are Sharon and Dr. Oliver "Ollie" Harper.
Jim Ward, the Symphony's President and CEO stated it beautifully that, "Sharon and Ollie are the consummate community stewards and the Phoenix Symphony could not be more pleased to celebrate their contributions to our state as they serve as our Gala's Honorary Chairs."
Sharon, the CEO and Co-founder of Plaza Companies has been honored multiple times in the community . Most recently, on her lengthy list of awards, she was named Woman of the Year by Valley Leadership. In addition to his role as Chair of the Phoenix Symphony's Board of Directors, Dr. Harper is a family physician with a specialty in geriatric medicine and is on the faculty at University Arizona, College of Medicine Phoenix.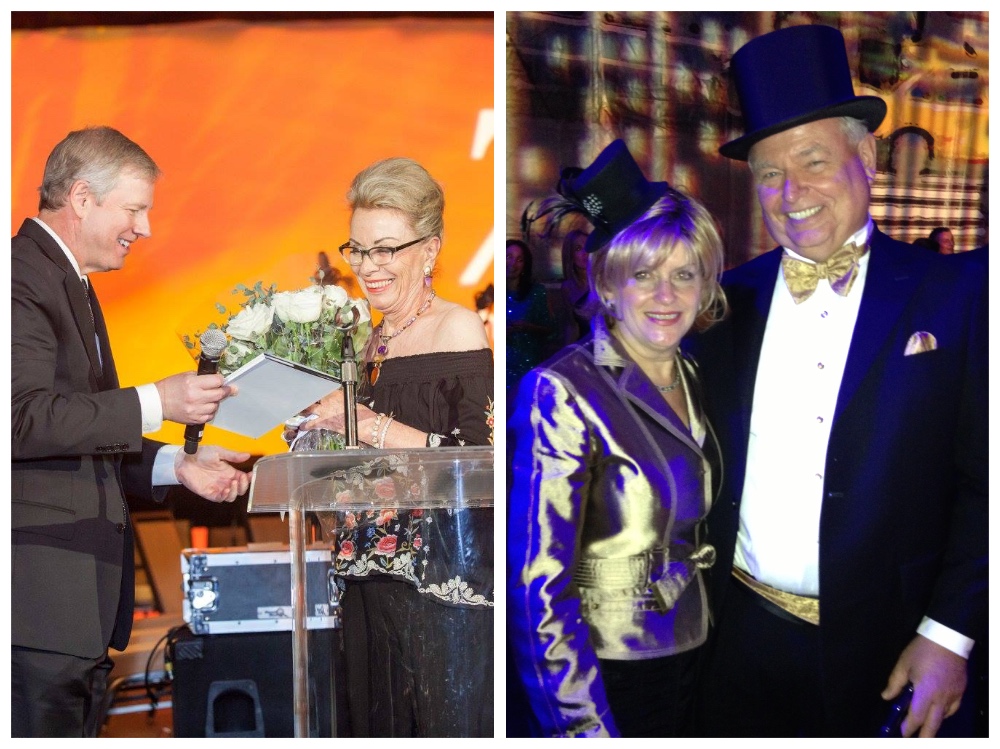 So if you'd like to join in the champagne toast following the three-course gourmet dinner, mark your calendar. Tickets for the fancy fete at the Arizona Biltmore Resort start at $500 per person. Event Chairs are Lucia Renshaw and Bruce Covill. Lucia and Bruce are pictured at last year's gala above right and Jim Ward and Jeanne Herberger are pictured at last year's gala above left.
All proceeds of the 2018 benefit the Phoenix Symphony's community outreach and education programs which bring music annually to over 125,000 children ( and adults in places such as hospitals, and shelters) helping to introduce music to new generations. For more information you can click here .

Kathy Shayna Shocket is a freelance Writer, and TV- Field Producer. The former TV-Reporter has written for publications such as TIME Magazine, MONEY Magazine, PEOPLE Magazine, The Hollywood Reporter and The NEW YORK TIMES. You can reach her at redkarpetgirl@aol.com