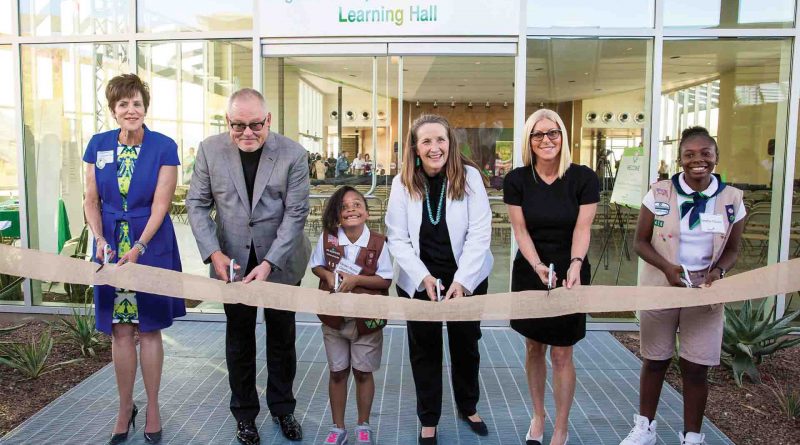 Thanks to a successful matching challenge from The Bob & Renee Parsons Foundation, Girl Scouts–Arizona Cactus-Pine Council has reached the completion of its five-year, $18 million Campaign For Girls in Arizona.
Renee Parsons, businesswoman and philanthropist, points out that Girl Scouts–Arizona Cactus-Pine Council is teaching girls and women to be courageous, confident and true to themselves. "With the completion of the campaign, the organization now has a new, beautiful multi-use facility to elevate our youth and offer every girl a chance to practice a lifetime of leadership, adventure and success."
Now the Council can now provide a wider range of educational and empowering experiences to more than 21,000 girls in over 90 Arizona communities.
"I've had strong female leaders at the top of virtually every business I've created, and Girl Scouting helps prepare our Arizona girls for future leadership," said American entrepreneur and philanthropist Bob Parsons. "Being part of such a successful campaign helped our future leaders learn firsthand if they work hard and believe in themselves, anything is possible."
We are very grateful for the continued support of The Bob and Renee Parsons Foundation. Their investment helps us develop the leadership potential of girls in a safe, all-girl environment where girls can try new things, risk failure and find success, build their self-confidence and become better prepared to contribute as leaders in the future," says Tamara Woodbury, CEO of GSACPC.
Through the campaign, the Girl Scouts built The Bob & Renee Parsons Leadership Center for Girls and Women at Camp South Mountain, a year-round urban program and leadership center with camp amenities that opened in April 2017. By the end of last year, more than 7,000 Girl Scouts, adult volunteers, staff and community members were on site to either take a tour, enjoy summer camp, or attend meetings, trainings and other programs.
Longtime supporters of Girl Scouts, The Bob & Renee Parsons Foundation gifted $5 million to the campaign in 2015, and in June 2017, the Foundation issued a matching grant challenge to GSACPC, agreeing to match all donations, dollar-for-dollar, up to $1.6 million. The challenge succeeded in raising the final $3.2 million to close-out the Campaign For Girls in Arizona this spring. In total, The Bob & Renee Parsons Foundation has gifted more than $7 million, which includes the largest single gift ever received by a Girl Scout Council nationwide.
Other notable gifts include those from The Virginia G. Piper Charitable Trust, The Kemper and Ethel Marley Foundation, and the Girl Scouts themselves, who raised more than $1 million through their cookie sales. The Emerald Foundation provided the first gift to ensure the campus would be ADA accessible.

Kathy Shayna Shocket is a freelance Writer, and TV- Field Producer. The former TV-Reporter has written for publications such as TIME Magazine, MONEY Magazine, PEOPLE Magazine, The Hollywood Reporter and The NEW YORK TIMES. You can reach her at redkarpetgirl@aol.com