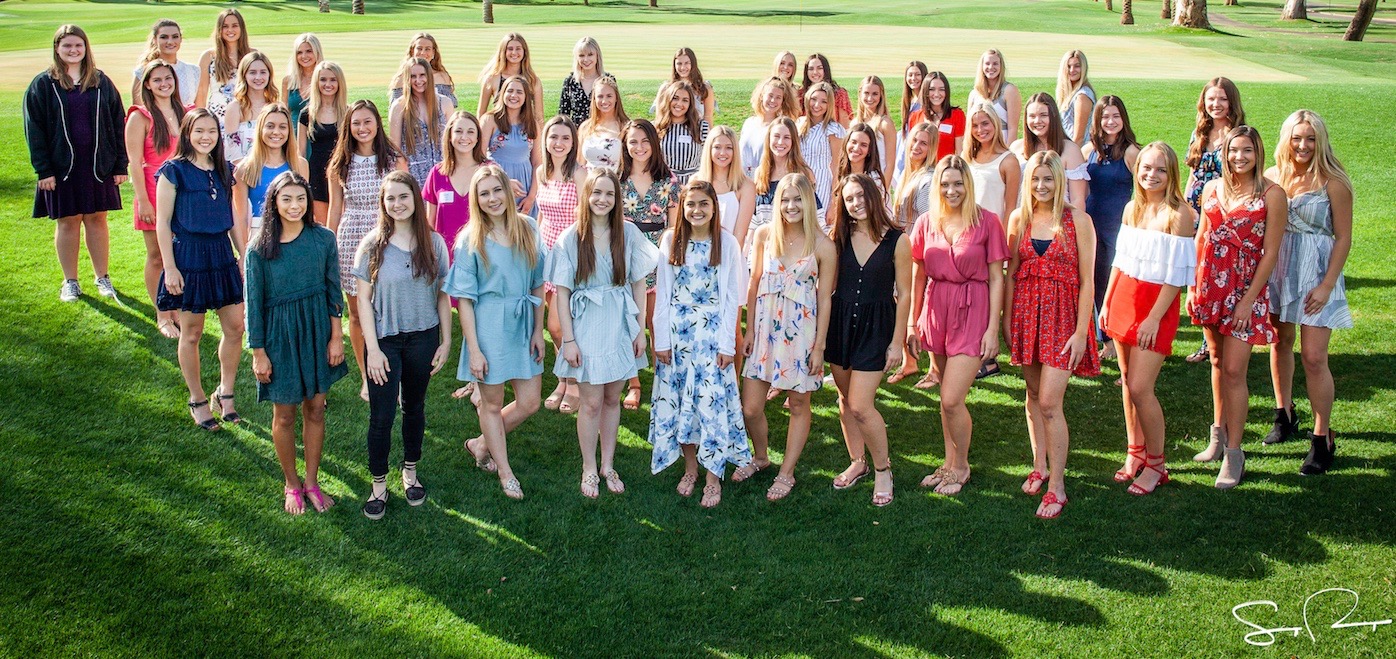 Here they are! The Board of Visitors' 58 new Flower Girls. These 58 high school seniors have accepted the invitation from Arizona's oldest women's charitable organization - to become Flower Girls.
The young women will participate in events all year long, including the 65th Annual Fashion Show Luncheon on December 8, at the JW Marriott Camelback Inn Resort & Spa …. and a philanthropic event at The Board of Visitors Ryan House next spring.
It will be an emotionally rewarding evening when at the culminating event on April 6, 2019, the ladies will be presented by their proud fathers.
The April event is the Board of Visitors 104th An-nual Charity Ball, wheen over 1,000 guests turn out at the JW Marriott Camelback Inn Resort & Spa.
The Board of Visitors 2019 Flower Girls are:
Camille Alvarez, Lucie Anderson, Mackenzie Bouise, Trinity Cavanaugh, Alex Culver-Witt, Isabelle Culver-Witt, Tatum Dial, Maddie Dinowitz, Talle Donley, Sydney Frank, Jackie Ganem, Paige Gapusan, Ursula Gately, Sarah Glass, Emily Good, Leila Grant, Morgan Gruwell, Kylie Hall, Lauren Hardy, Helene Hart, Ashlyn Heintzelman, Katie Holmes, Riley Hrasky, Olivia James, Hannah Johnston, Abby Jones,
Jessica Katzman, Bridget Kelly, Patsy Langmade, Alyssa Largay, Francesca Leonard, Ella Longo, Gigi Martin, Maggie McGuire, Alexis Mullard, Kendall Nowell, Addison Putnam, Jenna Regalado, Lydia Rush, Anna Sabow, Kate Shein, Arden Smith, Kate Spellman, Katherine Thomas, Lily Tierney, Tessa Tierney, Jane Tiffany,
Hayley Trueman, Natalie Vitols, Lanie Walkenbach, Grace Wanebo, Kate Warner, Alexa Wear, Lillian Weissmueller, Sadie Wintergalen, Cat Worth, Emma Woudenberg and Ashley Yeung.
Since its inception, The Board of Visitors has granted more than 20 million dollars to local nonprofit organizations in the greater Phoenix community serving the healthcare needs of women, children and the elderly.
Congratulations!

Kathy Shayna Shocket is a freelance Writer, and TV- Field Producer. The former TV-Reporter has written for publications such as TIME Magazine, MONEY Magazine, PEOPLE Magazine, The Hollywood Reporter and The NEW YORK TIMES. You can reach her at redkarpetgirl@aol.com