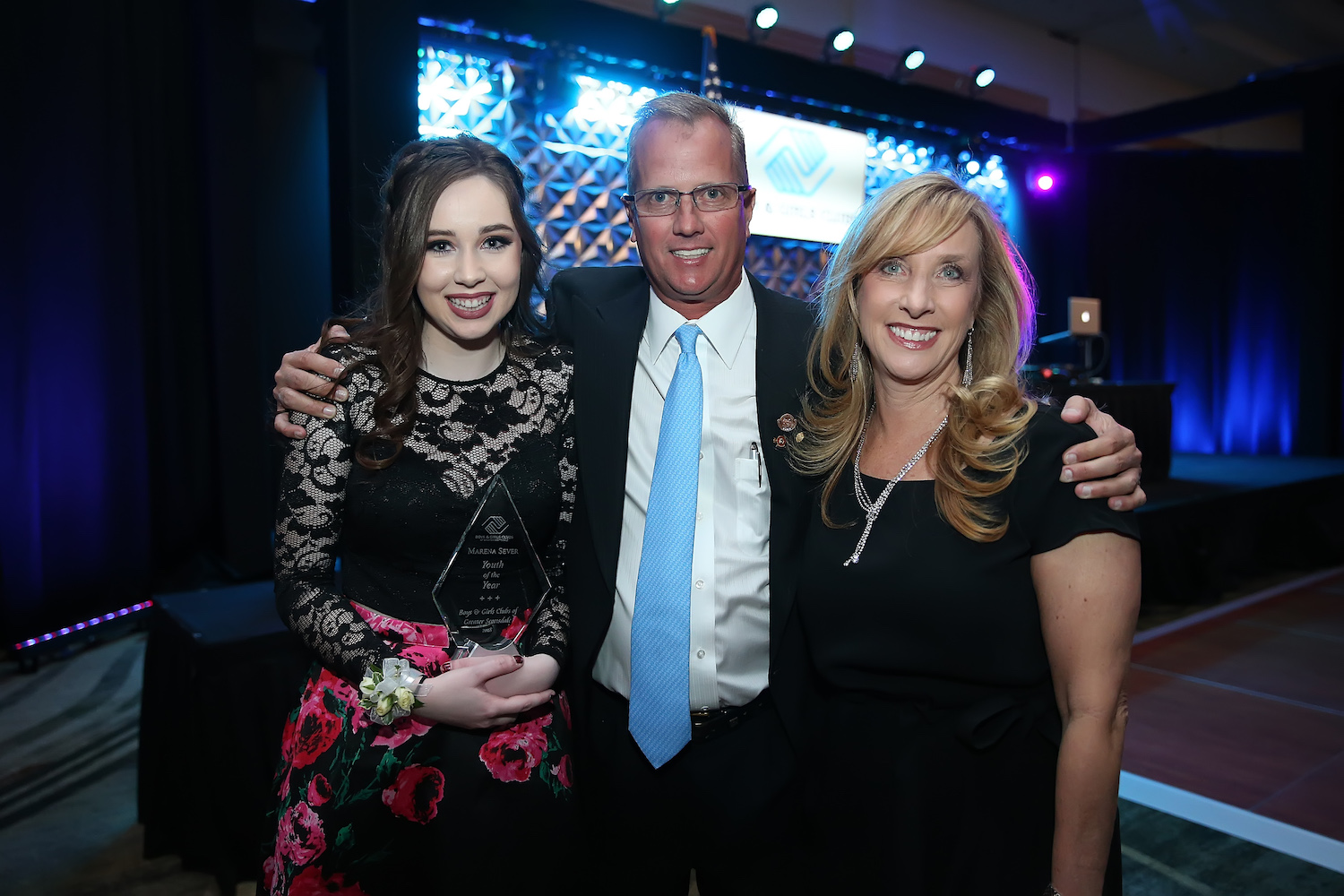 Lisa Hurt's influence in the Scottsdale community - at the helm of the Boys & Girls Clubs of Greater Scottsdale - will now spread wider. Yes, the president and CEO of the Scottsdale organzation will be joining the Boys & Girls Clubs of America's regional leadership team.
(That's Lisa pictured above right, at the 2018 Celebrate Youth at Blue Door Ball with BGCS Board Chair Allen Thompson and our 2018 Youth of the Year Marena Sever. Marena, by the way, went on to become the 2018 Arizona State Youth of the Year at that competition in March.)
Lisa participated in Boys & Girls Clubs programs as a child and has worked for the organization in some capacity for over three decades. In May, she'll be taking the new ntionaal leaadership role as the vice president of organizational development southeast field operations.
"Boys & Girls Clubs of Greater Scottsdale will always hold a special place in my heart," said Hurst. "This organization has some of the most incredible board members, community members, staff and kids that I've seen in my time with Clubs. I am sad to leave Scottsdale, but immensely proud of the achievements we have made for local youth. Whoever has the privilege to sit in this chair next, has a great ship to sail."
"Lisa brought something very special and irreplaceable to Boys & Girls Clubs of Greater Scottsdale," said Allen Thompson, Boys & Girls Clubs of Greater Scottsdale Board Chair. "Although we will miss her tremendously, we are proud of her and know that she will continue to spread her amazing influence to even more youth on a national level. Boys & Girls Clubs of America is extremely lucky to have her."
In her new position where she will be responsible for providing direction in support of the assessment of organizational needs, the design, implementation and evaluation of services that facilitate organizational development and sustained progress of local Boys & Girls Clubs.
"We are so grateful to Lisa for her leadership and friendship over the past two and a half years. She will always be family to Boys & Girls Clubs of Greater Scottsdale, even on the other side of the country," said Thompson.

Kathy Shayna Shocket is a freelance Writer, and TV- Field Producer based in Phoenix, AZ. The former TV-Reporter has written for publications such as TIME Magazine, MONEY Magazine, PEOPLE Magazine, The Hollywood Reporter and The NEW YORK TIMES. You can reach her at redkarpetgirl@aol.com