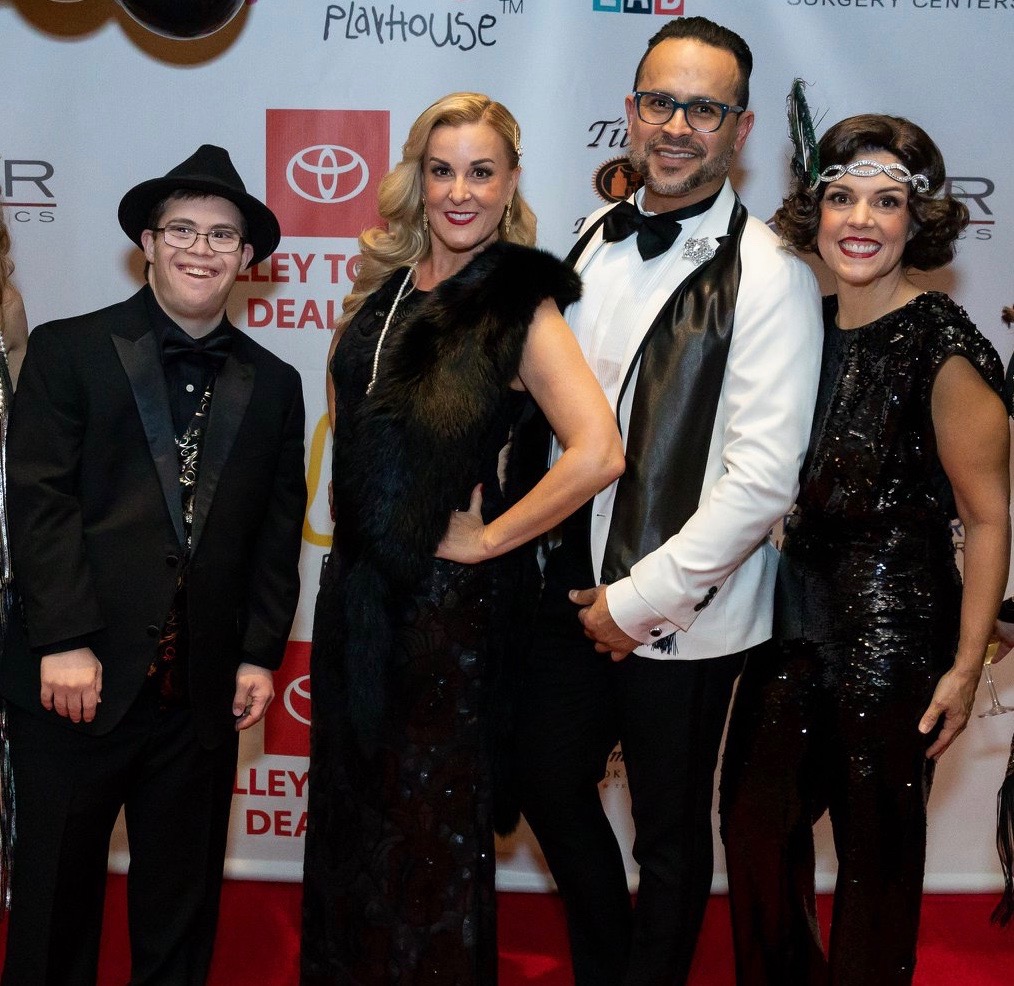 People who flocked to the Great Gatsby parties of 1925, during the jazz era, could have never imagined how Gigi's Playhouse would turn a Gatsby themed party into a rocking success! That's because this Great Gatsby party at the JW Marriott Phoenix,, had a unique and intimate energy. Not to mention rocker Bret Michaels.
The personal friendships and special bonding of the 400 guests, filled the ballroom, creating an emotionally rewarding ambiance, highlighting how Gigi's Playhouse has brought them together.
The voices at this "I Have a Voice Gala" were strong. Their powerful message is championed by the founder of Gigi's Phoenix chapter, Jennifer Gage; and this year's co-chairs Brett Schatzman (a Gigi's participant and recent grad of its 2019 class) and Joen Romero-Martinez. Joen, an active volunteer, who ran the Nuestros Angeles program, visiting local schools, to invite students to become involved in Gigi's. (Brett, Jennifer and Joen are pictured above with board member Danica O'Leary who chaired Gigi's first three galas.)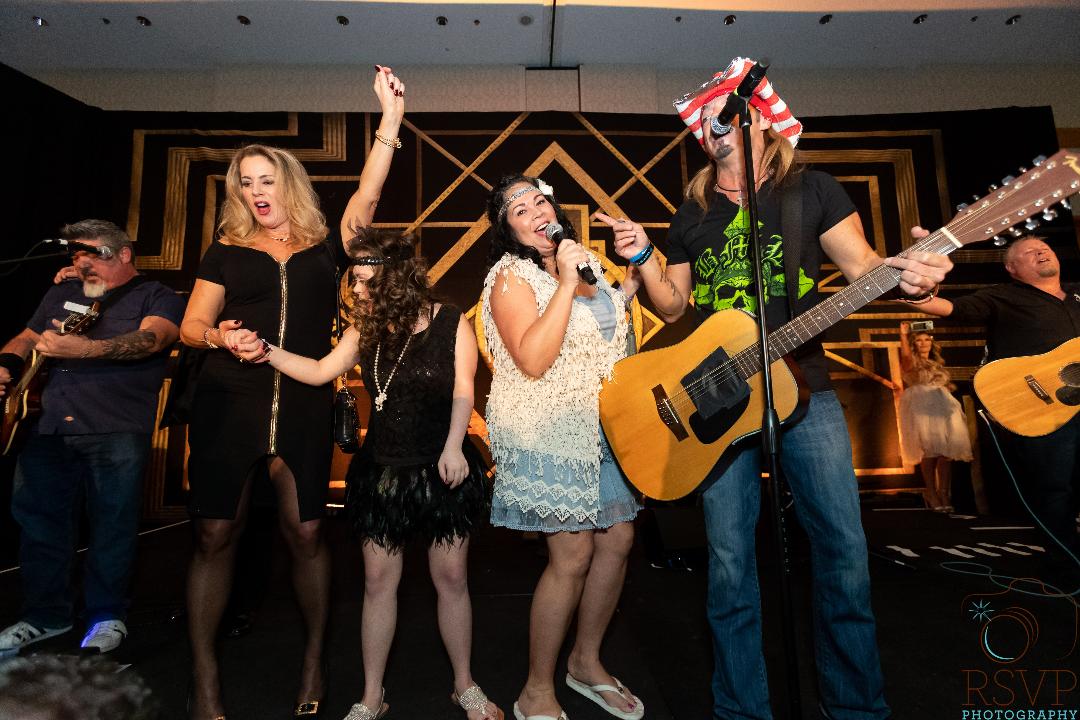 One of the most touching highlights of the live auction, was the chance to sing on stage with Bret Michaels during the gala. The rockstar experience also included tickets to one of his concerts. Carrie Brookshire and Dennis Brookshire had the winning bid of $2,000, and graciosuly gifted the opportunity to Kennedy Walsh, a Gigi's participant in Montana who flew in for the fundraiser. Kennedy's mom, Christina Walsh, who also joined them all on stage, is pictured above.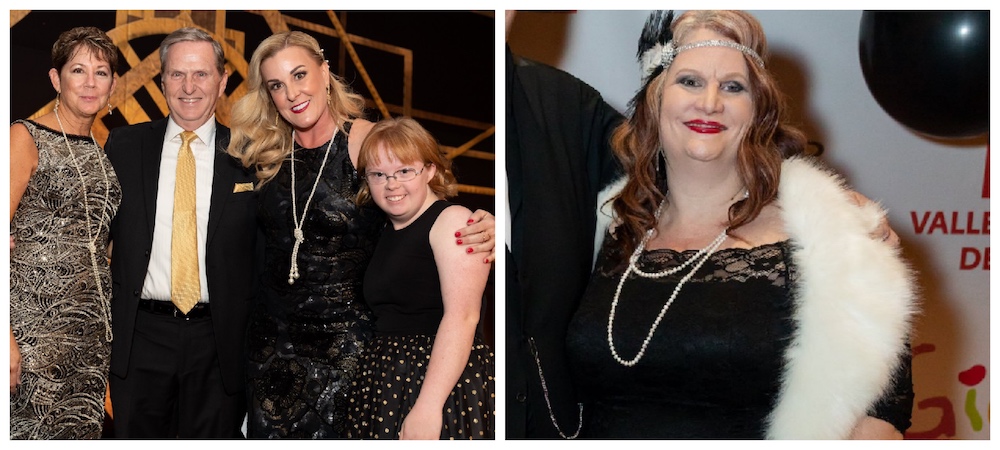 Amy Bockerstette, a professional golfer and Gigi's participant in Phoenix, along with her parents Jenny and Joe Bockerstette, (all pictured above with Jennifer Gage) were the gala's Honorary Co-Chairs. Gigi's new President of the Board, Jennifer Marble is pictured above right.
This year's title sponsor, was Right Toyota . Pictured above are Right Toyota's Jason Loop, Zach Ivanhoe, Christina Ivanhoe, Autumn Loop, and Matt and Christy Fey. Pictured below, center, is Dennis Brookshire on stage with Bret. Also below center, is contemporary artist Niki Woehler.
Niki is also a volunteer, teaching art at Gigi's and helped the Participants paint a large magnificent canvas for the auction that fetched $3,500. Her commissioned art piece went for $6,500. The Domnick's Steakhouse dinner for ten people was also very popular,with a total bid of $10,000. Below left on the red carpet are, Gigi's board member Lisa Meline and husband Dan Meline; below right, Gigi's Past Board President, Stepanie Gage and grandaughter, Kaityln Gage.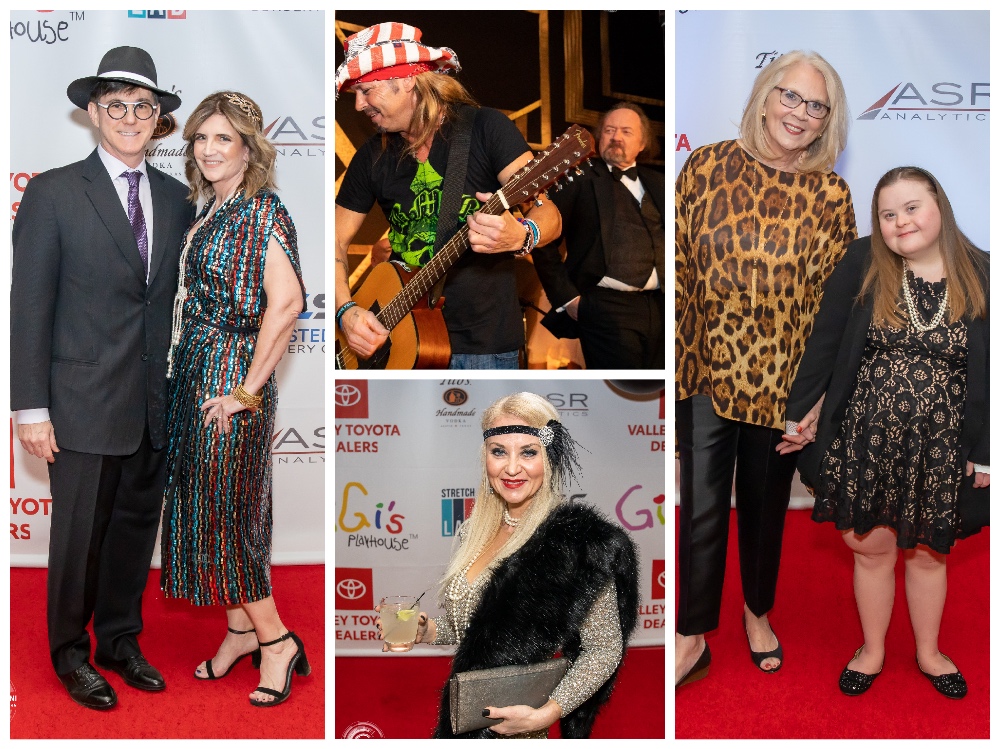 When the determined Jennifer Gage founded Gigi's in Phoenix, it became the 21st Playhouse chapter nationwide. There are now 49 locations and Jenneifer proudly says why it's successful and they have a voice. "Give people with Down syndrome and their families the tools for success for free programs, designed to help them reach their personal best."

Kathy Shayna Shocket is a Writer and TV-Field Producer. The former TV entertainment reporter has written for such publications as TIME Magazine, Money Magazine, PEOPLE Magazine, The Hollywood Reporter and The NEW YORK TIMES. You can reach her at redkarpetgirl@aol.com