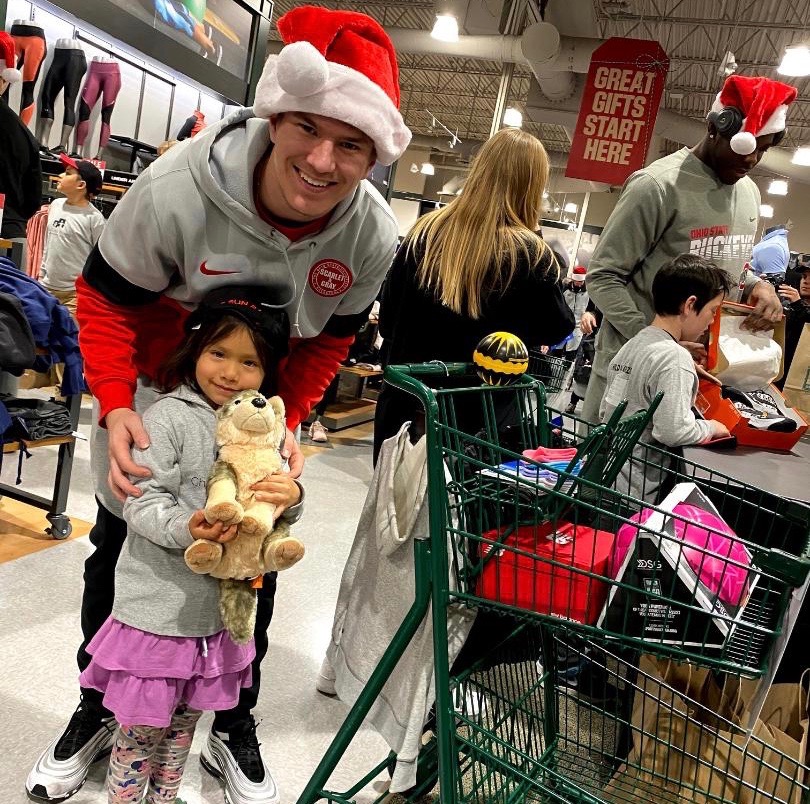 Ohio State players teamed up with Fiesta Bowl Charities to host a very memorable holiday event for 50 at-risk youth from Child Crisis Arizona. It's the vital non-profit committed to preventing child abuse and neglect through education and intervention.
In between the athletes' pre-game practices for the PlayStation Fiesta Bowl - it was an emotionally rewarding workout in the aisles of Dick's Sporting Goods in Scottsdale!
The experience was a powerful one, filled with the Christmas spirit, as Ohio State players, student athletes and coaches turned out for "Shop with a Jock".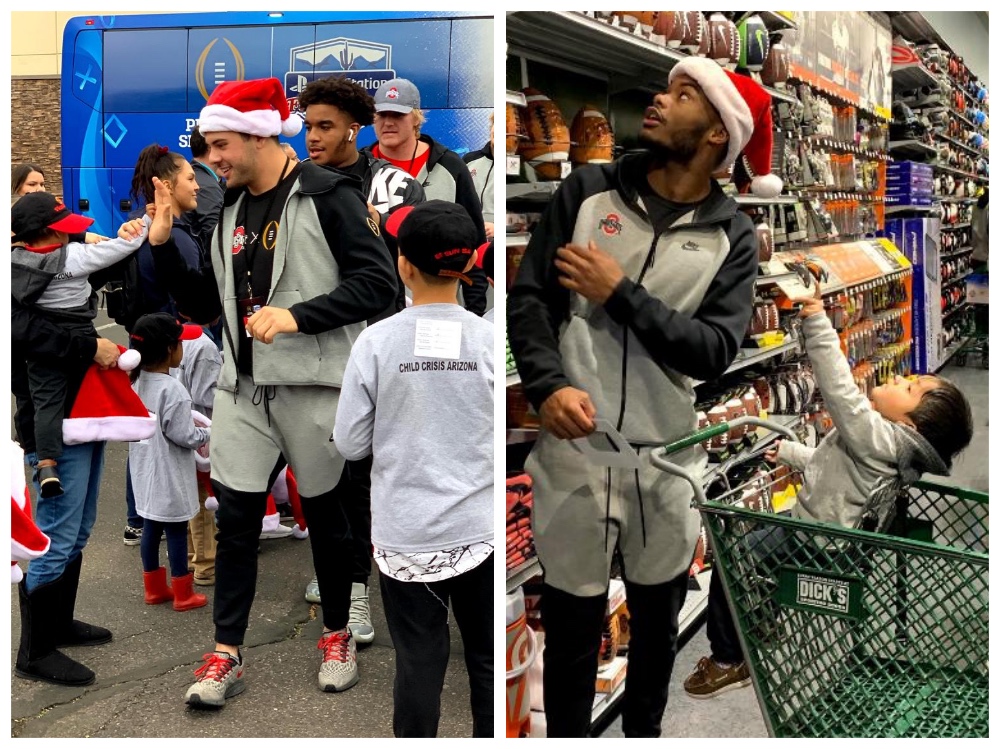 Each child from Child Crisis Arizona had the chance to spend $200 at Dick's Sporting Goods, while shopping with one of the Buckeyes for holiday gifts. Along with the gifts from Dick's Sporting Goods, they also received Fiesta Bowl PlayStation gear. including a poster-card and logo-comforter.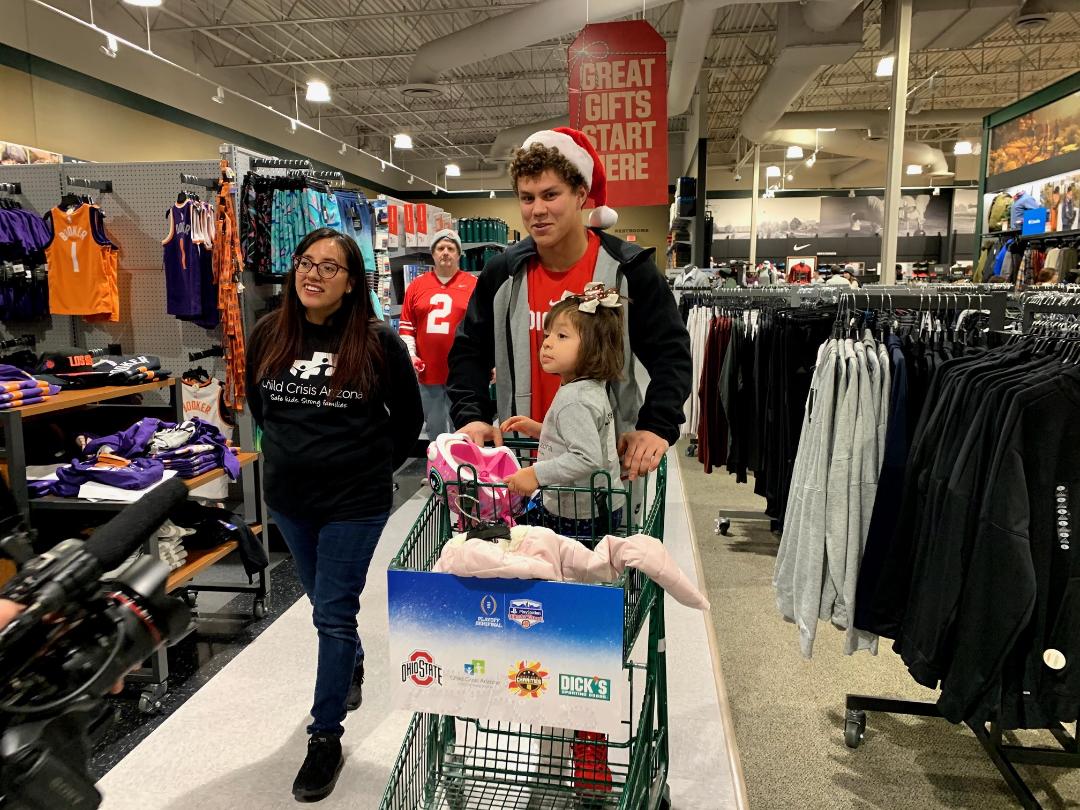 It was all part of the pre-game activities in anticipation of the exciting game when No. 2 Ohio State and No. 3 Clemson face off in a top three CFP ranked matchup. The 2019 College Football Playoff Semifinal will be on Dec 28, at the PlayStation® Fiesta Bowl at State Farm Stadium in Glendale, AZ.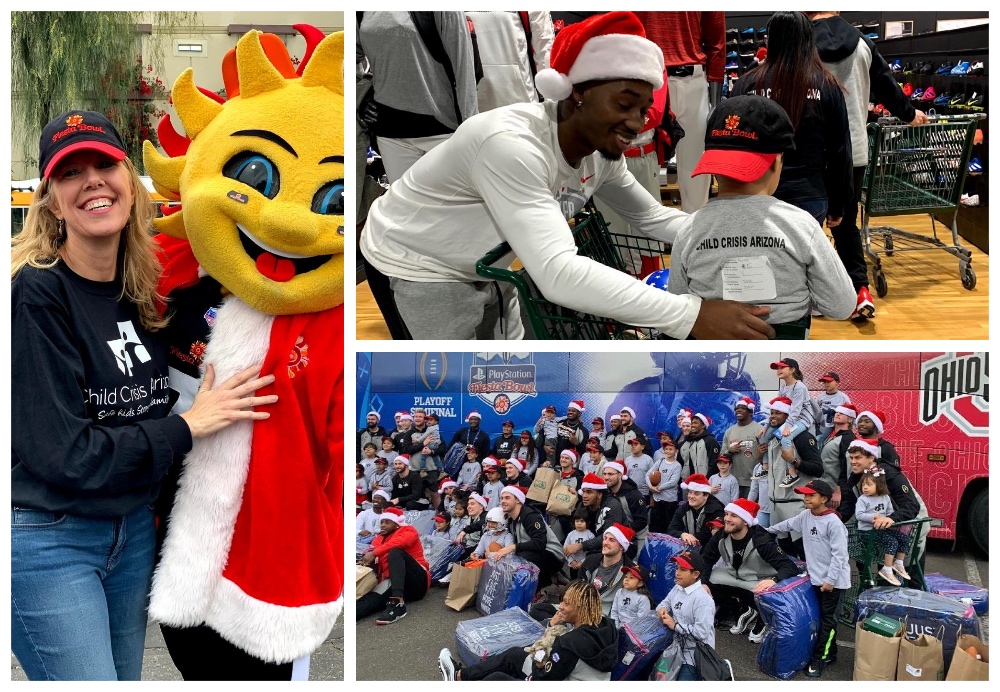 Pictured above, left with Spirit, the Fiesta Bowl mascot, is Torrie Taj, CEO of Child Crisis Arizona. Crisis Arizona's vision is "Safe Kids. Strong Families." CCA offers emergency shelter for children ages birth to ten, and offers foster care and adoption services, early education as well community-wide parenting classes, workshops, support groups and much more.

Kathy Shayna Shocket is a Writer and TV-Field Producer. The former TV entertainment reporter has written for such publications as TIME Magazine, Money Magazine, PEOPLE Magazine, The Hollywood Reporter and The NEW YORK TIMES. You can reach her at This e-mail address is being protected from spambots. You need JavaScript enabled to view it