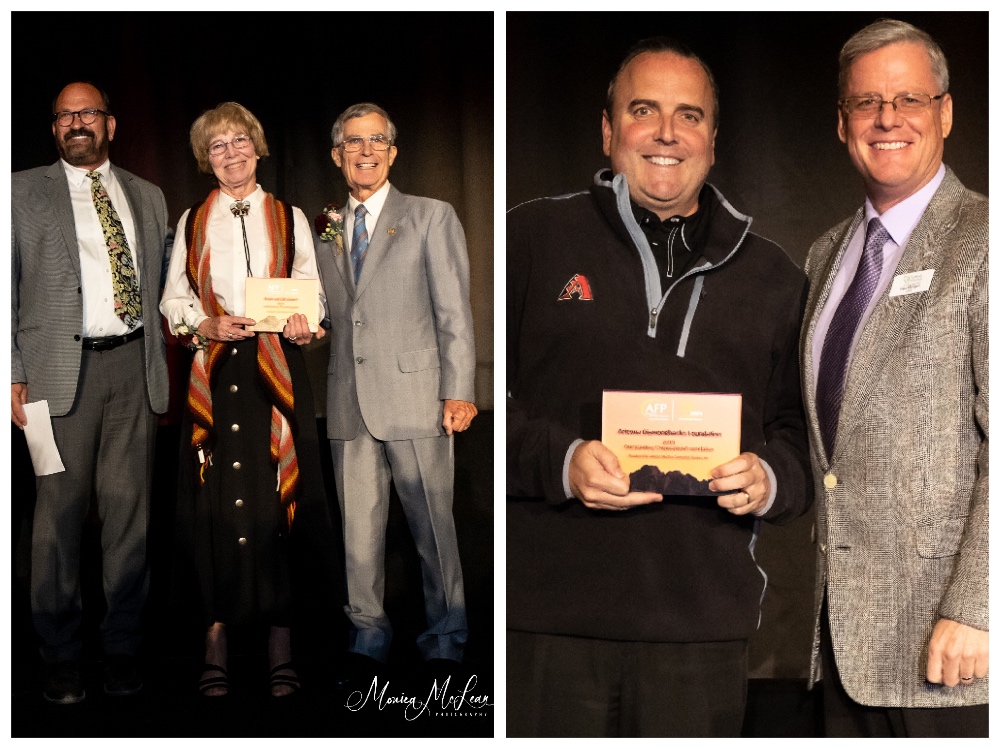 The spirit of philanthropy filled the ballroom at the J.W. Marriott Camelback Inn, as 400 people gathered to applaud Arizona's community leaders.
Hosted by the Association of Fundraising Professionals (AFP) Greater Arizona Chapter, the 35th Annual AFP National Philanthropy Day® and Leadership Award Luncheon was presented by Fiesta Bowl Charities.
Susan and Bill Ahearn were presented with the Outstanding Philanthropists award which honors those who exemplify philanthropy through their contributions of time, effort and/or resources. Bill and Susan Ahearn, who were nominated by the Desert Botanical Garden, are pictured above left, with its Executive Director, Ken Schutz. Not only have the Ahearns been involved with several Valley non-profits, Susan has been volunteering at the Desert Botanical Garden for 30 years as a horticultural aide and in the research department.
The Arizona Diamondbacks Foundation was presented with the Outstanding Corporation award. The Diamondbacks were nominated by Catholic Charities Community Services. Diamondbacks CEO Derrick Hall accepted the award. He's pictured above right, with its CEO, Paul Mulligan.
Kevin Robinson was honored with the Outstanding Volunteer Fundraisers, Jerry Diaz accepted the Outstanding Fundraising Executive award and Eden Sapien accepted the Outstanding Students in Philanthropy.
Event Co-Chairs Patty Barney AccountsMmanager-Corporate Relations at Phoenix Children's Hospital and Julianne Simendinger, Senior Director of Development at Valley of the Sun YMCA. (who are pictured below), selected a luncheon theme of "I am an Arizona Fundraiser" to showcase the amazing work and impact of the nonprofit world in greater Phoenix.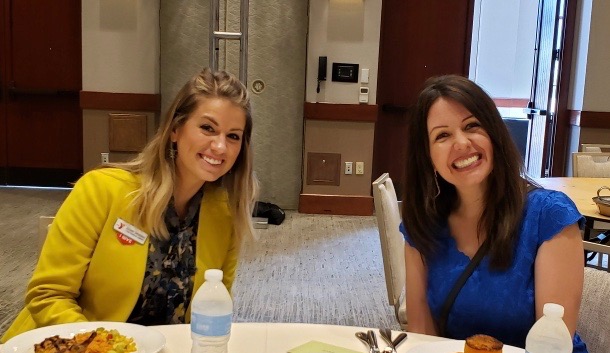 "We are the 5th largest city in the United States and are fortunate to have an abundance of first rate volunteers, philanthropists, corporations, foundations and fundraising professionals in our backyard to allow our community to support the arts, education, human services, animal welfare, environmental and health care nonprofits that meet the needs of Arizonians," says Patty. She's pictured below, right, with with Emily Denes Development Officer for the Boys & Girls Club of Metro Phoenix and Sue Gaub, Senior Partner Relations Officer for the Phoenix Rescue Mission.
The lunch was emceed by the familiar team of Hospice of the Valley Director Community Engagement Lin Sue Cooney and Channel 12 News Anchor, Mark Curtis.
AFP Greater Arizona Chapter President Liz Kaplan stressed the importance of AFP's work in the community and that nearly one-tenth of the Arizona Gross State Product is driven by nonprofit organizations. Chief Marketing Officer for the Fiesta Bowl, Jose Moreno (pictured below left) spoke about the power of philanthropy.

In addition to the highlighted Leadership Awards, a dedicated group of other community volunteers were also honored with the Spirit of Philanthropy awards. AFP believes that formal praise of those who demonstrate extraordinary leadership and vision in support of your organization's goals not only confirms their efforts, but also inspires others in Arizona to become more involved in our community.

Kathy Shayna Shocket is a freelance Writer, and TV- Field Producer. The former TV-Reporter has written for publications such as TIME Magazine, MONEY Magazine, PEOPLE Magazine, The Hollywood Reporter and The NEW YORK TIMES. You can reach her at redkarpetgirl@aol.com