Featured Chef Everaldo Valduga of Fogo de Chao Scottsdale.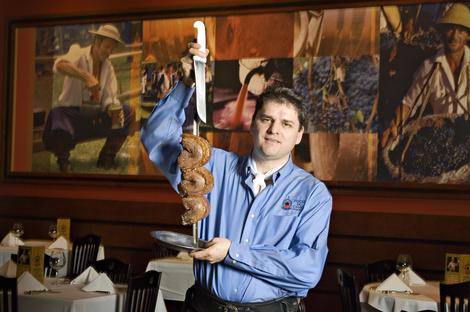 Photography by Jackie Mercandetti
How did you get your start in the restaurant business?
Being born a gaucho is part of my southern Brazilian heritage. Cooking meats on open fire according to such culture is something I learned as a child with my parents and grandparents at home. Churrasco was present in every special occasion. From a very young age I learned that celebration and food are inseparable. When I was old enough to work, it was only natural that I became a gaucho chef and started working at a churrascaria (Brazilian steak house).
What is your favorite Valley restaurant, besides your own?
I enjoy eating at Fogo de Chao every day because it is just like eating at home in Brazil. When I take a day off I seldom eat out because the peace and quite of my home is what I need that day. However, I have dined at Roaring Fork once and enjoyed it very much.
What is your favorite dish at your restaurant?
I enjoy each of the 15 different cuts of meat we serve. The pichana, the prime part of the top sirloin, will always be my favorite.
What is the most memorable meal you've ever had?
On my wedding day, following Brazilian traditions, we had an unforgettable celebration at my family's ranch and served churrasco to over 250 guests. There was music, dancing and great fun. The taste of the food that day was very special to me. It tasted exactly how I felt inside: happy.
If you could have anyone visit your restaurant, who would it be?
If I could choose one person it would be Ronaldinho Gaucho. He is a soccer player from southern Brazil. He has played in two World Cups.
Name three ingredients that you have at home at all times.
Sea salt for my churrasco, Chimarrao (a type of hot tea from Southern Brazil) and a good piece of steak.
What is your favorite bottle of wine or cocktail?
Caipirinha is my favorite Brazilian cocktail and Don Melchor Cab is the wine I like these days.
What do you like to do in your free time?
I truly enjoy spending time at home with my family and playing soccer every now and then.