Page 1 of 4
Set in a Paradise Valley hillside once owned by Senator Barry Goldwater, this 8,700-sq.-ft. Southwestern contemporary home includes a prow-like porte-cochère that welcomes guests with colorful split-face block and a copper standing-seam roof.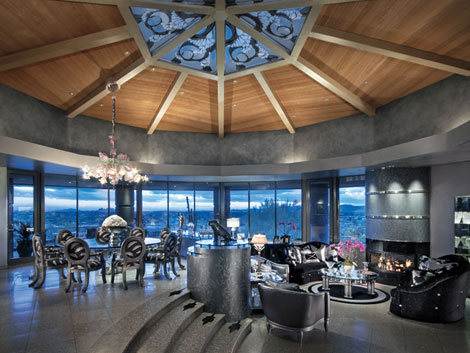 Formal Living/Dining Rooms
The grand radiused room greets entrants with Manhattan-chic traditional and contemporary elements—a theme continued throughout the home. Natural light radiates from the 6-foot-wide skylight segmented by Sam Terry Studios in Cave Creek. The center divider cabinet island is clad in zinc metal etched with a leaf pattern, which carries through to the fireplace at the hearth seating area. Outside are Camelback Mountain and city-light views south to the airport and beyond.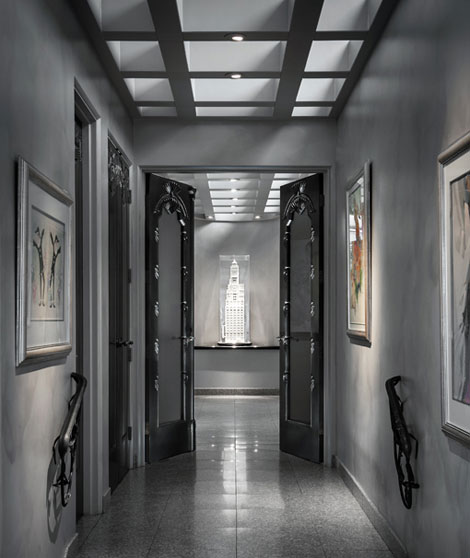 Hallway
Daylight and moonlight fill the master-suite-to-kitchen hallway through latticework, whose square pattern echoes the 18-by-18-inch Mystic Mauve honed granite flooring tile from China. Doors were hand-carved by Morrelli Wood Working in Albuquerque, N.M., and custom finished in automotive pewter. The centerpiece of the art-filled space is a model of the historic Hotel Beverly in Manhattan, once owned by the hotelier family.