Page 2 of 2
Upon returning from his funeral in Quebec, Goullard Parlante reflected on all the priceless intangibles her French-born father had left her: their shared love of nature, a transparent personality, the memory of holding his hand when going to church and the French culture. 
"He believed in me," she said.
Nevertheless, Goullard Parlante wanted to make his memory tangible. Since her father was deaf from a childhood accident, he needed his eyes to hear. Inheriting his eyeglasses, Goullard Parlante found a flash of inspiration, crafting a pair of earrings made from the eyeglass lenses and a necklace to match, adding wire, hooks, clips, links and beads.
Honing a creative edge is nothing new for Goullard Parlante, who has always held an artistic imagination to repurpose, adapt, mend and decorate. For instance, she designed and knitted a sweater, then a matching set of earrings and a necklace out of mere yarn, vintage wooden hearts and metal rings.  
"Every piece is made with love and comes with good energy around it," she says.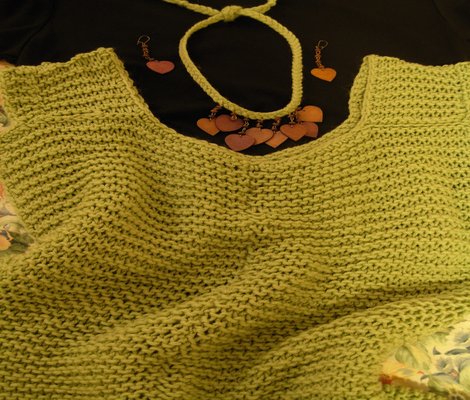 From her life experiences growing up between cultures, Goullard Parlante has developed her penchant as a compassionate listener to others, working as a freelance French-English translator since 1984 and author of a book, Beyond Words ~ Getting to the Heart of Communication in One or More Languages for the 21st Century. 
Visit www.FrenchAndEnglish.com to find more of Diane Goullard Parlante's creations.