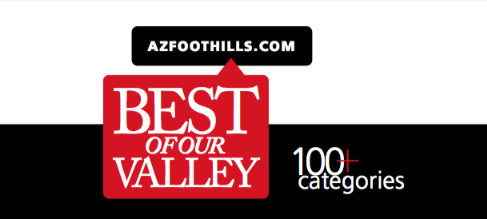 December 3, 2009 (Scottsdale, Ariz.)— We asked, you told us. More than 600 businesses, organizations, landmarks and individuals were nominated in dozens of categories in Arizona Foothills Magazine's first-ever Best Of Our Valley contest, and voting is complete! The winner of each category will be featured in the March 2010 "Best Of Our Valley" issue, a tell-all guide for Valley visitors and residents, and will be featured online for one year.
The contest covered categories like Dining and Wine, Health and Self, Services & Professionals, Resorts & Travel, Kids, Shopping and more, which featured sub-categories like Best Sushi Bar, Best Place to Buy Shoes, Favorite Couple and Best Resort Party Pool.
Click here to see the winners.
The issue will also feature AFM editor insider picks, Q&A's and more. To nominate a business for a "Best Of" category for 2011, please e-mail bestof@mediathatdeelivers.com.
AZFoothills.com had enormous growth in the last year:
◦ Total visits climbed over 2,000%
◦ Pageviews rose more than 4,000%
"Aside from featuring our Valley's very best businesses,our goal is to get Valley businesses comfortable with our site and its many features," says President and Publisher Michael Dee, "Nobody has Web capabilities like we do and we're excited to showcase that this fall."
ArizonaFoothillsMagazine.com is the Valley's fastest-growing Web site. Arizona Foothills Magazine and Arizona Foothills Online are dedicated to providing resourceful information on dining, entertainment, homes, fashion, culture and events in Arizona. Arizona Foothills Magazine is published monthly and is audited by the Audit Bureau of Circulations (ABC).
Scottsdale-based Media That Deelivers, Inc. (www.mediathatdeelivers.com) is a leading luxury magazine publisher that produces 11 titles in its luxury collection of magazines, incuding the monthly Arizona Foothills Magazine, Arizona Foothills Tucson Online and Estates West Online. The company also publishes an array of custom products for world-renowned organizations like the Arizona Biltmore Resort & Spa, The Westin Kierland, and JW Marriott Resorts.