Arizona Nightlife Industry Awards recognize industry professionals with awards ceremony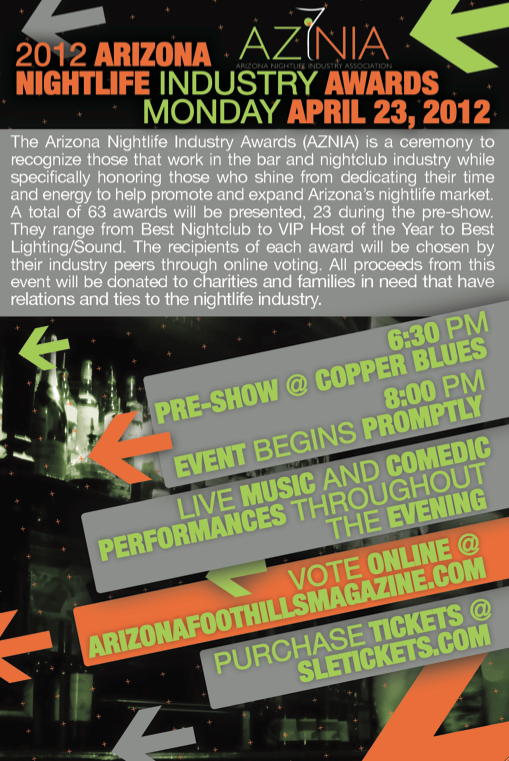 The Arizona Nightlife Industry Association presents the 2012 Arizona Nightlife Industry Awards (AZNIA) on Monday, April 23 at Stand Up Live comedy theater located at 50 West Jefferson Street in Phoenix, Ariz.
Arizona Foothills Magazine will partner with AZNIA for the 2012 voting. Voting will begin on Monday March, 19 at 12 p.m. Noon at www.arizonafoothillsmagazine.com. The winner of each award will be chosen by their peers through this online voting process.  Voting will conclude on April 16 at 6:00 p.m.   
The awards ceremony will recognize and celebrate the work of individuals and companies in the nightlife industry. Guests are invited to enjoy a pre-show ceremony with cocktails and live entertainment as several awards are showcased at Copper Blues restaurant and bar, adjacent to Stand Up Live starting at 6:30 p.m. The awards ceremony will follow at 8 p.m. and take place inside Stand Up Live. 
Tickets start at $35 and all proceeds from this event will be donated to charities and families that have ties to the nightlife industry. Guests with large parties may also purchase tables with 10 tickets starting at $300.
Those interested in purchasing tickets or tables can visit AZNIA at www.aznia.org or call 480-284-6033.
Click here to visit the contest.
ABOUT ARIZONA FOOTHILLS MAGAZINE:
Since 1997, Arizona Foothills Magazine has celebrated the latest and greatest in Valley luxury. We've featured everything from the finest resorts and travel destinations to shopping and beauty to fabulous eateries and places to live. Almost 15 years later, our mission is no different! We still strive to unveil what's up-and-coming, give credit where it's due to those who deserve recognition and provide useful information to our loyal readers.
The all-new AZFoothills.com is one of the fastest-growing Web sites in Arizona, and something few publishing companies have to offer. AZFoothills.com is one of the top 20,000 most visited websites, daily. In comparison, this is four times the amount of visitors  of lamag.com. AZFoothills.com is the authority on luxury lifestyles on the web in Arizona. Our demographic is slightly female, well-educated and very affluent. Our readers are the tastemakers of Arizona. A variety of Web components make our website even more special with the complement print ad schedules or serve specific needs, from directory listings to E-Newsletter sponsorships, event listings and more.
ABOUT AZNIA:
The Arizona Nightlife Industry Awards (AZNIA) is a ceremony to recognize those that work in the bar and nightclub industry while specifically honoring those who shine from dedicating their time and energy to help promote and expand Arizona's nightlife market.  A total of 63 awards will be presented, 40 during the show and 23 during the pre-show.  They range from Best Nightclub to VIP Host of the Year to Best Lighting and Sound.  The recipients of each award were chosen by their peers through an online voting process.