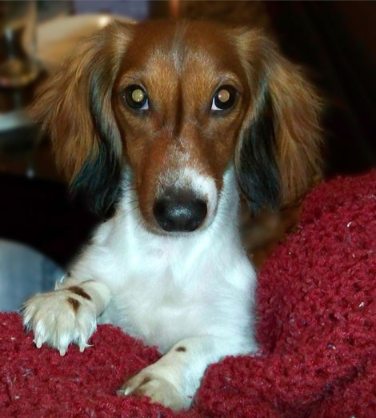 September, 2010 (Scottsdale, Ariz)- Jack, a two year-old Dachshound from Phoenix, Arizona, is Arizona Foothills' first-ever Dog Days of Summer winner! After a full month of voting on AZFoothills.com, Jack escaped with 127,127 votes and earned the title of Most Adorable Dog!
With 242 dogs entered and pet lovers pounding away at their keyboards, nearly one million votes were logged on the first-ever contest. Jack and his owner will receive $200 in Vestar cards, good at Tempe Marketplace and Desert Ridge Marketplace, a fabulous gift basket of puppy toys, treats and organic shampoo from Herb n' Organics, a grooming session, a professional photo shoot with Arizona Foothills courtesy of Heather Link and Chickypoo Photography, a CD of portrait images, a Web photo feature, his photo in Arizona Foothills Magazine and the title of Top Dog!
The four runners up were Bamm- Bamm with 113,440 votes, RJ with 95,991 votes, Buddy with 77,777 votes and Vito with 60,001 votes. The four runners-up will receive $50 to a Vestar restaurant, a fun Go Green goodie bag from Herb n' Organics, a mini-photo shoot with Arizona Foothills courtesy of Heather Link and Chickypoo Photography, their favorite dog portrait to take home and a mention in the runners-up feature on AZFoothills.com.
To see entrants and the vote tallies, click here.
"We could not believe the outpouring of interest we saw with this contest," says President and Publisher Michael Dee, "Vestar was an amazing partner, our casting calls generated tons of entries and the response to the contest is unlike anything else we've seen."
More about Arizona Foothills Magazine's Dog Days of Summer contest
The heat during Arizona summers is enough to make any of us howl. In honor of the dog days of summer, AZFoothills.com had their first-annual search for Arizona's most adorable dog. After reviewing hundreds of Web entrants and entrants from casting calls at Tempe Marketplace and Desert Ridge Marketplace, Arizona Foothills posted all the photos to the Web, leaving it up to readers to determine the most adorable dogs in the state.
Arizona Foothills Magazine and AZFoothills.com are dedicated to providing resourceful information on dining, entertainment, homes, fashion, culture and events in Arizona. Arizona Foothills Magazine is published monthly and is audited by the AuditBureau of Circulations (ABC).
Scottsdale-based Media That Deelivers, Inc. (www.mediathatdeelivers.com) is a leading luxury magazine publisher that produces a luxury collection of magazines, incuding the monthly Arizona Foothills Magazine, Arizona Foothills Tucson Online and Estates West Online. The company also publishes an array of custom products for world-renowned resorts.