The luxury publication stays one step ahead with Zinio digital magazine service!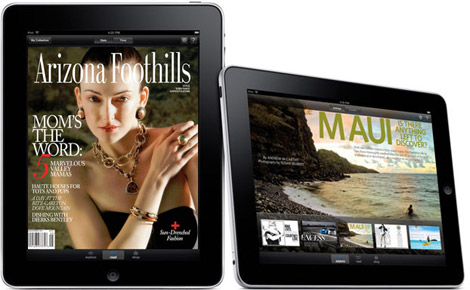 May, 2010 (Scottsdale, Ariz.)- Arizona Foothills Magazine is proud to be the first in the Arizona market to embrace iPad and iPhone technology, offering subscriptions, single copy and back issue sales on the frequently-downloaded iPad and iPhone application Zinio.
Zinio is a free application that allows readers to buy magazines from a digital newsstand and download current issues the instant they become available, on Zinio.com or either of Apple's handheld devices. Within seconds the entire magazine becomes available to read in full, clear color.
Elle, US Weekly, Harper's Bazaar, Rolling Stone, OK! and dozens of other national publications are seeing huge surges in subscriptions and readership through Zinio- subscriptions are offered at a slight discount when purchased through the new technology, and users are e-mailed when their new issues are ready to read.
A truly interactive experience, readers flick through vertically to see one page at a time in full detail or horizontally to see spreads, and can zoom to get a super close look at photos. Slideshows, photo galleries and outbound links in articles and ads are all clickable, opening right to the media the user chooses in new Zinio windows, and returning them to their bookmarked page as they close them. No more jotting down Web URLs to visit later!
Also gone is that stack of magazines and torn-out articles- all issues purchased on Zinio are archived, so any can be accessed and downloaded again as a need for a past feature, photo or recipe arises.
Arizona Foothills is available now for $4.95 per issue or $12.00 for one year on Zinio.com. The publication still offers print subscriptions and is distributed to the same Valley homes it always has been direct-mailed to.
"We are leaders in the Arizona marketplace and have been ahead of the curve since 1997," says President and Publisher Michael S. Dee, "We are confident Zinio engages the reader and gives our advertisers added exposure and more interactive ads." 
Arizona Foothills Magazine and AZFoothills.com are dedicated to providing resourceful information on dining, entertainment, homes, fashion, culture and events in Arizona. Arizona Foothills Magazine is published monthly and is audited by the Audit Bureau of Circulations (ABC).
Scottsdale-based Media That Deelivers, Inc. (www.mediathatdeelivers.com) is a leading luxury magazine publisher that produces a luxury collection of magazines, incuding the monthly Arizona Foothills Magazine, Arizona Foothills Tucson Online and Estates West Online. The company also publishes an array of custom products for world-renowned resorts.