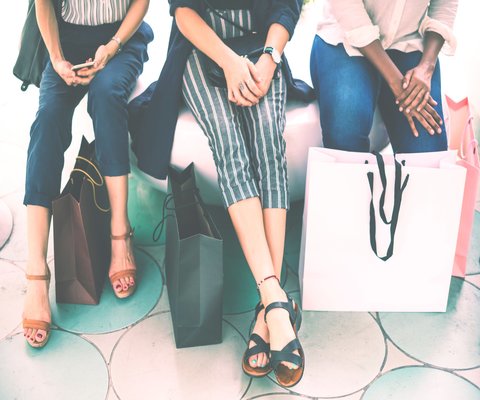 'Tis time to shop.
Instead of showcasing Black Friday/Cyber Monday sales from mainstream retailers, we have some ideas on what you won't see in holiday mailers. Here are boutique finds that will be on discount throughout the busiest shopping weekend of the year.
Fashion/Accessories
Score designer sunglasses up to 90% off via Smart Buy Glasses. Featuring fab brands like Ray Ban, Persol and Versace, your eyes will stylishly and affordably be shielded from the sun. Women, men and kids glasses available.
Mama B. Designs is offering a sitewide 25% off now through Cyber Monday (code CYBER25). The apparel line offers playful, inspirational and adorable tops for women and kids.
Isabelle Grace Jewelry is a one-stop-shop for hip accessories. Choose from an array of chic necklaces, bracelets, rings and earrings- there are even options to personalize your preferred piece. The code: SAVE30, gifts shoppers 30% off sitewide.
Leggings for a Purpose sells super cool, fun and swanky leggings your legs will love. Totally soft and available in an array of colorful designs. (Check out the seasonal offerings to get in the holiday spirit!) Use code THANKS25 11/20- Cyber Monday.
Because Black Friday is on the 23rd, MyPhonePouch is offering 23% off sitewide. The code, BlackCyber, will get you the coolest way to carry your phone. The pouch securely holds your cell when you have no pockets or purse.
Kids
Keenz is the most sought after stroller wagon on the market, and the company is excited to offer their biggest sale yet. Now through Cyber Monday, score a black wagon for 25% off! Use code BLACK25 at checkout. Wagons come equipped with a canopy, cooler and more!
Woombie offers the safest most innovative swaddles, as well as comforting baby gear. The reputable company is offering a sitewide 25% (code: CYBER25) that will save shoppers over $25 on the popular Eco Donut, a "bed in a bag" for ages 1-8.
If you're on the hunt for an uber unique kid's toy, opt for The Field Replica Farm Field Toy (and save 10% on Black Friday). The Field encourages creative and imaginary play, and comes equipped with hedging, a meadow and wooden farm gate.
One of the best kids' toys brands on the market, Learning Resources, is offering a sitewide 30% off everything on Black Friday. Choose from a variety of educational toys, STEM offerings and more. Their sister company, Educational Insights, is also offering 30% off toys and games.
Starting 11/21, UPPAbaby is rolling out the red carpet with a Black Friday Sale on DENNY (red) VISTA, CRUZ, and MESA gear! Shop in-store or online at participating retailers for up to 20% off select items.
The Cobra Hero walkie talkie, available at Lowes, is on sale for $19.99. The fun, functional and kid-friendly walkies flaunt a 16-mile range.
The ultimate toy car comes to you from Modarri, kits for kids allowing them to design, build and drive their sweet rides. For Black Friday, they're offering a "Design and Drive" bundle for $99 (retail $133).
Gadgets
Major savings on Trekrtech.com and CobraFRS.com! The companies are offering the following walkie talkies on major discount:
FS300-2 for $9.99 (Reg. $34.99) on both Trekrtech and Cobrafrs.comACXT545 for 29.99 (Reg.$69.99) on both Trekrtech and Cobrafrs.com
Trekrtech.com is offering their Family Safety Radio for $14.99. It's an alternative to cell phones; a safe and easy way to keep in touch with your kids. (Especially in high traffic areas like amusement parks.)
Prefer browsing Best Buy? The famed ACXT145-3 is on sale for $29.99 (Reg. $49.99) in store and online.
CINEMOOD is the world's first noiseless, 3-inch ultralight standalone projector that converts any flat surface into up to 12-feet of cinema bliss! This totally portable device doesn't need to be connected to a computer, phone or wall outlet. Comes loaded with over 65 hours of stories and videos from Disney and 120+ hours of additional entertainment. Available for $299 (red $399) now through 12/2.
Home
Sinkboss is a space saving solution for washing and drying kitchenware when you're away from home. Consider it a portable playtform to use when traveling- ideal for washing cups, bottles and more. An innovative, handy must have for traveling families! Use promo code SINKB25 for 25% now through 11/30.
For family movie night on the sofa, Redbox is offering a sale of previous rented movies and games now through 11/26. Movies to own as low as $3.99!
If your closet needs some TLC, take advantage of the Modular Closets Black Friday sale:20% off all orders over $1,000 plus free closet design services.
Get cozy this season with PediPocket, a very snuggly fleece throw blanket with foot pocket (so your tootsies never get cold). Their Black Friday sale is good through Cyber Monday; buy 3, get one free!