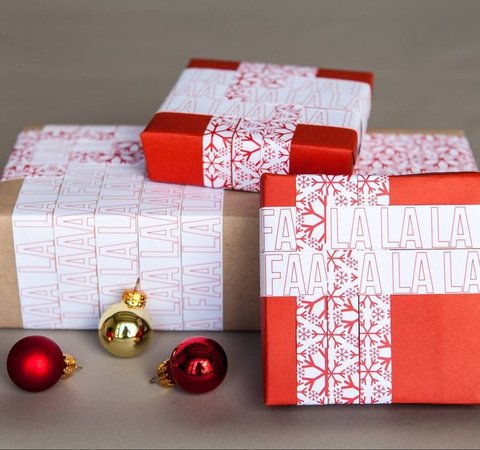 I've said it before and I'll say it again- I love stuff. So really, this truly is the most wonderful time of the year for us "reviewers." I've contemplated doing numerous niche gift guides, but instead, decided to do one massive round up of radical stuff for everyone on your list. All items are mom-approved, kid-tested, dad-endorsed and simply fabulous.
Please peruse via the following sections: baby, toddler, child, mom, dad, home and stocking stuffers.
FOR BABY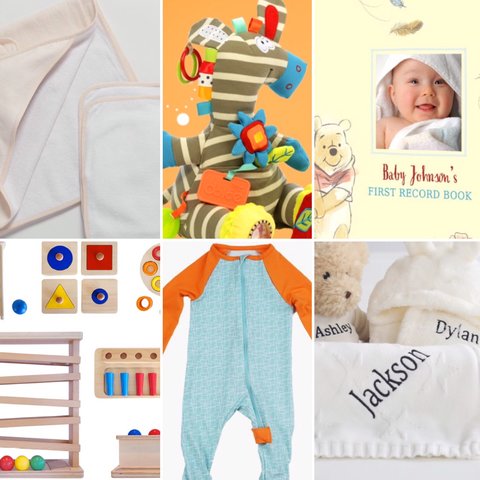 I'm not crazy over buying babies tons of toys, as a little goes a long way. That's why I like the Dolce Toys Activity Zebra, an adorable big-sized activity plush perfect for soft stimulation and soothing. Equipped with rattles, rings, mirrors, ribbons and more, this cute character is sure to provide tons of entertainment for your little one. You can even pull Zebra's tail to hear songs! It also comes with the signature Dolce teether and its own dragonfly friend.
Here's something you'll use all the time: towels. Pamper your mini with Coyuchi's soft, garment-dyed linen and absorbent organic cotton towels and washcloths. The hooded towels are extra gentle on sensitive skin (plus, they're super cute).

Prepare for a shopping spree surfing the My 1st Years website. The online shop showcases a bunch of high quality items all available with personalization options, like my pick, the Monochrome Gift Set. This set consists of a fleece robe in unisex ivory, matching jacquard knit blanket in a pattern of stars, and a personalized waffle teddy bear. All three items can be personalized with your baby's name for no additional charge.
This brand new active wear for infants and toddlers is made of innovative, breathable, moisture-wicking fabric that keeps active little ones cool and comfortable when exploring their world. The fabric is eco-friendly and the designs are colorfully cute. Body suits, zip footies and rompers available for sizes 3 months to 2T.
I love a good mom-owned business and Monti Kids is just that. Created by a California mama, this Montessori-based program provides educational toys for 0-3 year olds. Segmented into developmental levels that arrive every three months, each delivery is geared toward a child's specific age and stage, enabling parents to build upon each level of learning for their child. With 85% of a child's brain forming by age 3, studies show that children who grow up in more stimulating environments do better than those who have fewer opportunities to learn. Monti Kids supports a child's brain development during this most formative stage of life.
I gift books every single year. They're still my #1 gift of choice, as our nightly reading sessions are so special. Put Me In The Story, a personalized book platform, just debuted its custom baby record book featuring Winnie the Pooh and it's too cute. Disney's Winnie the Pooh: Baby's First Record Book is the perfect way for new parents to capture the everyday moments of their baby's first year. Filled with beautiful illustrations and lovely quotes, this book equates to a meaningful Christmas keepsake.
FOR TODDLER
I'm all for educational toys, and nothing gets more school-esque than alphabet bean bags. Make learning fun with these soft toss beanbags showcasing an uppercase letter on one side and lowercase letter on the other. They're color-coded and comes complete with a carry bag. This is great for your Pre-K'er learning how to write big and small letters.
Make learning math and playing "shop" fun with this cool cash register. Kids can practice coin identification, addition, subtraction, and place value as they play 4 featured games that increase in difficulty as players advance. (It's also great for imaginative play and learning basic calculator skills.) The register includes a built in scanner, scale and coin slot. Transactions are rewarded with lights, sounds and voice messages.
Haba USA is the maker of my favorite ball tracks. My 2-year-old loves it… as does my 4-year-old, so this is a gift that keeps on giving. The colorful connecting blocks come with pivots that easily lock into place on the bottom of the ball track pieces. This makes constructing easy and ensures the track stays in place. Help your kids get creative in track building- they'll love watching the oversized ball roll through their custom course.
I know it's winter, but if you're already dreaming about summer, go for gear from Snapper Rock. The company offers innovative bathing suits, rash guards and board shorts complete with an extra layer of UV50+ protection, blocking 98% of harmful rays. This summer gear is cool, comfortable and sun safe.
If you haven't had enough of Paw Patrol, here's something else to make your kids howl: a super safe Paw'ed out scooter for toddlers and young kids. This Classic trike scooter is designed for beginners, featuring three large smooth-rolling wheels. It's easy to control and quality built. Max weight 45 lbs.
Toys that are secretly educational…my favorite! This interactive play set will pique your little one's curiosity while helping them learn shapes, numbers and colors. Children can turn clocks, open latches, count objects in each room, and more. It even comes with little, colorful characters. Recommended for ages 3+.
FOR CHILD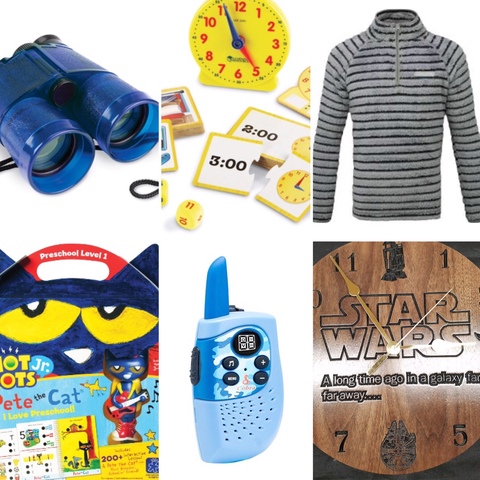 It's the ultimate gift for your Star Wars fan- plus, it's uber unique and very practical. Lately, I've been surfing Etsy because I love a good, original find, and came across the store: ColumbusWoodProducts. This guy custom carves home décor, and take my word- it's legit and high quality. The wooden Star Wars Clock is a tick-tock your little Vader will love- featuring carved designs of Yoda, R2D2, the Millenium Falcon and Darth Vadar. My son loves his!
Speaking of Star Wars, here's another Etsy find: a "May The Force Be With you" sign custom to your color choice. MiaMooreDesigns creates contemporary hand-painted wooden signs measuring 5" high x 30" wide- a perfect size for versatile wall décor. I love dressing my kid's room in positive messaging, so this "force be with you" sign is both meaningful (for me) and cool (for my kid).
Affordable and fun- these binoculars are under $15 and great for kids. The durable, translucent plastic binoculars deliver a 6X magnification with 35mm diameter lens. It comes with a clip-on strap allowing for hands-free viewing.

Hot Dots® Jr. Pete the Cat® I Love Preschool! Set
My four-year-old is way into Pete the Cat, and this interactive learning set is way cute for preschoolers. It includes two spiral-bound activity card sets, an all-new Pete the Cat® -Your Groovin' Schoolin' Friend pen, reward stickers, and an award certificate for little learners who are ready to advance to the next level. Perfect for independent learning- simply press the pen on an answer for immediate audio and visual feedback.

Love these. So much fun for siblings and friends. These 16-mile, 22-channel walkie talkies ensure that your child is always in the loop with their pals…or with their parents. Your kiddos will surely get creative with these savvy walkies, featuring a roger beep confirmation tone, a power save circuit, and call alert. Available in different colors and themes, such as Fire & Rescue.
Teach your kids to tell time with this playful set. Designed for 4+, kids will learn about the hour and minute hands; the difference between analog and digital time; identify time to the hour, half hour, and more. Great for problem solving and fine motor skills. The set consists of a plastic clock with movable hands, a write & wipe clock, 24 double-sided analog and digital puzzle cards, 12 double-sided, write & wipe daily activity cards, 3 time dice and activity dice.

Gift your kids something warm and cozy, like the super soft Appleby Half-Zip Fleece from Craghoppers. This is the most luxurious fleece feeling ever, providing style and comfortability for on-the-go kids. Featuring insulating, wash and wear material, you can't go wrong with gifting this wintry clothing.
FOR MOM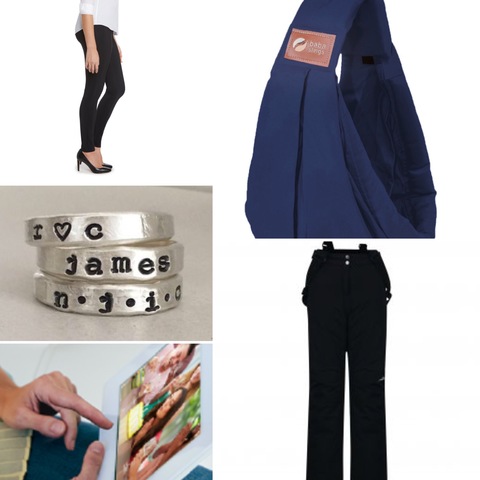 My wardrobe consists of leggings. Lots and lots of leggings. It's really the only mom-gear that makes complete sense. However, I always opt for the cheapy stuff that tears and doesn't look right dressed up. Well, I have since found a new love affair: the Stacey Leggings from Ameliora. Whether dressed up for work, glammed-out for date night, or thrown on for a grocery run, these versatile leggings are everything and more. Fitted to perfection, their elastic waistband gives them the comfort you crave, and the darting along the calf and backside provide unparalleled structure and polish. Indulge.
For new mamas, instead of complicated baby wraps or overly invasive baby-wearing concoctions, go for Baba Slings, a versatile, fashionable, and easy-to-use carrier both you and baby will love. This sling allows you to carry your baby in 5 different positions, but the best part: it's easy to put on and take off…and I know from experience. Babas give babies a snug, comfortable fit thanks to its cotton hammock design. Fully adjustable and available in an array of colors.

I'm a photo freak. Last time I checked, I had over 15,000 pics on my phone. But ask me how many of them are printed and framed? (Answer: barely any.) Enter PhotoSpring, a completely automated digital frame and album for photos and videos. Now available at Best Buy, this is a digital picture frame on steroids. It requires minimal set up, flaunting an intuitive, high-resolution touchscreen interface letting users browse photos with ease. The PhotoSpring software automatically analyzes your images, selecting the best ones and optimizes them for display. Plus, it truly is a multimedia experience- the frame shows both photos and videos in the same slideshow! And if you're concerned about cybersafety, fear not: all images are stored on the device, not in the cloud. You know you want one!
You gotta get mama some bling, so make this year's jewelry gift something special. My pick: Isabelle Grace Personalized Stacking Rings that stack beautifully and comfortably. Keep your loves close- choose names, commemorate a special date, or a short meaningful message…it's totally up to you. Obviously I have three featuring each of my son's names. And go for the rose gold!! It's trending for 2018!
'Tis the season to hit the slopes! Gift mommy dearest with Dare2B snow gear. I absolutely love the Attract II Ski Pants- they're warm, waterproof and breathable for snow sports and sledding. The fabric is insulated, allowing you to enjoy the slopes all day long and it even comes with detachable braces and waistband that adjust for a fine-tuned fit.
FOR DAD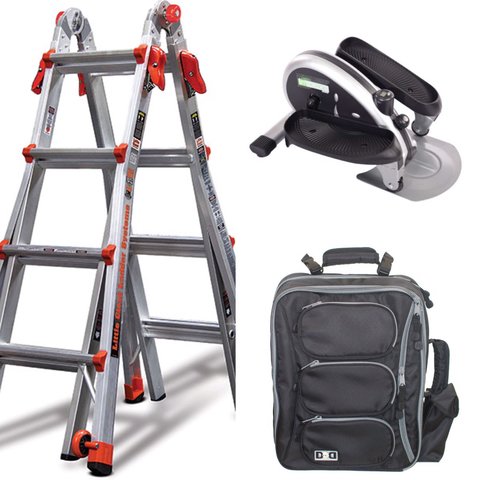 A new dada must have! This company caters to modern dads wanting something other than a girly diaper tote. The Diaper Dude Canvas Pocket Pack is designed to hold everything you need for a day out with baby. Its masculine design is perfect for papa, and includes plenty of pockets, insulated bottle compartments, a changing pad and more.
The Little Giant Velocity Ladder
I asked my hubby what he wanted from Santa and his reply was all boy: a ladder. While this didn't overexcite me, once we received The Little Giant Velocity®, I was honestly wowed with its versatility and practicality. The ladder is constructed of a special alloy that makes it light; yet, sturdy. It features a dual-pin hinge, easy-to-use Rock Locks™, and many unique configurations as an A-frame, extension, staircase and 90-degree ladder. It's rated to hold 300 pounds on both sides and is a true two-person ladder.
Dick's Stamina InMotion E1000 Elliptical Trainer
Ok, this one is for dad AND mom- something to keep us parents looking and feeling good. I'm not really a gym person, so if you're anti as well, why not workout in the comfort of home? Enter the Elliptical Trainer from Dick's Sporting Goods. Why? Because it's compact- unlike bulky equipment- and built to burn just a much calories as if you were jogging, while being easy on your back, knees, hips and ankles. It's made of a durable, steel frame with large non-slip pedals and feet. Plus, it's quiet, and features an electronic fitness monitor that tracks the number of strides per minutes, total strides, time, calories burned and more. Oh, and it's under $200!
FOR THE HOME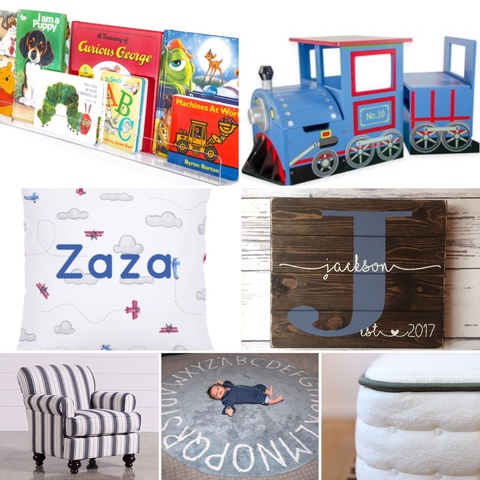 Buy Buy Baby Teamson Kids Train Desk and Chair Set
If you have a train-obsessed son like me, OMG, you must get this desk from Buy Buy Baby. I'm all about gifting practical stuff, and this train desk-and-chair is a perfect combo of fun and functionality. The colorful choo-choo set provides your child with a cozy, engaging, entertaining learning environment. The durable, detailed wooden design includes a bench seat with storage. It's an excellent space for coloring, writing and imaginary play suitable for kids 3+.
Better The Day Floating Bookshelves
A good book should never be hidden! Your children's books will appear to float in the air with these "invisible" shelving units. The bookshelf display encourages early childhood reading, and is versatile in working with any décor. These floating shelves add a lovely splash of color to any wall, while flaunting a modern book storage system. Clear shelving makes a great addition to any nursery, kid's room, or home office.
This website will seriously become your newest obsession. It's a site that lets you customize and personalize just about anything for your nursery/kid's room. Choose from hundreds of fabrics, colors and fonts to create original crib sheets, draperies, pillows and more. Adorable for gifting: a pillow with your kid's nickname. Special + cute.
Gift something to your home, like a new chair, chaise, sofa or throw. Whether you adore all things classic, eclectic, sleek or rustic, Living Spaces has items for your aesthetic and beyond. From their Special Order program to the one-of-a-kind pieces in their Elements collection, the possibilities are endless. Plus, revamp your rooms in time for Christmas- the company offers same-day delivery! Peruse through their plethora of fine furniture for your living room, bedroom, dining room, and more.

Etsy shop HelloSugarPie custom hand-makes gorgeous, high-quality monogram signs perfect for a nursery, kid's room, family, wedding or anniversary. Featuring a large painted background initial and the full name in lowercase letters, this personalized pop of décor is a beautiful touch to any given room.
This lovely, playful and educational rug is a beautiful addition to any kid's room. Comfortable for snuggling and generous in size, the round rug is machine washable and eco-friendly, made of non-toxic dyes. Available in an array of colors, this home gift adds a homey feel to your child's bedroom.
Only the best mattress ever. Looking to upgrade your sleep space? These natural, non-toxic, healthy mattresses are made of 100% natural Dunlop latex, organic cotton, wool, and a recycled steel innerspring. They don't have any dangerous chemicals and are certified GREENGUARD GOLD which is one of the most rigorous standards. This holiday season, gift yourself and your family a good night sleep with these plush mattresses. Fairly new to the market, you'll fall in love…and asleep within minutes.
STOCKING STUFFERS
Super fly for little eyes. Babiators are the cutest aviator-style sunglasses, providing 100% UVA/UVB protection. Durable and tough, they are made of pliable rubber and shatter-resistant lenses, making them virtually indestructible. Stuff your stockings with sunglasses available for babies and children in a variety of vibrant colors and cool patterns.
Gift baby's stocking with the best bandana bibs on the market. My 3-month old won't stop drooling, so I've turned to Poncho Baby for style-worthy bibs. The Poncho Baby® Bandana Bib provides an absorbent solution for teething babies. Made in the USA using organic, imported, 100% cotton muslin, they're available in solid prints and an array of reversible color combos. The bibs are also adjustable- the snaps allow it to "grow" with baby.
Baby booties that are comfortable, cute and don't fall up! Forget socks, these booties are easy to put on and made from organic, breathable material. Modern sole prints and solids for matching any and all outfits. You (and baby!) will love them. A perfect no-slip, stay-on design.
Nadine Bubeck is a TV personality, fashion designer, author, blogger, and Scottsdale-based blessed boy mom.