Rachel Roland is a mom on a mission - exploring beautiful Arizona (and beyond!) with her two little companions, Jeremiah and Sarah, in search of the best restaurants, attractions, and products for you and your children. See what she has in store for your family today!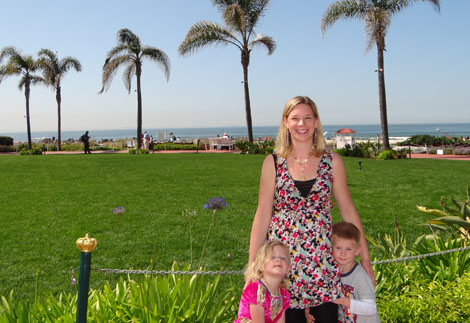 Besides having the perfect location right on the beach, beautiful grounds, as well as lovely accommodations, the Hotel del Coronado is incredibly family friendly and kid-centered. There were so many special kid programs and activities, and as much as we wanted to participate in everything available, we just didn't have the time.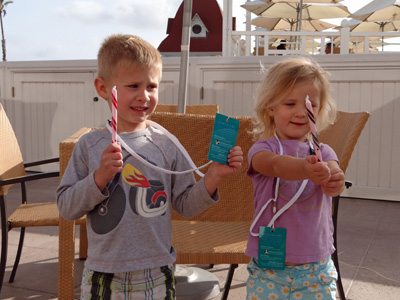 Upon checking in to the Del, we were given "Very Important Kid" passes for both Jeremiah and Sarah - they are available for all children under 12. The objective was to visit four different locations around the Del - the first being Spreckles Sweets & Treats - a cute candy shoppe - to obtain stickers. After you get all your stickers, you're able to claim a prize at Kidtopia - a club for kids ages 4-12, where kids can complete crafts, play, and attend other fun activities.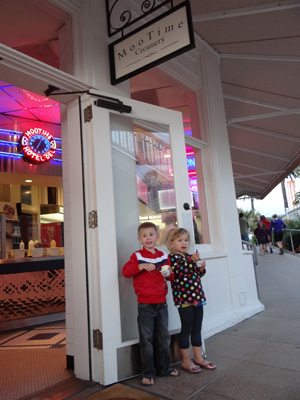 Besides Spreckles, there's also Maggie Moo's, where you can get all sorts of delicious ice cream treats - there's also H.D. Kids & Co, a sweet kids clothing shop, as well as The Blue Octopus, a fun store with loads of toys and learning activities. (I found some of my favorite kids games from Peaceable Kingdom there!)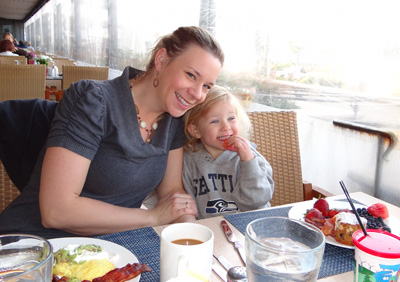 Who doesn't love all the eating that comes along with vacation? We loved Sweetwater's Breakfast Buffet - the kids loaded up on fruit and bacon, and I had a fantastic made-to-order omlette. The food was delicious and our server was very attentive, even taking a photo of us dining together on the beautiful seaside veranda.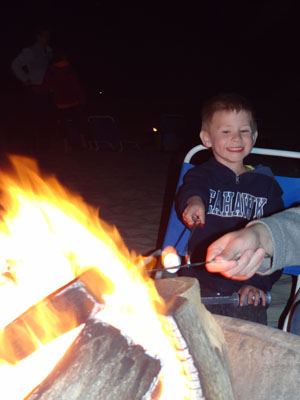 Another fun family experience? S'mores on Beach. We had such a great time, sitting around, roasting marshmallows and listening to the waves crash on the beach. The bonfire attendants are very helpful and sweet, and Jeremiah told me that it was his favorite part of the weekend.  It was mine, too -really, how often do you take the time to just be with your family without the many distractions that surround us?  
Other fantastic things about the Del? It's the oldest hotel in the US to receive the Green Seal Certification through recycling programs throughout the grounds as well as sorting all the room's trash off site, donating soap scraps to recycling programs, planting lovely gardens, as well as small but impactful changes like CFL bulbs in all the rooms. They also utilize local produce, fish, and meat whenever possible. This is something so important for all of us to look for when we choose where to stay on vacations!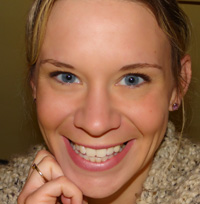 I'm Rachel - a mom, wife, and 'green' blogger at Small Steps On Our Journey. If you want me to come visit your place of business, have any questions on this article or suggestions for a future article, you can email me at rachel@smallstepsonourjourney.com or tweet me at @rachelroland.