Rachel Roland is a mom on a mission - exploring beautiful Arizona with her two little companions, Jeremiah and Sarah, in search of the best restaurants, attractions, and products for you and your children. See what she has in store for your family today!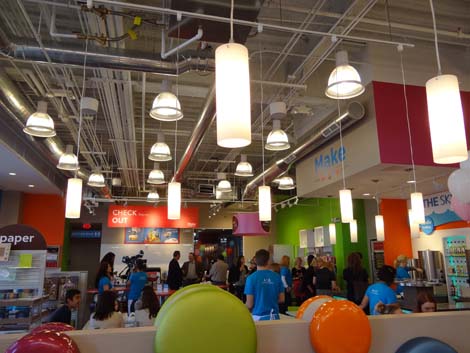 If you were visiting Scottsdale Quarter yesterday afternoon, you might have seen this fabulous new shop celebrating its Grand Opening day. Make Meaning, a NYC based 'experience' store, chose Scottsdale as it's latest location, after finding success with two stores in New York. What is Make Meaning, exactly? It's a place where you can visit with your family, your friends, or your sweetie! There are many different creative experiences you can choose from - you can decorate cakes, paint ceramics, create glass jewelry, make soap, design your own candles, and even make your own cards! You can just walk in, but they definitely recommend reservations. After yesterday , I can see why.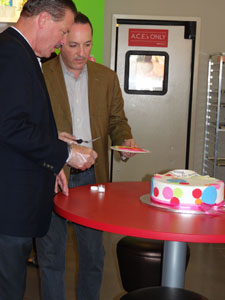 Scottsdale Mayor Jim Lane was on hand for the grand opening's cake decorating and cutting ceremony. He's pictured with Make Meaning's CEO, Daniel Nissanoff. I asked Daniel why he chose Scottsdale for their third location and he shared with me that Scottsdale would be a great representation of the rest of the country - and if they succeed in Scottsdale, they'll be able to open more stores across the country.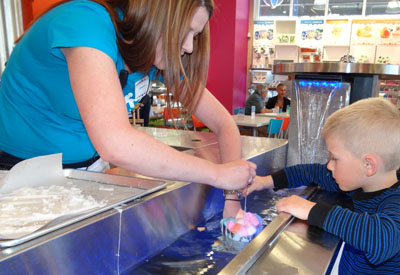 The kids decided to make a candle, and the process is made super easy with the help of your "ACE" - Associate Creativity Enthusiasts. Ours was Jacob, and he helped Jeremiah and Sarah pick out what mold to use for their candle, as well as the various colors of wax cubes to put into the candle. Then we headed over to the finishing station, where Jeremiah and Sarah chose a scent ("Birthday Cake") and Cameron, pictured here, poured melted wax over the cubes. Jeremiah helped put the candle in the "Skinny Dip" - a flowing river of water where the candles cool. Making a candle takes about 30 minutes of wait time, which I was a little wary of, but there is so much activity at Make Meaning, you can easily pass the time!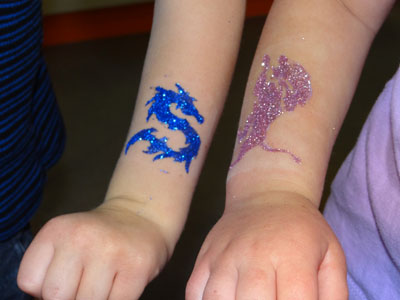 For instance, how about a glitter tattoo? These sparkly tattoos will last for quite awhile, I'm told, and both Jeremiah's dragon and Sarah's lion survived bathtime last night. These are really cute, and to be honest, I kind of wanted one for myself - the process isn't as messy as you'd imagine, and that glitter is stuck fast - the kids aren't covered in glitter and neither are their clothes or beds.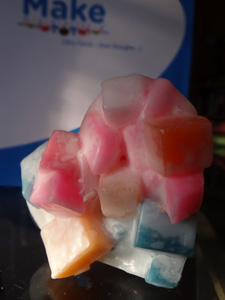 We had a great time at Make Meaning, and I'm positive that your family will, too. I think this would be great for mommy/daughter days, father/son days, as well as girls night out, date night, etc. I'll leave you with what Jeremiah told me when we left - we were talking about where to put their candle, and he said: "Let's put it somewhere we'll see it a lot, so we can look at it and remember how much fun we had there."
Make Meaning is located in the lovely Scottsdale Quarter - the official address is: 15257 N Scottsdale Road, Building F, Ste 160. You can call the store at 480-845-0000 to make reservations or you can click here to reserve online.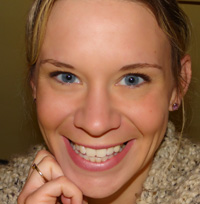 I'm Rachel - a mom, wife, and 'green' blogger at Small Steps On Our Journey.  If you want me to come visit your place of business, have any questions on this article or suggestions for a future article, you can email me at rachel@smallstepsonourjourney.com or tweet me at @rachelroland.