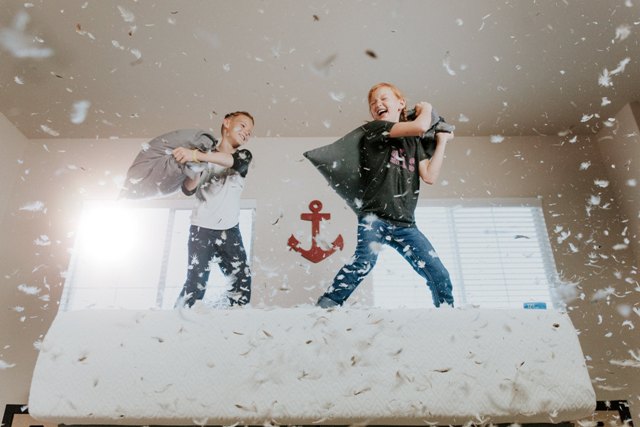 As the threat of COVID-19 grows, schools are closing and many parents are, for the first time, working from home. This situation has brought kids and work together like never before. Work-life balance is taking on a whole new meaning as many parents are facing the prospect of simultaneously managing both. The kitchen counter is now a pop-up cubicle. Virtual meetings are made possible by the few minutes of silence brought to you by Paw Patrol. Business negotiations are happening at nap time. And as a parent, if you've always kept work and home separate, you might be challenged in ways you never imagined. But fear not, parents! Trusting Connections experts are here to share top 10 tips on working from home with kids.
Create a daily schedule/routine to establish some predictability. This isn't just for the kids. It's for moms and dads, too! Be strategicwhen working from home and map out your days with intention, like scheduling things such as conference calls or other work commitments requiring your full attention around nap or screen time. (BTW, we are all treading water right now. A little screen time is okay.) Emails and more mindless tasks can take place while you're eating lunch alongside your kids. (See below for a semi-serious sample schedule that I've actually used while working from home running my business with two little ones.) Share this plan with your kids so they know what to expect, too. "Mommy is going to be on an important call from 10 a.m. to 10:30 a.m., and I really can't be interrupted. I have set up a fun Play-Doh station for you and need you to play by yourself. If you can do that for Mommy, we will paint together when I'm finished."
Prioritize what needs to be done during business hours and save what can be done at night or in the early morning hours when kids are asleep. You might need to forgo your nightly Netflix ritual and work that graveyard shift. It's survival mode, folks.
Set up a productive workspace and designate this as your "home office."Gather everything you need in advance so it's at your fingertips. Make sure your kids understand that this area is "off limits" while you are working. Perhaps "library voices" need to be the rule when the kids are near or passing by this space.
Embed "special time" into each day – focused, fully-present play time with each of your children for at least 15 minutes. Put your phone away, get on the floor with them and make it all about them if even for just a few minutes. This attention refills their love tanks and makes it more likely that they will be cooperative throughout the rest of the day. Crankiness and defiance in a child can sometimes just be a sign that they need a little extra TLC. Hand out hugs like candy even if you're completely drained and don't feel like it. Don't you feel better when you get one?
Hire support! It takes a village on a normal day and things are definitely harder than normal right now. Schedule a babysitter for crucial days and/or time periods. An extra set of hands can make all the difference. Have a babysitter watch your children from 8 a.m. to 1 p.m. and then take a break to eat lunch together before you start nap/quiet time. And make sure the babysitter is making the best use of her time with your children, actively playing and facilitating exercise – the things that are difficult for you to squeeze in. Save electronics time for when you need it if you're paying someone to be there. If you decide to find or hire a sitter on your own, make sure you read our Sitter Safety tips for parents first to help keep your children in safe hands. We help parents who are working from home all the time. Our Flex Sitter Service membership is a great option for families seeking as-needed help.
Take the pressure off – aim for grace, not perfection. If things don't work out the way you planned--and sometimes they won't--default to loving on your kids and make a plan to catch up on work after bed or the following day. We are all in this together, and your colleagues will understand. Be honest with them and expect honesty in return as we all navigate these challenging times. Every day is a new day. Expect the bad ones to come and just reset and refocus each morning.
Let kids be kids and plan for your house to be a mess. Again, grace and flexibility. You might need to temporarily let go of the need for a perfectly tidy house right now. Just let the kids go at it with paint, sand, water or cookies! It's freeing and fun for them and makes for a quiet 30 minutes for you. If you're anything like me, you'll benefit from spending 20 to 30 minutes after the kids are asleep and the house is quiet, walking around and doing some tidying to start the next day with a clean slate. But if you're simply too exhausted and need to pick your battles, the house is one thing that really can.
Share your schedule with your spouse. Make sure, especially if two adults will be working from home, that you both know what to expect from each other day-to-day. For example, on really busy days let your other half know it's probably best to not come into your "office." And then flex. On your less intense days, adjust your schedule so your partner can get something crucial done while you care for the kids.
Parents who rely on grandparent care should start making contingency plans. Quarantines, social distancing and school closings mean that grandparents who provide child care for children and who are the most vulnerable population in the COVID-19 outbreak will need a break from this routine duty.
Master the mute bbutton. We aren't kidding. When all else fails and a massive meltdown is interrupting your mastermind session, mute the phone to quickly address the situation and remind your tiny new workmate that keeping quiet will mean an extra fun time with bubbles after lunch.