The countdown to Valentine's Day has officially begun! From classroom parties to luxury-drenched candlelit dinners, this red and pink-filled holiday always incorporates decadent desserts for all aged socializers. Luckily for you, we have lovingly curated a list of the sweetest pieces that you can order online and have shipped to your doorstep.
All tested and approved, these delightful treats are sure to be memorable by those who indulge.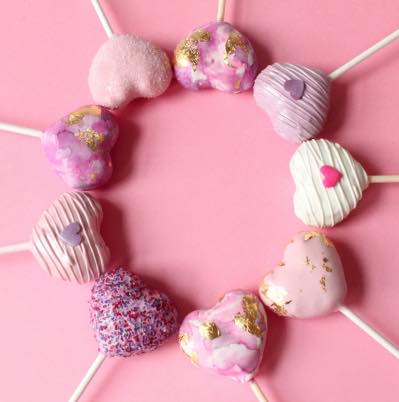 1. Lovely Cake Pops by 12 Oaks Desserts - This dessert company believes in making all of their sweet treats from scratch in order to ensure each order is made with the care, love, and the precision it deserves. For this season of love, 12 Oaks Desserts is selling their Lovely Cake Pops. These yummy treats are shaped like hearts and are made with only the finest ingredients, from free-range eggs and top shelf chocolate, to their hand-crafted vanilla extract. Lovely Cake Pops are sold by the dozen and come in 10 different flavors! We can ensure you that an audience of all ages will love them! AVailable for $54 at https://www.12oaksdesserts.com/product/lovely-cake-pops/.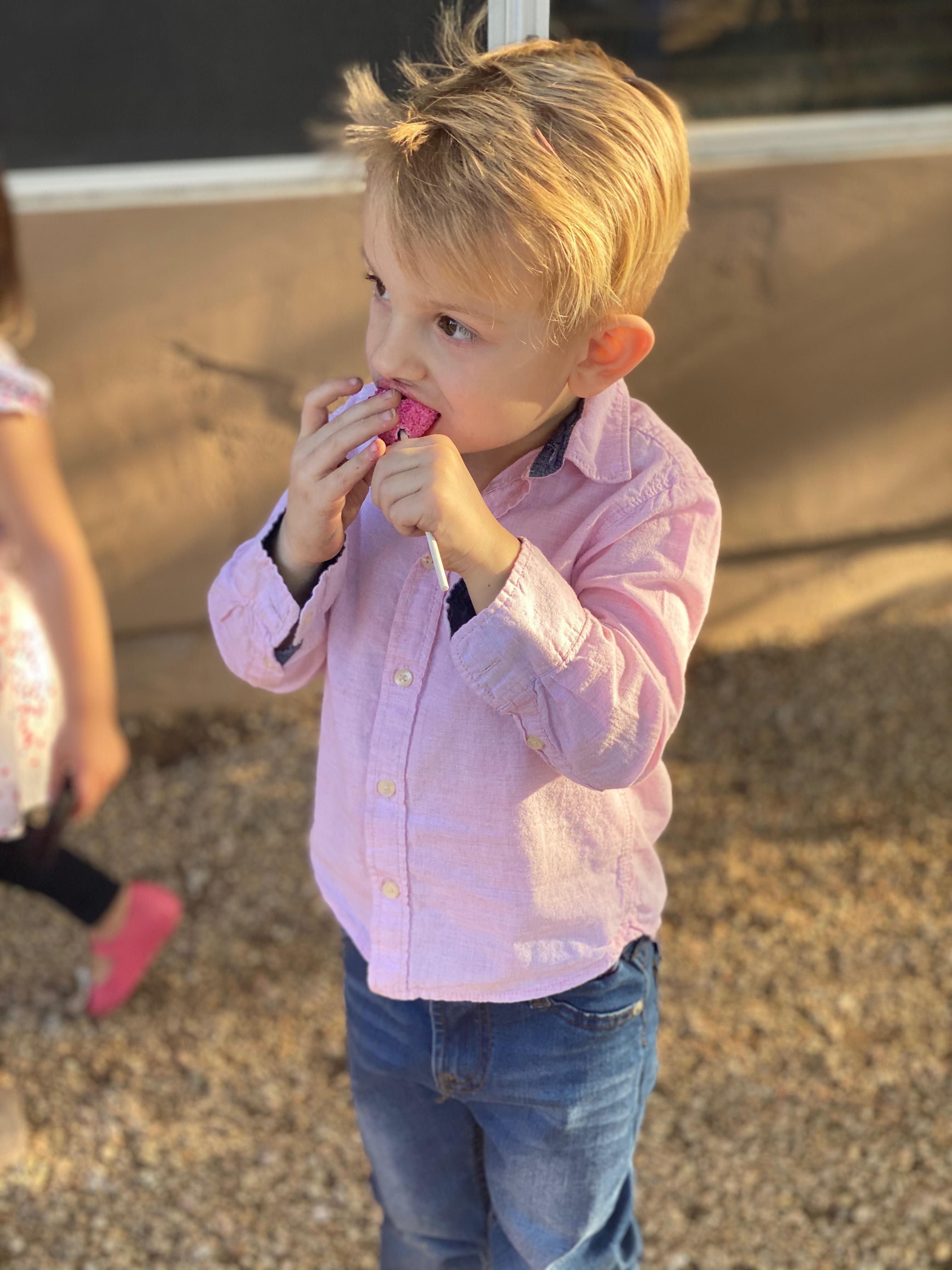 XOXO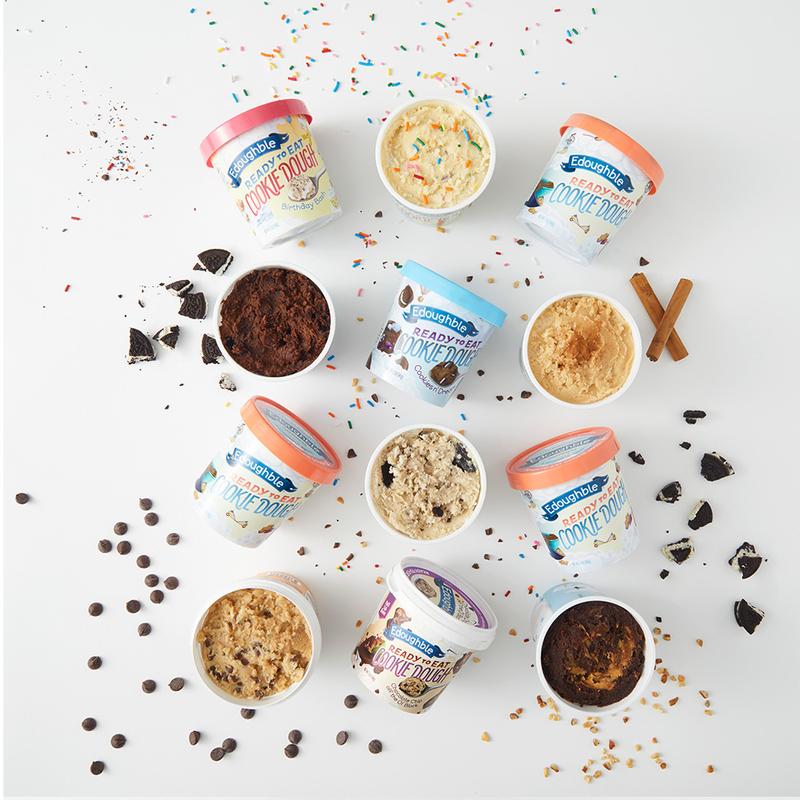 2. Edoughble Valentine's Day Box - LA's newest sweet shop Edoughble, the pioneer of edible cookie dough, is making it easy to shower your loved one in sweets this Valentine's Day. That's right – no baking or refrigeration needed! Just the cookie dough you have always dreamt of eating. Now through February 15th, Edoughble has created a number of limited-edition Valentine's Day items for you to select your own Edoughble Valentine's Day box. They also have heart shaped confetti in all of their Valentine's packages, making it a festive experience before you even taste-test. We especially loved the "Gimme 5" Gift Box, which includes favorites like Chocolate Chip off the Ol' Block, Birthday Bash, Cookies n' Dream, S'More Please, and Snicker-Dude. You can order online today! If you're local in LA, they also have limited time Cookies N' Dream Heart Shaped Cookies dipped in chocolate and covered in pink and red heart sprinkles! Long gone are the days of the assumed box of Valentine's chocolate. In 2020, it's Valentine's Day cookie dough! "Gimme 5" is available for $32 at https://www.edoughble.com/collections/assortments/products/gimme-five-gift-box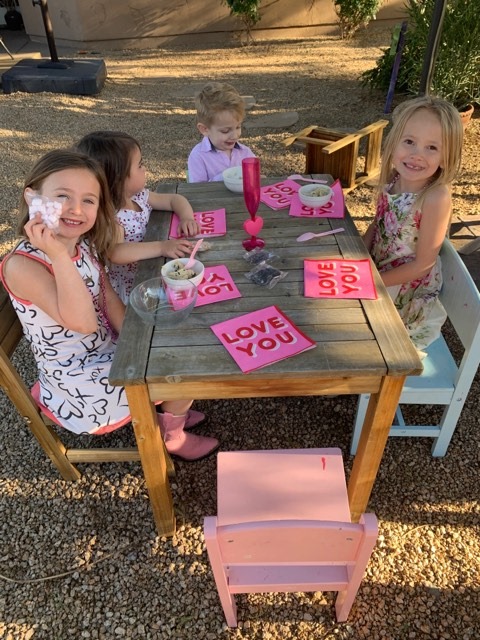 XOXO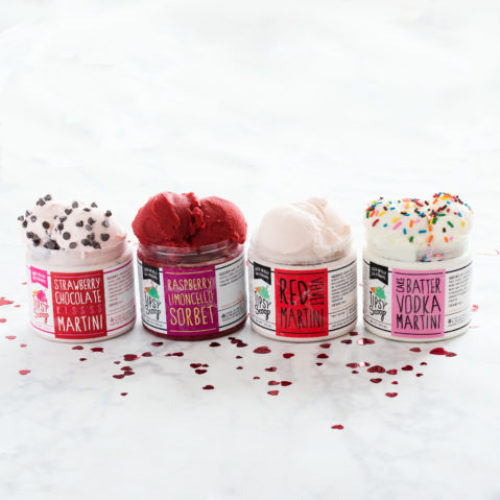 3. Tipsy Scoop - For when an adult dessert is mandatory! At Tipsy Scoop, they truly understand that booze and ice cream are the perfect pairing! Each of their boozy ice creams are hand-crafted and small batch, made with up to 5% alcohol by volume and inspired by favorite festive cocktail creations. Ships nationwide from Goldbelly and available in select grocery stores. The BOOZE x LOVE Valentine's Day Pack is now available! It includes four pints of liquor-infused ice cream:
Cake Batter Vodka Martini- Ice cream infused with cake flavored vodka, amaretto, and white chocolate liqueur
Raspberry Limoncello Sorbet-Sorbet made with fresh raspberries, infused with Limoncello (non-dairy/vegan)
Strawberry Chocolate Kisses Martini- Strawberry Ice Cream infused with vodka and mixed with chocolate chips
Dark Chocolate Whiskey Salted Caramel- Chocolate ice cream infused with whiskey and salted caramel
BOOZE x LOVE is available for $48 at https://www.tipsyscoop.com/product/booze-x-love-valentines-gift/party-packs
XOXO

4. G.H. Mumm Grand Cordon Rosé at Drinks & Co.– Because we all know nothing pairs better with dessert than a glass of vino. And this Valentine's season, it's all about the G.H. Mumm Grand Cordon Rosé. Noticeably elegant and refreshing, the sweet fruity taste of G.H. Mumm Grand Cordon Rosé is bound to liven up your celebration:
This brut rosé champagne challenges convention, a refreshing antidote to the floral and sweet fruit flavors of traditional rosé champagne
Lively, energetic and perfectly dry in the attack, revealing hints of summer fruits yet with an unexpected arrow of precision running right through to the long savoury finish
The new bottle's long, slender neck has been specially designed to accentuate the intense fruit aromas of G.H. Mumm Rosé
This rosé can be purchased on Drinks & Co at $52.00
Amanda Rumore is a writer, mom blogger and lifestyle expert. Scottsdale-based, by way of Chicago and Los Angeles, she writes for various magazines and appears on local television stations featuring family and lifestyle stories. She was also voted "Favorite Valley Mom" in the Best of the Valley. Follow here on Insta!