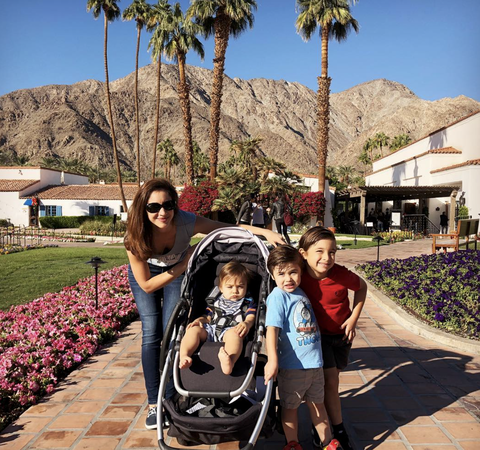 Like most people, I make new year resolutions. And like most people, they're easily forgotten by February. So this time around, I'm keeping my goals simple; one being: to "check out" more often... and by that, I mean escaping with my family, putting my phone down, and spending serious QT with my husband and sons.
I'm a big fan of road-tripping, and love exploring places that are an easy drive from the Valley. While many consider the Palm Springs area a hot destination for romancers, it's also quite fab for families.
A few weeks ago, my posse and I took the 4 hour drive to the California dessert. It's a great place to simply escape- relax, lay low and downright chill. Here are my tips for tackling the area with kids in tow.
1. Stay smart
The La Quinta Resort & Club is a picturesque getaway, nestled among a backdrop of gorgeous mountains. The property is very laid out, offering spacious casitas, suites and villas. Many casitas come equipped with a large, enclosed patio- and some even have a private hot tub. But the coolest thing about the property is that there are over 40 pools scattered among the resort. Your family will feel like they own the place often getting a pool to themselves! It's a really great feature, and ideal for big family gatherings like reunions.
With three golf courses, tennis courts, a salon, spa and more- you can simply chill at the property without leaving.
2. Discover the area
First, hike! The area flaunts many hiking trails that will get your kids moving, and they're quite convenient to the property.
You can also take the Palm Springs Aerial Tramway– the world's largest rotating tram car—traveling over two-and-one-half miles along the breathtaking cliffs of Chino Canyon. Once you reach the Mountain Station—elevation 8,516 feet—enjoy two restaurants, observation decks, natural history museum, two documentary theaters, gift shop and over 50 miles of hiking trails. Bring a camera and reserve your ride ahead of time! (And in winter, you can often sled on top of the mountain!)
I also suggest checking the area's event calendar. If you have young kids like me, the Thomas the Train "Day Out with Thomas" attraction visits the Southern California Railway Museum every year (often in November). Take a ride with Thomas, meet the railway controller Sir Topham Hatt, have fun in the Imagination Station, see authentic engines and enjoy tons of other activities. My middle son is seriously Thomas-obsessed and was star-struck.
3. Eat "at home"
When you stay at La Quinta, you have plenty of eating options at your disposal. Stick around the resort and dine on property. There's a super fun and lively Mexican eatery called the Adobe Grill (treat yourself to the table-side guac and large margarita…it's huge!). It's totally kid friendly as well.
And in the morning, wake up and brunch at the hotel's TWENTY6, offering a delicious breakfast buffet your kiddos will love. The relaxed American bistro is also open for lunch and dinner.
4. Escape the kiddos
That is, if you can. Have the hubby hang with the kids while you take advantage of La Quinta's offerings. Book an elite tennis experience and instruction with a USPTA-certified pro, or schedule yourself a Glistening Agave Body Glaze at the resort's spa.
5. Pack to play
Sometimes the best vacations are those with no plans, in pajamas, playing Uno and ordering room service. We always bring board games and cards for the hotel room. It's a fun way to bond and make memories they're sure to remember.