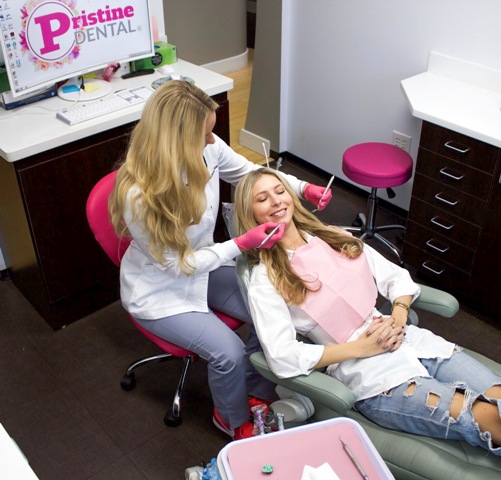 With a focus on patient comfort and state-of-the-art technology, Scottsdale's brand-new Pristine Dental gets patients smiling before the whitening or Invisalign even kicks in.
Pristine Dental opened its doors in Scottsdale earlier this year with a focus on patient comfort, which is apparent from the second you step in the door. The beautiful, refreshing color palette of pink, white and gray reads more like a day spa rather than a dental office—and the massage chairs in the lobby illustrate that even further. Guests can even whip up a cappuccino or a coffee as they wait, or help themselves to a water bottle in the lobby drink station. The floral artwork and glamourous, crystal-decked lighting fixtures accent the soothing space.
The examination room experience is just as welcoming and luxurious. Patients are invited to sit back and relax, catching their favorite show on YouTube TV or Netflix from each room's 40-in. television and Bose headphones. Each room also features aromatherapy and air purifiers, to ensure the ultimate in tranquility for Pristine Dental patients. As for a dental-office extra that we're sure you haven't seen before, Pristine Dental offers a softening paraffin wax treatment for your hands so your smile isn't the only thing being pampered during a visit.
While the bells and whistles are definitely a welcome addition to the traditional dental-office experience, Pristine Dental also presents cutting-edge technology, top-notch service and a friendly staff. Among the scope of dental services is cosmetic and restorative dentistry, Invisalign, implants, Zoom whitening, veneers and more.
Even the mundane process of getting X-rays or dental impressions goes beyond what the traditional dental office can offer. Pristine Dental utilizes the Nomad Pro 2 handheld X-ray unit, which provides clear, high-quality images and necessitates less time and discomfort during the digital-imaging process. And in September, the office will start use of digital impressions, meaning the doctor can scan a 3D image of teeth without the traditional molds.
To make getting to the dentist convenient for patients, Pristine Dental offers same-day, early, late and Saturday appointments.
Neighborly Love

Conveniently located Pristine Dental is currently offering its insured new patients in the Valley free, in-office teeth whitening; $69 exam, cleaning and X-rays are available to uninsured patients. To book an appointment, call 480.935.2424.
To Learn More
Pristine Dental pristinedentalaz.com. @pristinedentalaz