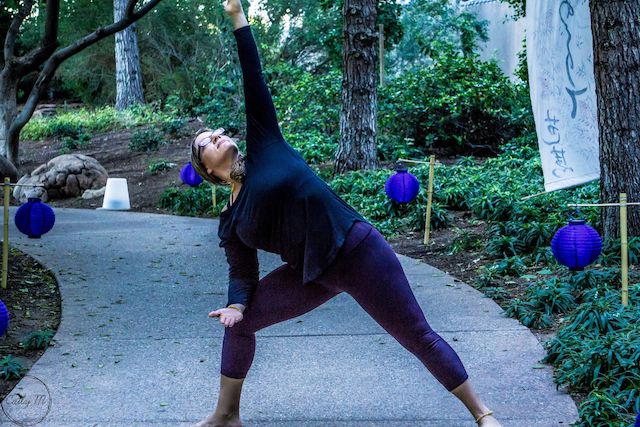 While it seems that we're facing an upward battle with our modern society – one that often exemplifies little tolerance and even less patience – there are still a handful of holistic practices and recreational activities that are challenging the status quo.
Modern medicine has seen an undeniable influx of positive patient results over the years, with technology being at the helm of some of our greatest scientific and health discoveries. And in a world, that is always on-the-go and desperate for a quick fix, it's a wonder how practices like meditation and yoga can survive.
But people like Nicole Anne Fonovich serve as prime examples of how these practices can truly change our lives and our overall health, for the better.
Fonovich, along with her sister, are both victims of a rare autoimmune disease that force limited mobility and inspire excessive amounts of pain. Early on in her battle, Fonovich found herself reliant on pain killers and over-the-counter medications. While the prescriptions provided a short-term solution to the pain, they by no means solved the issue. This scenario is eerily similar to the one that many Americans are still dealing with. But rather than falling into the same inescapable place, Fonovich was determined to turn her life around for the better. Thus began her new lifelong journey, one that was centered on holistic and pure nutrition practices.
"I just knew that medication wasn't going to be the sole answer for me, it just couldn't be. I had so many different goals and dreams that I wanted to achieve that I felt handicapped to experiencing, even at 20 years old," says Fonovich. "I wasn't ready to give up my life yet, when everyone else around me was just starting to enjoy and live theirs. So, while other people found solace through medication, I found hope and healing through yoga."
The practice is one that has always fascinated Fonovich, but now as she continues to grow older, she's finding that it's also one that has changed her life for the better. While she's still limited to the types of yoga and stretches that her body permits her to do, she's developed techniques of her own – many of which revolves around hot and slow yoga routines – that have allowed her to still indulge in the practice. And now, even make a career out of it.
While Fonovich's yoga business, better known around the Valley as Nicole Anne Yoga, has separated itself in a number of different ways, what is most impressive about the business is its mission to reach anyone and everyone.
Yoga is traditionally taught within a yoga studio, often between half hour to hour-long intervals. While Nicole Anne Yoga is committed to preserving the traditions of the technique and meditative practice that has helped so many, they are also motivated by the idea that everyone should have the opportunity to feel peace.
As Nicole Anne Yoga is a mobile yoga studio – uniquely, it's also one of only a handful within the country – the business has found itself in nearly every small business, home and elderly community within the state. No, literally. From one weekend to the next, yoga practitioners from Nicole Anne Yoga have ventured from teaching morning meditations at a community park to leading 10-minute long sleep-centric yoga routines with tax collectors in their own offices.
"No matter your age, your body type, your geographic area, whatever – we want to make inner-peace accessible to everyone," says Fonovich.
Founding Nicole Anne Yoga has allowed Fonovich to not only pursue her own dreams, but to also offer a sense of stability and hope in the lives of others. And her holistic journey – while it may be experiencing a peak – is certainly nowhere near over. Earlier this year, Fonovich accompanied an equipped team to India, where she had the opportunity to learn more about the practice's early beginnings directly from the place it originated, as well as from the people who introduced the practice globally.
As Nicole Anne Yoga continues its dominance around the Valley, Fonovich is setting her sights on a bigger plan. One that allows therapeutic practices – like meditation and yoga – to be incorporated into the lives of everyone, everywhere.
For more information on Nicole Anne Yoga, be sure to visit their official website.