Halloween 2009 is sure to bring out some of the best in creative costuming: Lady Gagas, John and Kates, Octomoms, vampires (the Twilight version, of course) and much more. Whether you're looking for ways to entertain your little ghosts and goblins or instead are seeking out the season's hottest party, we've laid out the year's best spooky and scary events for all ages.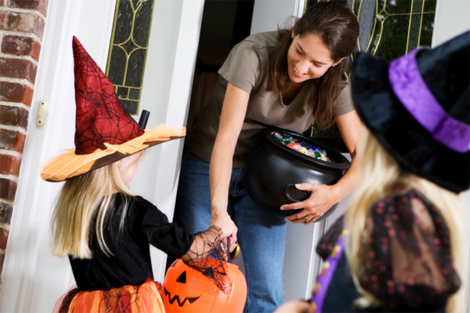 Ghost Ball Halloween Block Party 
When: Oct. 31, 8 p.m.-2 a.m.
Where: Axis/Radius, 7340 E. Indian Plaza, Scottsdale; Suede, 7333 E. Indian Plaza, Scottsdale
What: Anyone who's anyone will be at the 9th annual Ghost Ball block party, hosted by Axis/Radius and Suede. An expected 8,000 guests will be in attendance—this wild and crazy event will feature $10,000 in cash prizes for the best costumes. If you're looking to make this Halloween and first-class event, VIP packages, private cabanas and skybox rentals are also available. Pre-sale tickets start at $20. www.axis-radius.com.
GlendOberfest
When: Oct. 31, 5-10 p.m.
Where: Saguaro Ranch Park Historic Area, 9802 N. 59th Ave, Glendale
What: Kids and adults alike will all love to join in on the fun at this family-friendly event.
Attractions include carnival-style games, on-site trick-or-treating, the Hallowympics parade, Egg Haunt and the "Sinister Sinema" haunted barn yard presented by Arizona State University. A pumpkin contest will also be held, so be sure to bring your award-winning pre-carved jack-o-lantern. Admission is free for all. Looking to volunteer at this year's GlendOberfest? Visit www.glendaleaz.com for more information.
Tempe's 32nd Annual Family Halloween Carnival
When: Oct. 31, 5:30-9 p.m.
Where: Kiwanis Park, 6111 S. All American Way, Tempe
What: Each year parents and their children flock to Tempe's Annual Halloween Carnival for a variety of entertainment, and this year is no different. The event will feature carnival games and food booths (tickets can be purchased for 25 cents each), live entertainment, face painting and costume contests. www.tempe.gov/events/halloween.
Who's Hawnted This Halloween?
When: Oct. 31, 8 p.m.-2 a.m.
Where: W Scottsdale
What: Visit the Hawnted W hotel this Halloween night to help solve "The Case of the Missing W." As one of Scottsdale's best places to party, this costume bash is sure not to disappoint. RSVP at wscottsdale.events@whotels.com.
Malloween
When: Oct. 31, 12-3 p.m.
Where: The District at Desert Ridge Marketplace, 21001 N. Tatum Blvd, Phoenix
What: This event is the perfect way to include your little ones in all the Halloween fun without staying up late past their bed times. Radio Disney's annual Malloween celebration will allow kids to trick-or-treat from store to store at Desert Ridge with lots of festive music and prizes. www.shopdesertridge.com.
Freaky 5K Run & Festivus
When: Oct. 31, 5 p.m.
Where: CityCenter of City North, 5315 E. High Street, Phoenix
What: Why not get your metabolism revved up before indulging in all those Halloween sweets? In addition to a 5K walk/run that will take place at dusk, kids can also participate in the 1-mile Lil' Goblin Fun Run/Walk presented by REI. Plan to stick around after the run for plenty of events and entertainment, including trick-or-treating, live music with local group Easton Ashe, a beer garden with Kona Grill, face painting and balloon artists, cookie and pumpkin decorating, outdoor movies for the kids and much more. Registration for the Freaky 5k is $35, registration for the 1-Mile Goblin Fun Run/Walk is $15. www.freaky5k.com.
Raven Events 4th Annual Masquerade and Costume Ball
When: Oct. 31, 8 p.m.-2 a.m.
Where: Angels & Outlaws, 6990 E. Shea Blvd., Scottsdale
What: Don an elaborate masquerade mask or your best costume for this adults-only Halloween bash. Entertainment will abound with male, female and couple costume contests, complimentary appetizers until 9 p.m., cocktail specials and musical entertainments. Admission for women is free and for men is $10. www.ravenevents.com.