Ranked as one of the best hiking cities in America by National Geographic, Phoenix is a mecca of hiking and exploring of all types. But with the closing of Camelback Mountain through fall, many residents of the Valley are finding it hard to relocate.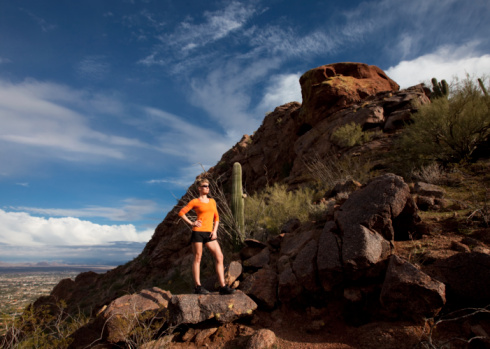 1. Deem Hills West
Opening recently in 2010, Deem Hills West features a moderate hiking experience for beginners and avid hikers alike. Since the park is new to the Valley, this trail boasts the ability to provide hikers with a more secluded experience with exquisite views. The entire trail is about six miles around and can be cut in half to provide an easy three-mile exercise. Hikers can also enjoy four other fairly easy trails that are all less than two miles in length.
2. Tom's Thumb, North Side
This 3.7-mile trail weaves in and out of gorgeous vegetation and provides breathtaking views of Phoenix and Four Peaks. The most interesting feature of this hiking trail is the iconic Tom's Thumb, which is a granite bump on the McDowell Mountain preserve. While the trail does pass by various other trails that offer climbing areas, hikers can opt to stay on the trail and climb Tom's Thumb, something that most hiking trails do not offer. Be sure to check out Ogre's Den, a natural cave featuring art and trinkets located off below and to the West of the Thumb.
3. Waterfall Canyon in White Tank Mountains Regional Park
Family friendliness and easy access makes this short hike a favorite among passionate hikers and first-timers. The short, barrier-free trail runs along Waterfall Canyon Road and is relatively flat the majority of the way. Even though this path is less than one mile and one hour to complete, be sure to go after a good rain to experience the waterfall. This trail also has the option of night hiking, but be sure to bring a flashlight, scorpion light and bug repellant.
4. Papago Park
Represented by its massive sandstone buttes, Papago Park features four easy trails and unmatched views of the Tempe area. The desert trails are generally smooth, easy treks with very little elevation gains, making it great for families and interested mountain bikers. Be sure to make the hike at sunset; these buttes claim rights to the best sunset views in the Valley. The park is also home to an archery range, exercising courses, fishing lagoons, baseball facilities and a softball complex.
5. Wind Cave Trail
This trail takes the cake for best family hike. Stretching 1.6 miles, this trek is easy enough for grandparents and toddlers alike. Take the winding trial to a cave featuring welcome shade and an ideal spot to lunch while taking in views of the north and west. The hike will most likely be busy on weekends so be sure to get there early. Looking for a more private hike? Take the trailhead to the right and hike up to the summit featuring an eight-foot high rock climb.
6. Piestewa Peak Summit
Located in Phoenix Mountain Park and Recreation area, this sprawling park offers a plethora of wildlife, spacious views and a great workout for hikers. Phoenix Parks and Recreations public information officer David Urbinato enjoys this hike but said that the trial is always crowded.
"Compared with many of our other areas, you don't get a very good exposure to the Sonoran Desert as you're on a ridge for much of the hike," says Urbinato. "And it's very difficult...I think many people underestimate how challenging it can be."
Despite the crowds, hikers and families can still enjoy the assortment of picnic areas nestled in the hills for a picturesque lunch spot.
7. Phoenix Sonoran Preserve
The newest addition to the Phoenix preserve system, this area has clear trials and smooth tracks that are well marked. Since the elevation of this trail is higher up, it gets more rain than most other trials making it slightly lusher than areas to the south.
"I think the beauty of this area surprises people when they visit," says Urbinato.
This trial is also perfect for mountain bikers since it boasts professionally built trails that are ride able and clear.
8. Alta Trail in South Mountain
This trail offers solitude, amazing views to the west of the Estrella Mountains, dramatic canyon views and a bit of history since the Civilian Conservation Corps built the trail in 1930. The Alta trail is 4.5 miles of serious elevation gain but serious mountain views. At more than 16,000 acres, South Mountain Park/Preserve is the largest municipal park in the country according to the Trust for Public Land. The trails within the park are built for a variety of activities including horseback riding and mountain biking.
9. Desert Classic in South Mountain
Also nestled in South Mountain Park, this trail is particularly popular with mountain bikers because of its variety of technical aspects like the semi-rough and rocky terrain, ups and downs and wash crossings. The trial, which is a hefty 9.2 miles, is still used by hikers and equestrians alike.
10. Pinnacle Peak
This moderate hike has a very smooth tread with a number of ups and downs over the course of the 1.75-mile trail. Catch great views of saguaros, cholla cactus, creosote plants and wildlife such as bobcats, Gila monsters and western diamondback rattlesnakes. This trail, located in Scottsdale, also offers night hiking and astronomy talks where participants can enjoy a desert evening looking and learning about the stars as well as rock climbing in certain locations.