The American Heart Association, the leading voluntary health organization devoted to a world of longer, healthier lives, together with its Go Red for Women movement, are asking you to wear red to support Go Red for Women on National Wear Red Day: Friday, February 5, 2020.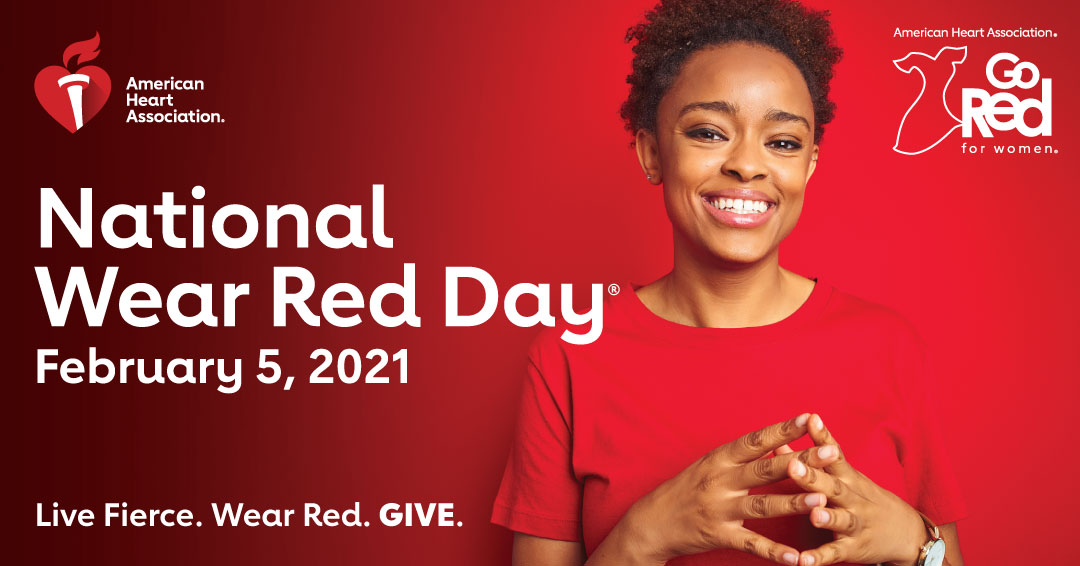 Kick-off American Heart Month by celebrating National Wear Red Day® with the American Heart Association's Go Red for Women®
Wear red on Friday, February 5th
Despite the devasting impact of the COVID-19 pandemic, heart disease remains the leading killer of women in the U.S., according to the American Heart Association's newly released 2021 Heart Disease & Stroke Statistics. At the same time, recent market research has indicated that the youngest most diverse women are the least aware that cardiovascular disease (CVD) is their greatest health threat.
And as the pandemic persists, it's even more important to protect your heart from the effects of COVID-19 and support the American Heart Association as we fund scientific research into the virus and its long-term effects on patients. We're also fighting the pandemic by supporting frontline workers with updated, safe CPR guidelines and medical trainings, as well as working to increase healthy food access for all as so many struggle with food insecurity in Southern Arizona.
That's why the American Heart Association's Go Red for Women movement, nationally sponsored by CVS Health, encourages you to wear red on Friday, February 5th to help raise awareness and save lives from heart disease.
Here's how your network can support women's health – please share:
Wear red on Friday, February 5th.

Take a picture of you, your family, friends or colleagues wearing red.

Post on social media with the hashtag #SoAZGoRed.
Make a donation to support the lifesaving work of the American Heart Association at WearRedDay.org. Big Lots Foundation will match online donations on National Wear Red Day, up to $333,000.
Visit CVS Health and making a donation at the register until March 8. Also, donations can be made online at www.CVSHealth.com/GoRed.
Sign up to participate in the lifesaving clinical trial research through the American Heart Association's Go Red for Women movement and Verily's Project Baseline: Research Goes Red initiative.
While nearly 80 percent of cardiac events can be prevented through education and lifestyle changes, cardiovascular diseases continue to be a woman's greatest health threat. To treat, beat and prevent heart disease and stroke, women should understand family health history, know their five key personal health numbers to help determine risk and make healthy behavior changes like moving more, eating smart and managing blood pressure.