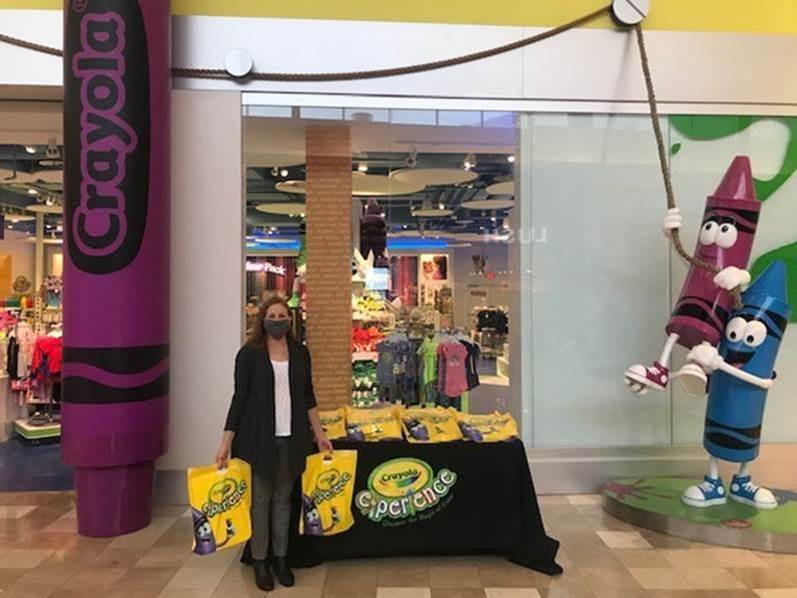 Crayola Experience Chandler partnered with Arizona's Children Association to bring colorful, holiday cheer to 100 children this holiday season.
The organization received 100 Crayola Experience at Home-Holiday Passport kits, as well as 100 Crayola Experience Chandler general admission tickets to distribute to children supported by their organizations.
The donation is part of a $36,000 national charitable initiative Crayola Experience conducted with various children's organizations in the five metropolitan areas around the country where the attraction has physical locations.
"During these challenging times, it's more important than ever for us to provide experiences that engage children's creativity and imagination, something that is at the core of what we do," said Victoria Lozano, senior vice president, and general manager of Crayola Experience. "With this initiative, we're sharing that magic with kids who, because of their own challenges, may not be able to visit us."
The Crayola Experience at Home-Holiday Passport kit is a new activity the attraction launched for the 2020 holiday season that brings the magic of color right to doorsteps around the country —physically and virtually. The limited-edition creative voyage includes more than three hours of hands-on activities and all supplies. Guided by Crayola crayon characters, kids learn about different holiday traditions from around the world and craft keepsakes to celebrate them—all with a colorful Crayola twist.
"The current public health crisis has been particularly hard for the many children we serve throughout the state," said Jacob Schmitt, president and chief executive officer of Arizona's Children Association. "We are so grateful to Crayola Experience for providing virtual field trips and entertainment for so many of these vulnerable children—a much needed distraction in times of uncertainty."
Crayola Experience actively uses Facebook (facebook.com/CrayolaExperienceChandler) and Instagram (@visitcechandler) and will repost for combined exposure between audiences.
Crayola Experience at Home Interactive Kits:
Crayola Experience at Home kits are available for public purchase online for $24.99 per kit, plus shipping. The kits can be shipped anywhere in the U.S. for $8. Discounts are available when purchasing four or more kits.
These creative journeys engage children with a blend of interactive, video content, and hands-on activities. Guided by Crayola crayon characters, the self-paced adventures come with all the supplies needed for more than three hours of colorful fun.
The limited Holiday Passport edition is available for order only through Dec. 15.

The Scavenger Hunt edition invites kids to go on a mission with Crayon Character Guide Jazzy through Crayola Experience to help find Granny Smith's top-secret blue recipe – complete with crafting activities, personalized items, and pre-recorded Crayon Factory and Silly Putty shows.
About Arizona's Children Association
Arizona's Children Association (AzCA) is one of the oldest and largest statewide child welfare and behavioral health nonprofit agencies in the state. For more than 100 years, the organization has stayed true to "Protecting Children, Empowering Youth, Strengthening Families," serving more than 40,000 children, individuals and families each year in all 15 counties. Learn more at www.ArizonasChildren.org.
About Crayola Experience Chandler
Discover the magic of color and experience a world of creativity at Crayola's premier and one-of-a-kind family destination. More than 15 creative activities and attractions throughout 22,000 square feet of color await families at the Chandler Fashion Center in Chandler, Ariz. Crayola Experience also features The Crayola Store with the world's largest selection of Crayola products and unique souvenirs. The brand's other attractions are located in Easton, Pa.—home to the Crayola Experience flagship and birthplace of Crayola crayons—as well as Orlando, Fla.; the Mall of America (Bloomington, Minn.); and Plano, Texas. To learn more, visit CrayolaExperience.com/Chandler.