Events: Arizona - Phoenix - Scottsdale
Event
Title:

Messy Fest

When:

09.15.2018 08.00AM - 01.00PM

Where:

Horseshoe Park & Equestrian Center - Queen Creek

Category:
Description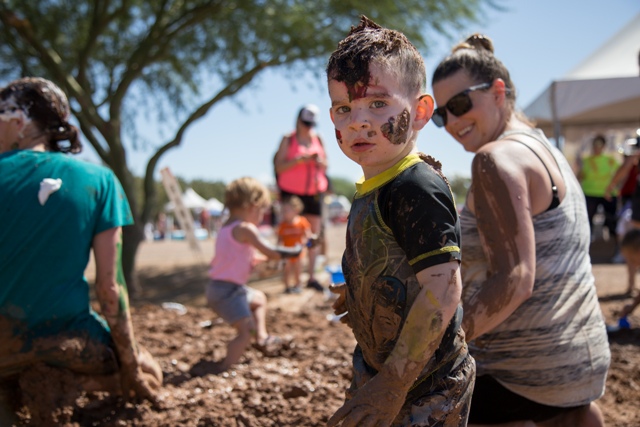 Did someone say food fight? Yes. Have you ever dreamed of pouring ice cream and chocolate sauce with sprinkles on you and sliding down a slide? Yes. What about a giant slime dunk? Yes. If it's slimy, muddy, ooey or gooey, expect it in spades at one of Queen Creek's best events.
Messy Fest 2018 is on the calendar for 8 a.m. until 1 p.m. Saturday, Sept. 15 at Queen Creek's Horseshoe Park & Equestrian Center, and this year's celebration of all things sloppy, messy and muddy promises more chaos, clutter and friendly competition than ever before. Think massive mud pits, multi-family tug-of-war in a variety of goo, food fights, ice cream slip-and-slides, slime zones, colored forest, shaving cream zone, mud pies, toddler zones, adult zones and much, much more, and it's all for the benefit of a great cause: Childhelp, the national nonprofit known for its efforts to help combat child abuse.
Enjoy a day of acting like a kid again at Messy Fest. Whether you want to bring your kids out, the kids want to bring out their parents or you are a 39-year-old wanting to celebrate your upcoming Birthday getting messy, this event is for you. This isn't just for families. In addition to messy fun, we will have an adult beverage zone benefitting Childhelp and an option for children of any age (1-100) to celebrate their Birthday with a cake fight and other packages.
A mess isn't anything you want to take home with you so enjoy our extensive onsite rinse zone to get clean in between events and activities or before you head home. The event's motto is, "Life's too short to play clean," so score tickets now and take the whole family to Queen Creek this September for a day of disorder, destruction and controlled chaos. No cleanup necessary!
This event is for "kids" of all ages.
What: Messy Fest 2018
When: 8 a.m. - 1 p.m. Saturday, Sept. 15, 2018
Where: Horseshoe Park & Equestrian Center – 20464 E Riggs Road, Queen Creek, AZ
Tickets are available now for a limited-time price of $18 for participants and $5 for spectators. Family packaging and Birthday packages available. Ticket prices increase on July 31. For more on Messy Fest or to purchase tickets, visit MessyFest.com.
This event is produced by Levitate Agency. Levitate Agency is a local firm in Arizona supporting a variety of festivals and charities in the valley of the sun.
Special Note: All food used in our food fights is expired food that can't be sold or donated. We don't use anything fresh and we compost at the end of the event.