Carefree Station to Host Garden Wine Tasting with Artisan Estate Vineyards
With the temps rising and spring in the air, what better way to enjoy the season than wine tasting at Carefree Station's Artisan Estate Vineyards. On March 9th, from 6 to 9 p.m. guests will enjoy unique wines from Artisan Estate Vineyards, plus perfectly paired cuisine by Carefree Station's Executive Chef, Thomas Nasworthy. A representative from Artisan Estate Vineyards will be on hand to provide expertise ans answer questions about the featured wines.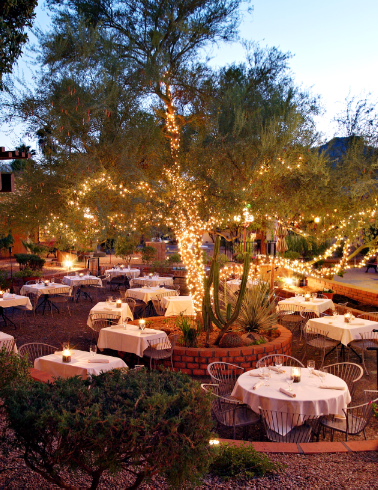 Taking place in Carefree Station's tree-lit garden courtyard, the cozy patio is the perfect setting to sample five wines from Artisan Estate Vineyards, along with hors d'oeuvre selections created especially for the evening. All wines chosen for the event are rated at 90 points or higher, and they are are from family estate, small-batch wineries. The food and wine pairings include:
Venge White, served with Jerk Scallops wrapped in Black Strap Rum, Cinnamon Rice Crispies, and a Mango-Coconut Shooter.
Robert Young Chardonnay, coupled with Roasted Golden and Crimson Beet Spheres, Aged Balsamic Caviar, Goat Cheese Souffle, and Watermelon Radish Chips.
Freeman Pinot Noir, paired with Veal Strip Loin, Smoked Gouda Fries, and Peach Ketchup.
Schulz Zinfandel, featured with Spicy Lamb Chopped, Grapefruit Essence, Tomato Chips and Egg Yolk Droplets.
Von Strasser Cabernet Sauvignon, served with Chocolate Pistachio Terrine, Blue Cheese Sauce, Braised Figs, and Violet Cotton Candy.
The wine tasting is $65 per person, plus tax and gratuity. Please call 480-488-8182 to place a reservation. Carefree Station is located at Tom Darlington and Cave Creek Roads, 7212 Ho Hum Road, Carefree, Ariz. 85377.
About Carefree Station:
Twitter: @CarefreeStation