Page 2 of 3
Robert Morris
Co-owner of Cork Restaurant
"Spring means warmer temperatures so choose wines that are served chilled, such as white or rosé, and that are crisp, clean and refreshing on the palate."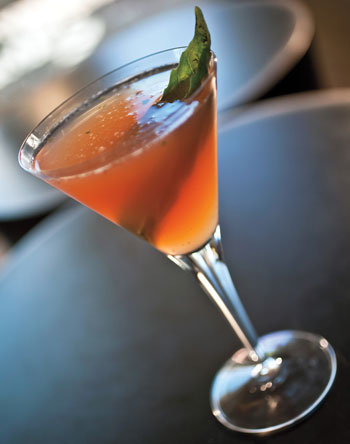 Grapefruit-Basil Martini
Best wine to bring to a barbecue?
"Take a dry rosé to a barbecue or something fun and funky like viognier. I would steer clear of red wine. Spice and tannins don't go well together. But, for me, I would probably drink a margarita."
Best wine to bring to a formal dinner?
"A nice pinot noir; it is a light-bodied red that most people like. [Opt for] something that retails for about $50."
Favorite sparkling wine/Champagne?
"Gruet Blanc de Noirs. It is from Albuquerque and is made from pinot noir and pinot meunier grapes. It retails for $10."
What wine do you use to win over non-drinkers?
"New Age Malvasia/Sauvignon Blanc blend from Argentina. It is a refreshing white with a tinge of sweetness and effervescence. America loves sugar. Usually people who don't like wine are used to drinking sweet beverages like soda, so if you can get them to like a sweeter wine, it is a good segue into the world of wine."
Grapefruit-Basil Martini Recipe
2 oz. Stellar Citrus Gin
2 Basil leaves
1/2 oz. Simple syrup
2 oz. Ruby Red Grapefruit Juice (use Ocean Spray or a similar variety that is in the
non-refrigerated juice aisle—not fresh refrigerated juice)
Muddle one basil leaf and simple syrup. Add ice, gin and grapefruit juice. Shake well and strain into martini glass. Garnish with remaining basil leaf.

Kate Portanova
Owner of Arcadia Fine Wine
"Don't be afraid to ask questions about the wine you are interested in trying. After all, wine is meant to enjoy so drink whatever brings a smile to your face."
How do you choose a spring wine?
"Climate and environment are key. Arizona can have large temperature fluctuations so one day a crisp white is called for and the next a barbera is [called for]. Follow your senses and mood. A tried-and-true spring standby is always a great, vibrant rosé. We suggest the 2008 Bieler."
Best wine to bring to a barbecue?
"In the past, rosé has been a no-brainer favorite at Arcadia Fine Wine, but 2010 is all about 'Grill & Grenache.' Bring along Outpost Grenache to be the hit of the party."
Best wine to bring to a formal dinner?
"Try testing the waters with Bisol Jeio Prosecco from Italy. They make a traditional Brut that is simply delish, as well as a to-die-for rosé of Prosecco."
Favorite bottle under $20?
"The 2006 Dows Vale do Bomfim from Portugal. It's a red blend of several indigenous grapes. Don't worry about pronouncing it—just drink it."
Favorite bottle more than $20?
"For an obscure, hard-to-find white spring treat, try the 2007 Domaine de Gerbeaux Pouilly-Fuisse. A classic white Burgundy."
What wine do you use to win over non-drinkers?
"For a white wine hater, Salviano Orvieto Classico. For red, [try] the GR-174 Red Wine from Priorat, Spain."