Page 1 of 2
In June 2009 El Chorro Lodge was closed after new ownership purchased the property and decided to undertake a large renovation of the Restaurant, Pavilion and overall property.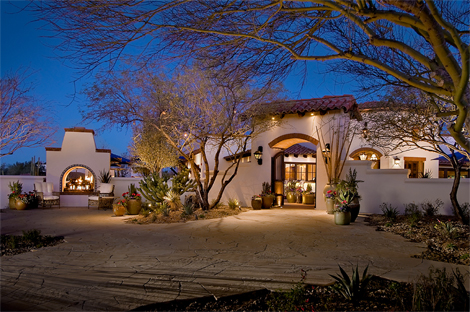 Photographed by Mark Bosclair
The new owner, a long time Paradise Valley resident and notable philanthropist and co-founder of the Red Book, Jacquie Dorrance, put together a dream design build team, consisting of a local architecture firm, interior design firm, landscape designer, lighting designer and general contractor. The team of Candelaria Design, Vallone Design, Berghoff Design, Creative Designs in Lighting and Desert Star Construction were given the daunting task of reworking the aging property while maintaining the mystique that had drawn a loyal following for so many years. Originally built as Judson School for Girls in 1934, El Chorro Lodge was purchased by new owners in 1937 who then turned the structure into a restaurant. Set at the center of 11 acres of desert land near the base of well known Camelback Mountain, El Chorro Lodge today is considered to have some of the most desired real estate in all of Arizona.
The demolition and new construction was started in June 2009 and continued at a mind-numbing pace until the grand reopening February 18th 2010. The reviews came in quickly. The loyal patrons of El Chorro returned to complete amazement at the total transformation of the property.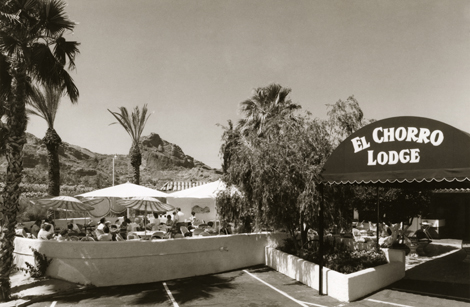 In revitalizing the historic El Chorro Lodge, the team at Vallone Design working in collaboration with Candelaria Design, sought to maintain the classic ambiance and charm of the original restaurant while adding comfort and function to the design. The exterior patio remains the heart of the restaurant. The new patio space was expanded to include several new cozy fire features, spectacular custom umbrellas and new outdoor lounge spaces, while the original fireplace by the Classroom bar, that was a favorite hangout spot remains, original soot and all. Even the original wire patio furnishings were reintroduced with a minor facelift.
Keeping to the original footprint of the main restaurant, Vallone Design and Candelaria Design reworked the interior by creating a new open flow between the spaces. Upon entering the restaurant, the new indoor/outdoor bar serves as the main attraction. While seated at the bar, guests will enjoy some of the best seats in the house as they take in the breathtaking view of scenic Camelback Mountain. The indoor/outdoor feel continues throughout the main dining room and the bar lounge with the addition of large sliding doors that open to the adjoining patios.